Half the world is obsessed with Dubai and I must be part of the other half who really really is not obsessed at all. I am not going to dwell on why this isn't the destination for me – because those who want to go to, and those who don't… have other options.
The UAE (United Arab Emirates) are made up of seven different Emirates – of which the capital is Abu Dhabi. The others (just for reference) are Ajman, Sharjah, Dubai, Fujairah, Ras Al Khaimah and Umm Al Quwain.
I am no expert, but I have grown incredibly fond of Abu Dhabi (I first visited in 2013) and we have been back 4 times since. This year alone, we have been to the UAE 3 times and only set foot in Dubai for dinner before the airport.
Why? We have found some truly incredible hotels and the destinations I am showcasing in this article offer something I love: peace and quiet, no high rise buildings, interesting food, no crowds and truly outstanding hotels.
Saadiyat Island, Abu Dhabi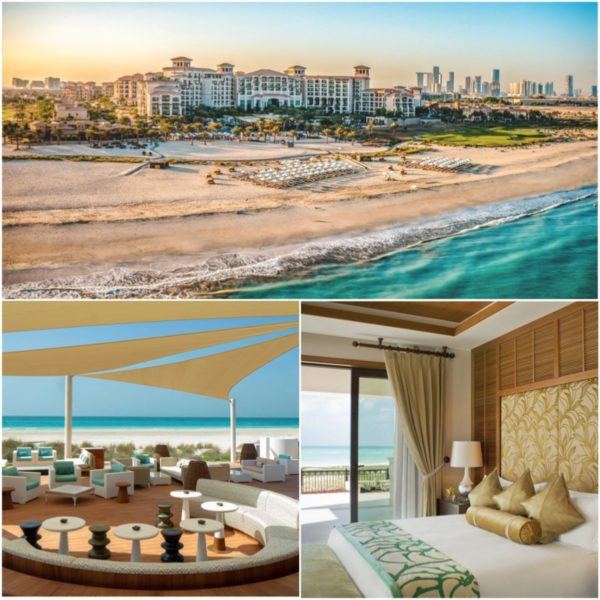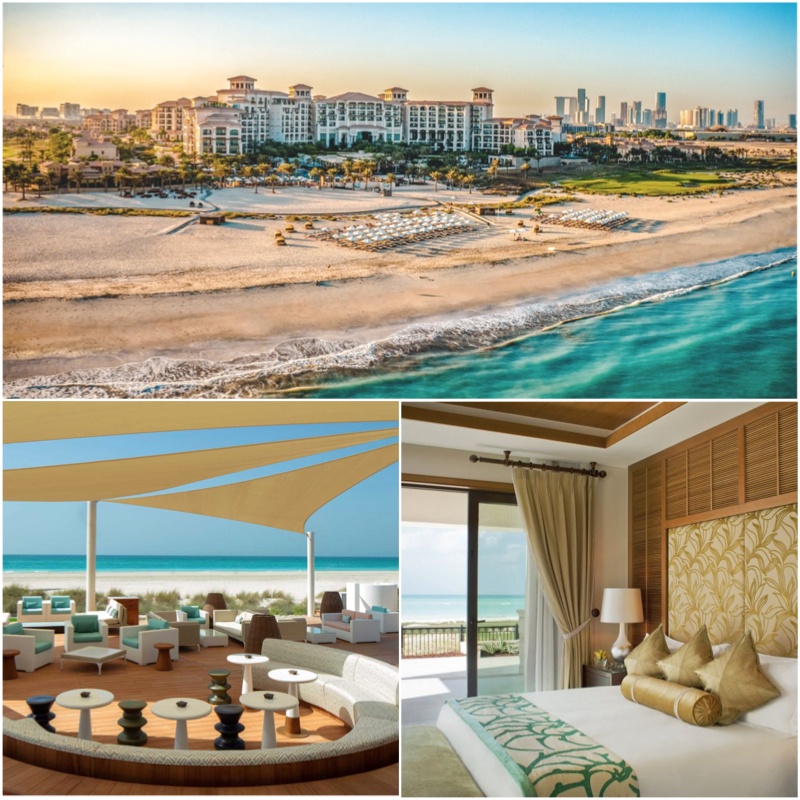 For our last 3 visits to Abu Dhabi, we have always chosen to stay at Saadiyat Island and, more specifically, at the St. Regis Resort at Saadiyat Island. This island is 10-15 minutes away from the centre of Abu Dhabi and has an incredible beach (but you need water shoes just in case). You will find some construction going on as the Louvre opened to the left of the island, and for years, there were only two hotels here: the St. Regis Saadiyat and the Park Hyatt. There are 3 new comers to the beach (but again, no construction in height as been allowed) – the Park Rotana, Jumeirah and Rixos. I have no idea what they are like, but the beach is the same.
The rooms at the St. Regis are in great condition, the beach is great (and decent service too) and it is a very good overall hotel and perfect for a beach stay. Rates start at £350 and get up to the £700s, but you get what you pay for.
If you want an alternative, I would suggest staying at the Four Seasons or Rosewood at Al Maryah island (which is 15 mins drive) and they are always around £150/night. You can then buy a day pass for St. Regis Saadiyat, Saadiyat Beach Club or of course, Zaya Nurai (which is a great way to spend a day if you visit Abu Dhabi or Dubai). There is also a public beach with sun loungers but I have never tried.
Al Zorah, Ajman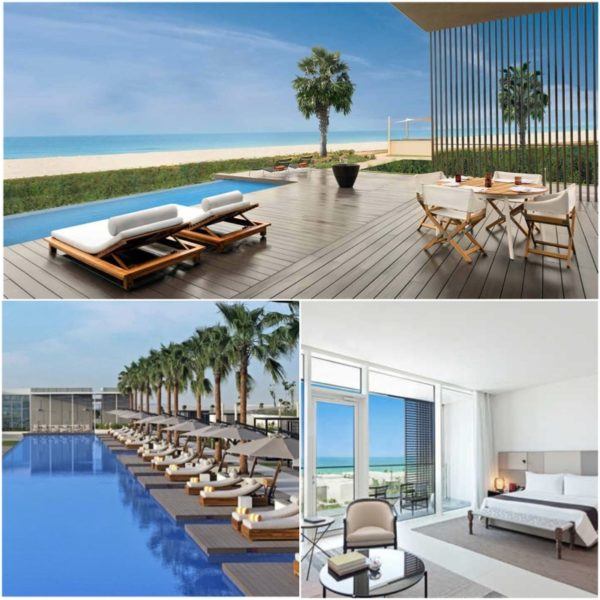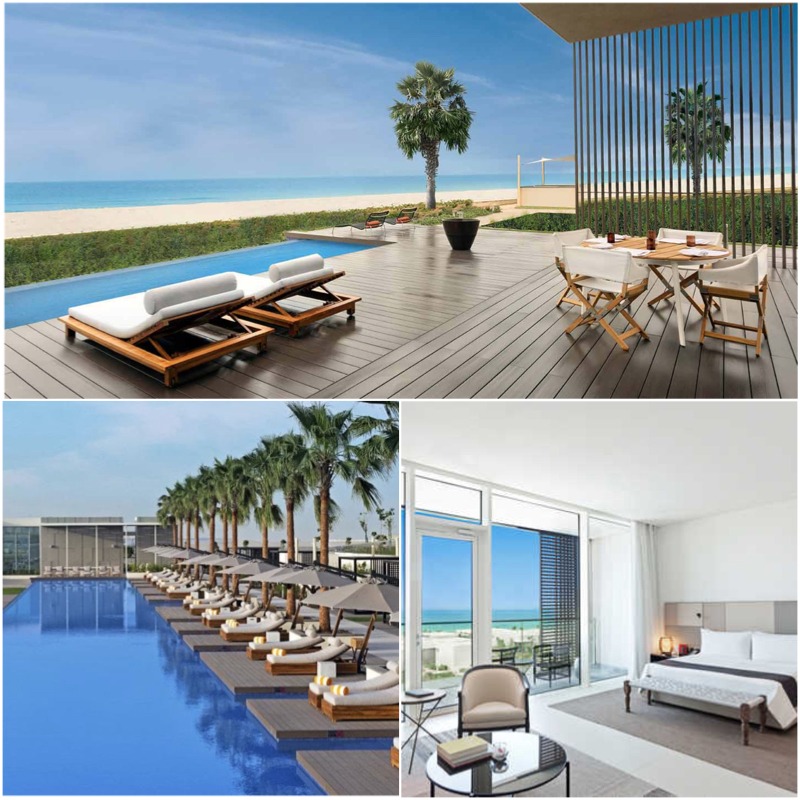 I have never heard of Ajman until I heard that the Oberoi had opened a hotel there – and I believe good things will come from this part of the world. Ajman itself wasn't particularly interesting (the city), but there is a 'destination' being built called Al Zorah. The Oberoi is the first hotel, and Lux will follow soon.
There is a power station nearby, but you will stop seeing it after a day. The Oberoi Al Zorah was fantastic (I don't think I have never not enjoyed any of my Oberoi stays such as Bali, Mumbai or Jaipur) – the rooms are truly extraordinary and nothing has been left to chance, design wise. It is a hotel with under 100 rooms and a lot of space.
Room rates start from £300 currently, but these are set to rise as the destination becomes more established. It is around 45 minutes way from Dubai.
Al Wadi, Ras Al Khaimah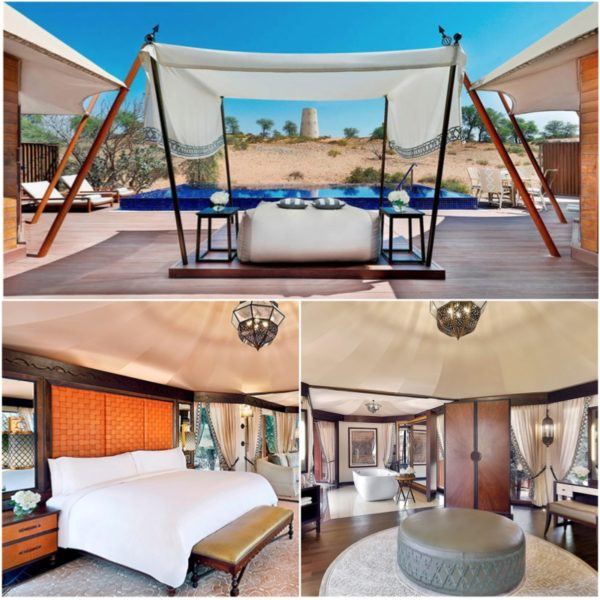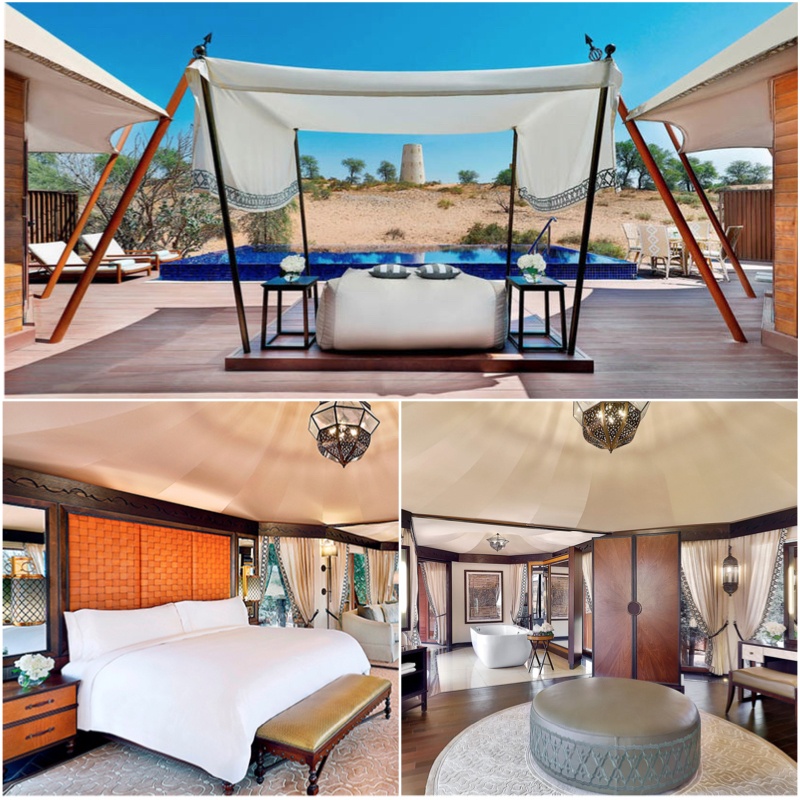 I had heard of RAK and I had seen this hotel many moons ago when it was the Banyan Tree. Ritz Carlton has taken over the Al Wadi hotel and refurbished this spectacular desert resort – where every room has a private pool. You are only 15 minutes from a new sister property (the gorgeous Al Hamra – which we visited as guests of the desert hotel. A shuttle connects both and you can go to the beach which is very well laid out (and why I was so unimpressed with the Ritz Carlton Naples experience) and of course have drinks and dinner there.
We stayed at this hotel for 5 nights and it was exceptional – I thought the service was second to none and everyone working there was really 'empowered'. We really liked the privacy and the space of our beautiful room.
There are other 5-star hotels nearby – the better known being the Waldorf Astoria, where we went once for drinks and dinner. We didn't explore much as this was the first trip post operation, and we really had all we needed and more.
Room rates start at £500 for the more basic room (there are only 2 room types) and £900 for the large tented rooms.
This hotel is around 1h15m drive from Dubai.
How to get to Abu Dhabi, Ajman and Ras Al Khaimah
Easy. We flew to Dubai or Abu Dhabi with British Airways. Flights are 6h45 from the UK and there are a few a day. We tend to take the night flights as it does save on 2 hotel nights and it works for us.

The flight prices to Abu Dhabi are incredibly volatile – sometimes they are great value (we have paid £1600 in First before) but sometimes they can go bananas. And as Abu Dhabi is 90 minutes drive from Dubai, we tend to use DXB (which is not the best airport in the world as most people say so – even when we flew Qantas First from the Emirates terminal we were not totally blown away).

We always hire a car (not the sexiest experience at DXB, so take a deep breath as things at Avis can be a bit slow – but that said, last time is was almost 'good'. Having a car gives a lot of flexibility to explore around Abu Dhabi for example, or literally just for the transfers.

When we first went to Abu Dhabi, we never actually thought we would go back so many times. But it really has given us more than we asked for. And the other two discoveries were even better. We also love Arabic food, and over time have discovered lots of little restaurants which turns out we love returning to. From the Saudi meals behind curtains and sitting on the floor, to having cocktails at the new Buddha Beach Bar at Saadiyat Island, the other emirates of the UAE have definitely surprised us.

Have you been? What did you think?

xo

Mrs. O

Article was posted on

<!-comments-button-->