Beauty Essentials you will need this Winter
Does Winter call for different beauty products? In my opinion, it absolutely does. The cold has a real effect on our bodies and that calls for specialised products.
As always, I am one for 'less is more', so the less products you can buy and get away with, the better.
Here is my list of Winter Beauty Essentials:
Susanne Kaufmann Home Spa Box
Costs £42 from Alyaka (free global delivery – a great site for under the radar brands)
I first came across Susanne Kaufmann at a hotel in Portugal (of all places) and always remembered how lovely the hotel toiletries were. All organic and the rest – but really good. Susanne Kaufmann is originally from Austria and has established herself as a quite the name in organic skincare and I did a little bit of online digging and found this beautiful box set and have been trying each product. The bath salts and oils really are divine and I would love to recommend this product to all of you.
If you can only get one product, get the Bath Oil for the Senses.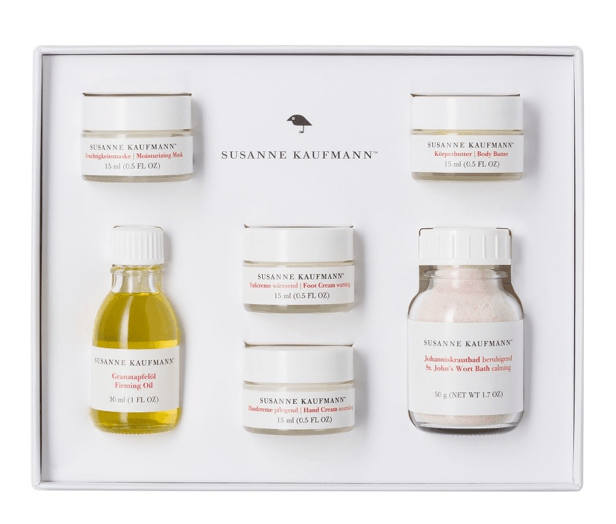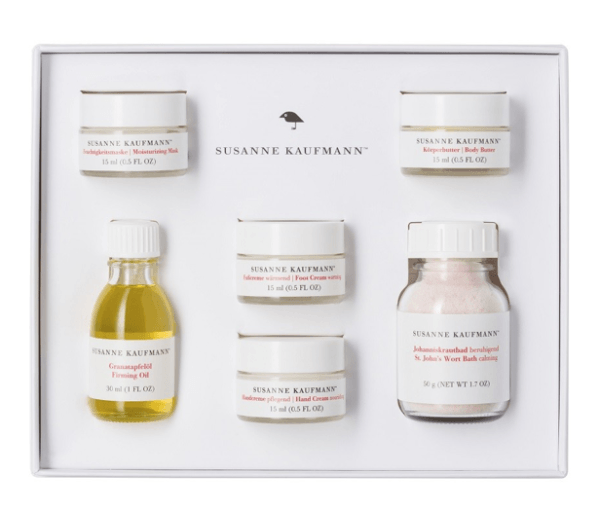 The Chemistry Brand Hydration Complex, 100ml
Costs from £12 from Look Fantastic UK  (they also have a North American website) 
I have 'hard heels' and have been looking for something that really worked – and this is the best cream I found so far. I love the Look Fantastic website as they really have a great mix of brands and this little thing did everything it said. Start with a fresh pedicure and you may be in for 3 weeks before you may need another one (if only nails didn't grow!).
La Mer Hand Treatment, 100ml
Costs £85/$85 from La Mer UK, Selfridges, Bloomingdales or Nordstrom (it is slightly cheaper in the USA, which is not always the norm with this brand)
Pricey? A little. But it is rich yet not sticky, has a very subtle scent and really does hydrate your hands like very few others. You really notice how dry patches disappear and a nice subtle shine. A little goes a long way, so do expect it to last a whole Winter.
By Terry Baume De Rose SPF15
Costs £39 from: Harrods, Net-A-Porter, Saks Fifth Avenue
One of the best lip balms around for a while now – it is obviously one of my 5 tried and tested lip balms for Winter. I like the subtle taste but what I really like is how it truly prevents lip chapping and how it restores your lips when it is too late. You will keep buying this product.
Perricone MD Cold Plasma Plus Fragile Skin Therapy, 200ml
Costs £79 from Perricone MD UK, USA and Dermstore.
This is something a bit different – I was looking for anti-ageing body lotions (for Mr. O rather than myself) and came across this a few years ago now. If you feel that your skin is not as tight and firm as normal and it is starting to show (which personally I do during the Winter), then give this product a try. I have tried quite a few of Perricone MD's products (and my husband uses pretty much all their Cold Plasma Plus range) and can really recommend them.
Le Labo Sea Buckthorn Hand Wash, 250ml
Costs £17 from Selfridges (ships globally), Net-a-Porter (global too) or Nordstrom.
We are big fans of Le Labo at home – I featured one of its perfumes on my Spring Scent Edit recently – and this hand wash really is exquisite. I had no idea of sea buckthorn smelled like – turns out that we love it. It it warm but fresh at the same time – and we are not sharing it with guests, no no. If you like hand washes, have a look at my favourite ones.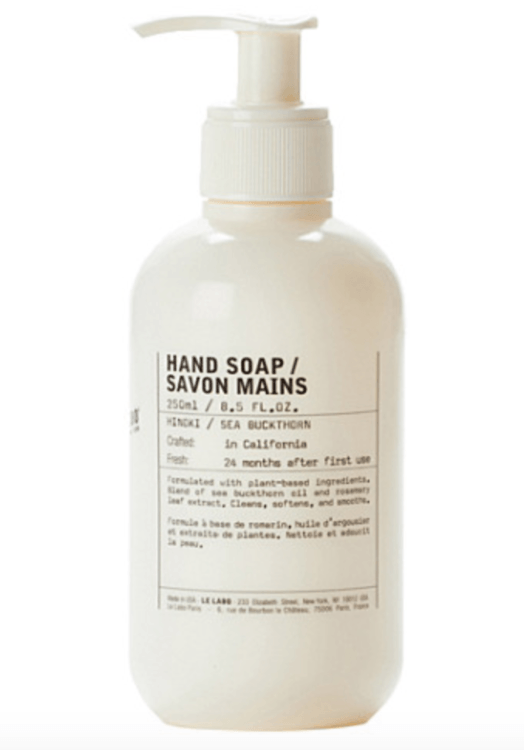 Boots Dual Defence Nasal Spray 20ml
Costs £5.99 from Boots
I have to thank Mary-Anne, a blog reader from the USA for this one who asked if I could buy this spray (a handful of them) for her. I was intrigued and bought an extra one for myself – and for the past 2 winters, we have been living on this. As soon as you get the first sign of a cold, you start spraying. I don't want to jinx it, but we have been cold-free for 2 winters now and I buy this for all my family, name each with a sharpie and wouldn't dare travel without it. Is this a beauty product? Well, maybe!
I hope you like my selection of Winter beauty products and do let me know if you try one more more.
If you are looking for more specific round ups, have a look at my favourite luxury hand washes, hand creams and hand sanitisers. And also my Spring and Summer beauty essentials.
xo
Mrs. O
Pin for later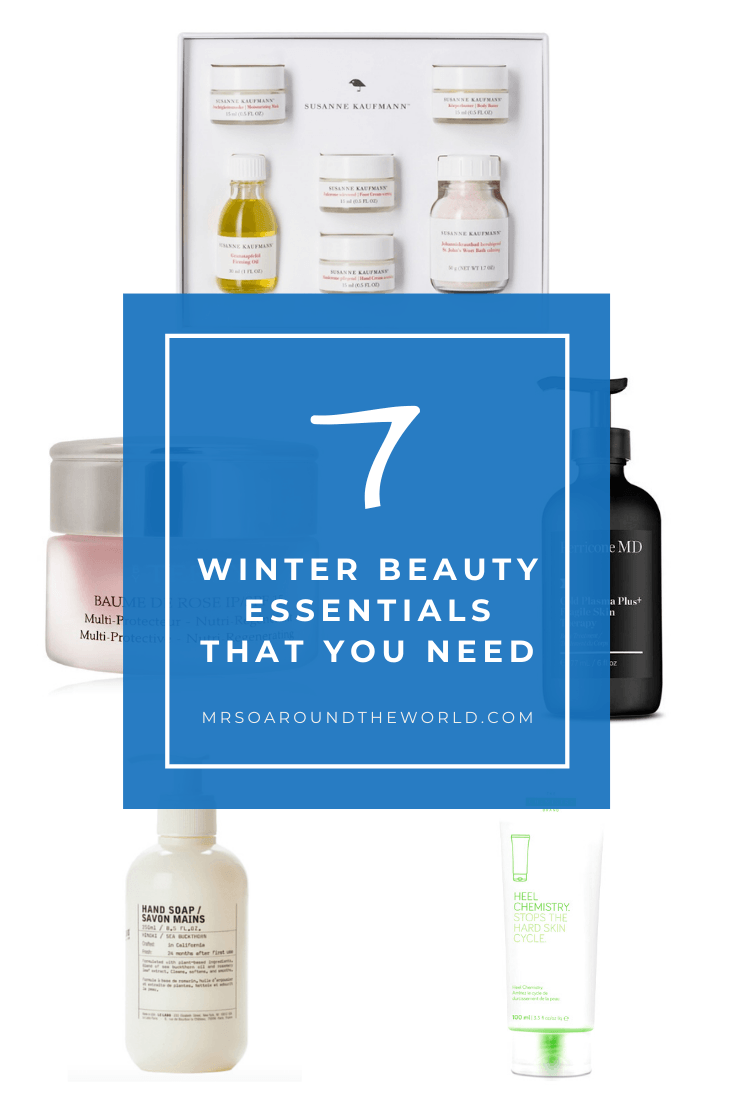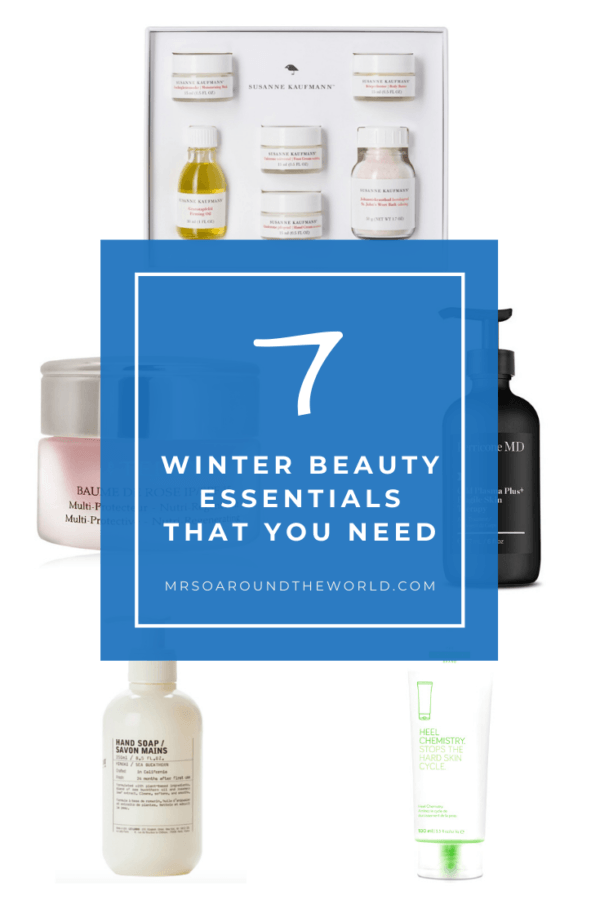 Ps. If you are looking to escape Winter, you may enjoy some of my top 10 winter sun destinations.