You have decided you wanted to enjoy some wonderful rays of sunshine in the state named after it. You have decided you wanted to go to Florida. But what next? What do you need to book? Where's a Florida Travel Guide when you need one? Well…
Here are some ideas that may help you plan your upcoming luxury trip to Florida. As always, all my suggestions on this mini Florida Travel Guide are tried and tested and will hopefully make planning for your trip a little bit easier.
Things to Do in Florida
I know, I know – if you, like me live in England, it is clear: we want to go to the beach. Obviously, Florida offers a little bit more than that – and I have rounded up some of my favourite things to do on location and that does not include Orlando and its theme parks as I have never been (and hopefully in the future will have many opportunities to do so).
Check out the Best Things to Do in Florida here
Places to Visit in Florida
There's a fair bit more to Florida other than Miami, The Keys and Orlando – obviously the 3 best known destinations of this US State.
I have been to a few more places and hopefully, they will come in handy when planning your next Florida holiday.
Most people do not see Florida as a 'road trip' destination, and I disagree. The state offers so many different types of places, I believe it is a great way to travel around. On a recent trip, I combined Miami with Naples and Sarasota, having flown to Miami and back from Tampa. It really made sense for us.
Check out the Best Places to Visit in Florida here
Places to Stay in Florida
Luxury and Florida do not go hand in hand – but things are changing and there are quite a few options popping up (besides Miami, obviously). Here are some ideas of places to stay in Florida.
Check out the Best Places to Stay in Florida here
When to Visit Florida
When is the best time to visit Florida? Well, Florida is known to have the mildest winters in the USA, and many of its visitors are called snowbirds for that reason.
Florida is a big state – and the weather differs across it (as expected). During the cooler months, the farther south you go, the warmer it will be. Fort Lauderdale, Miami, the Keys, Marco Island and Naples will have the warmest water during the winter. During the summer months, the Gulf of Mexico will be five or more degrees warmer than the Atlantic Ocean.
Compared to us in Europe, Winters in Florida are a touch better than ours. Spring is my favourite time to visit (personally) before it gets very very hot (and wet) in the Summer. There is a defined rainy season from May through October, when air mass thundershowers that build in the heat of the day drop heavy but brief summer rainfall. Hurricane season takes place between June and November (peaking between mid-August through mid-October).
What to Eat in Florida?
Crab legs, ceviche or a fabulous steak? Florida's Latin Influence really brings the South American flare to the excellent dining options available.
Stone crabs are a Florida delicacy and as such there are strict harvesting regulations to preserve the population and only the claws are allowed to be consumed. Only one claw is removed per crab before they are set free again. They are delicious.
Ceviche is also quite popular across Florida – being a Latin appetizer and it showcases the power of the sunshine state's abundant citrus crops.
A Cubano sandwich is something we have enjoyed many a times. Origins of its popularity sprung from Miami and Tampa, but the Cuban Sandwich, also known as the Cubano, is made with roasted pork, ham, melted Swiss cheese, mustard, pickles, all pressed inside some warm and toasty Cuban bread.
A visit to Florida is not complete without a proper slice of the famous key lime pie for dessert. Made with fresh limes, egg yolks, condensed milk, and often topped with meringue. And from what I understand, it should be yellow, not green!
How to Get Around in Florida?
You need a rental car to get around – otherwise it will not the a roadtrip! And not having a car is very limiting because of the shopping.
We use either Avis or Hertz (I would highly recommend you get Preferred status with Avis or Gold with Hertz) so your rental experience is much smoother (and you don't get on any lines when you arrive).
There are quite a few rental locations 'in town', so consider renting a car only for a few days where you will go to restaurants further away, some shopping etc. It will save you on Valet parking ($40/day normally) and you would probably get an Uber to go to dinner anyway…
Top tip (which works 50% of the time): when you return your car, and if you have a lot of luggage, ask to be driven back to the terminal. They may charge you $25 (or not), and it saves those dreadful car rental shuttles…
Also, if your credit card doesn't cover it, make sure you have Excess Insurance which will cost you £50 a year for multiple rentals and is the best money you will ever spend.
Use N744400 as an AWD with Avis if you are a BA Gold Card Holder and with 211762 CPD with Hertz if you have an Amex Platinum.
You can obviously fly across the state!
What Documents Do I Need to Enter Florida?
In order to visit the USA, as a British or European citizen, you will need to have an ESTA (Electronic System for Travel Authorization) which is an online process organised by the US Government. It is pretty straightforward to get, costs $14 and lasts for 24 months (2 years).
Do not use any other websites or services rather than the Official ESTA website – no one can represent you and the questions take 4 minutes to respond. Also, the system sends you a notification at 23 months to get you know it is expiring.
Current regulations require you to apply for your ESTA at least 72 hours before departure. If you have a valid one, there is no need to update your existing one (as you will be providing the additional passenger information – API – directly to your airline when you check in).
I hope you have enjoyed this Florida Travel Guide and I look forward to continuously update it.
Mrs. O
Pin for later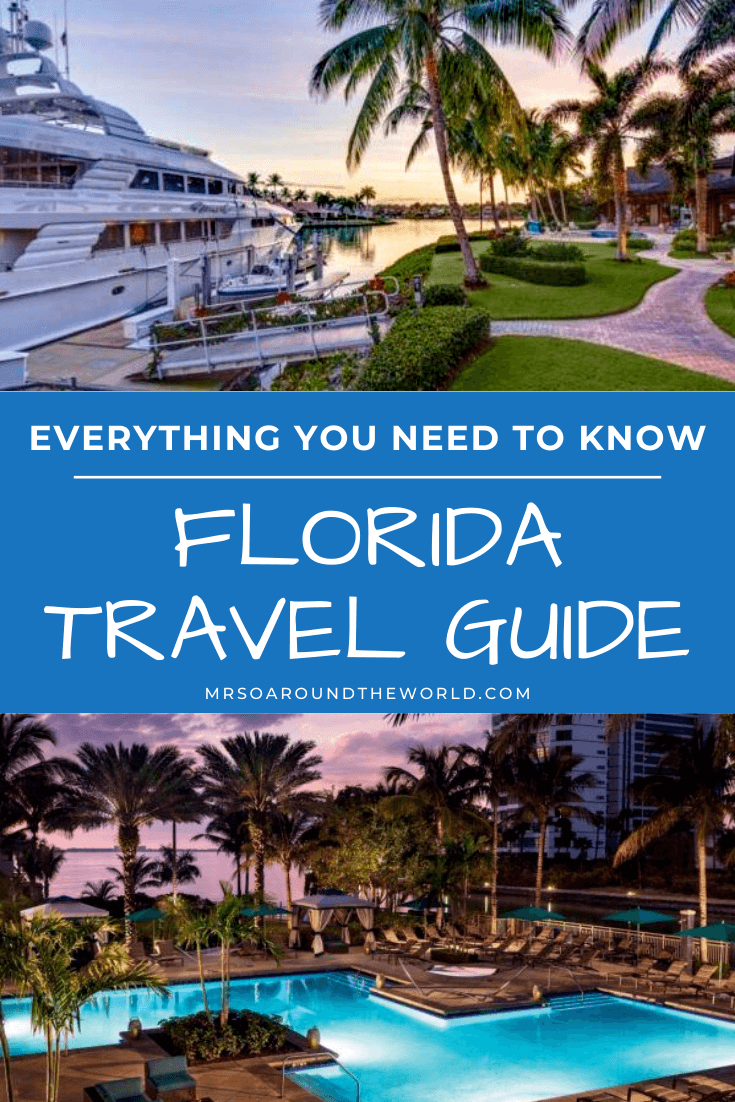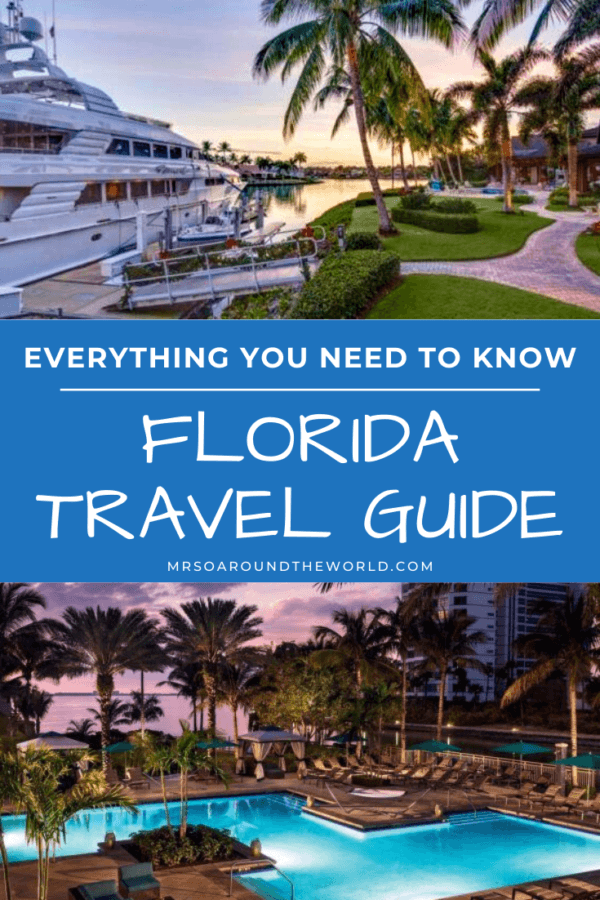 Check out my other travel guides below: