Heading to the Sunshine State and looking for ideas for places to stay in Florida? As always, I am happy to share mine, of course.
Luxury and Florida do not normally go hand in hand – and if you think outside the Miami and Miami Beach areas (with many many alternatives), well, you need to dig a little deeper. There have been a few 'changes' in terms of luxury accommodation options in Florida (or more upscale options, so to speak), and here are some that may be worth considering for your upcoming trip to Florida.
I will add more options here as I visit.
Bal Harbour, Florida
The St. Regis in Bad Harbour is one of our classics for a reason – and the location is just perfect for us. We love being able to head to the shops across the road (literally) and there's plenty of great dining nearby.
The rooms are still well appointed, the beach is fantastic and it is a perfect base for a calmer Miami holiday.
Marathon, Florida Keys
Accommodation is changing in the Florida Keys and you can get a little bit more less and a little less kitsch nowadays. We enjoyed our stay at Isla Bella and would happily return.
Beautifully designed, I would happily recommend this hotel if you are visiting the Florida Keys. The only downside is that it sells itself as a beach resort… but there is no real beach.
Naples, Florida
We stayed at Naples' grand dame, the Ritz-Carlton, and felt it needed a little face lift. Until it does, I think rentals are the way to go in the area (and there are some truly fabulous ones in the area.
Naples is such an affluent area of Florida – but I found the luxury hotel offerings quite lacking, which was a shame.
Check out my dedicated blog post on Naples, Florida here.
North Miami Beach, Florida
The Carillion Wellness Resort And Spa has been one of my most recent discoveries in Florida and a hotel I really enjoyed. Why? Namely because of the wellness component (dozens of fitness classes a day including reformer pilates, all included in the room rate), the nice and quiet beach and the fact that every room is a suite. It is a member of Leading Hotels (so you can get your perks if you are a member).
Sarasota, Florida
Whereas Sarasota is on the water but does not have a real beach, if you stay at the Ritz-Carlton, you have access to its beach club on Lido Key which was really quite good. We liked the setting of the hotel and also really liked its restaurant and bar. Rooms have been updated recently and service was good when we visited.
Check out my dedicated blog post on Sarasota, Florida here.
Surfside, Florida
Probably one of the best hotels I have ever stayed at in the United States – and there are more than a handful to choose from. The Four Seasons in Surfside is stunning – and I wouldn't even consider staying anywhere else in the area… except for the fact that it has under 80 rooms and is almost always fully booked.
It is almost a boutique Four Seasons and truly special.
There are plenty more fabulous places to stay in Florida. I will make sure to update this page often.
xo
Mrs. O
Pin for later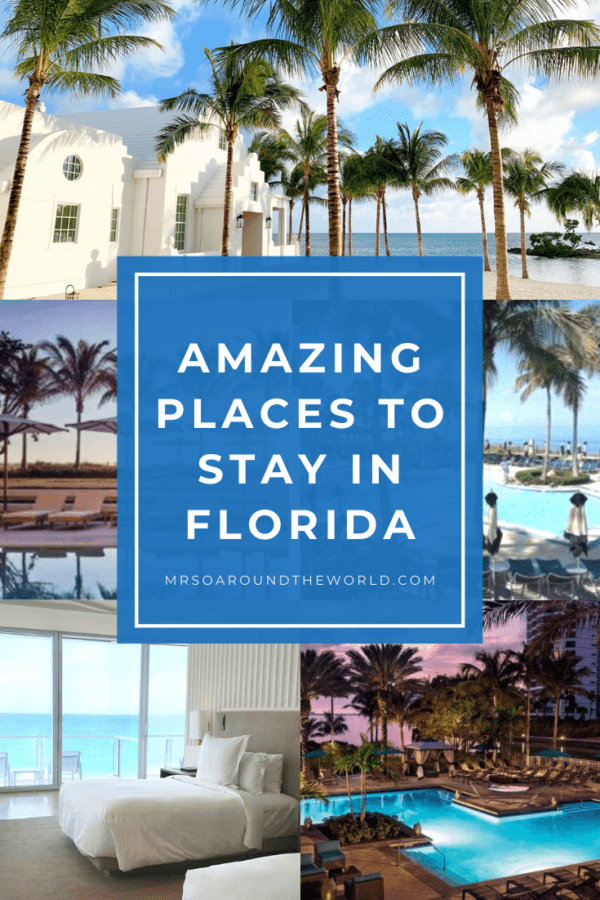 Check out my other Places to Stay in Florida posts below:
Check out my other Florida Guides below:
Check out my other travel guides below: