We have recently updated our outdoor patio area at home – we bought new furniture, had a deck installed and I have scoured the internet for little bits and pieces to make it as homely as possible. Many friends came to visit recently and all wanted to know where I got this and that, so I thought it would be easier to put it all in a blog post.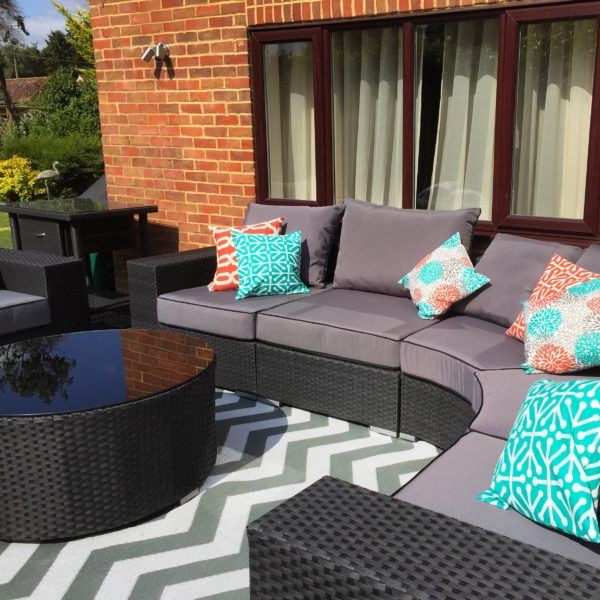 Outdoor rug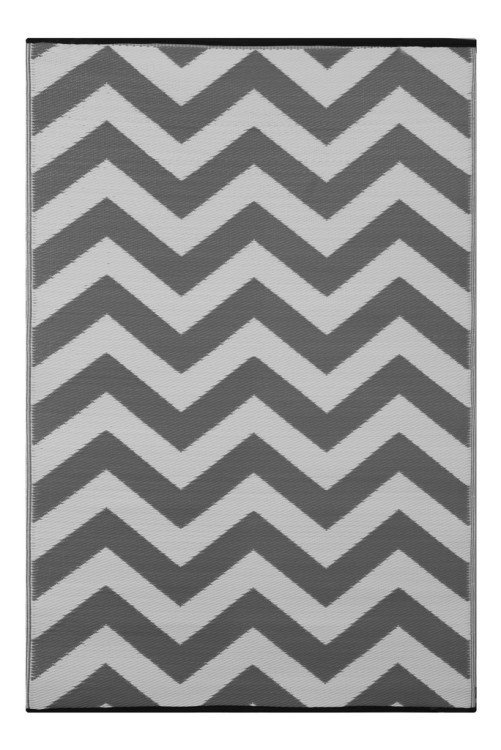 This whole new patio scenario started because I wanted an outdoor rug. I know it may sound silly, but hey, it is my house! I found these great rugs at Green Decore and I couldn't resist them. They are plastic and waterproof and pretty perfect. I also got a yellow one for my sister's outdoor area in Lisbon, and they really are great. Cost: from £29.00 (depending on size)
Cushions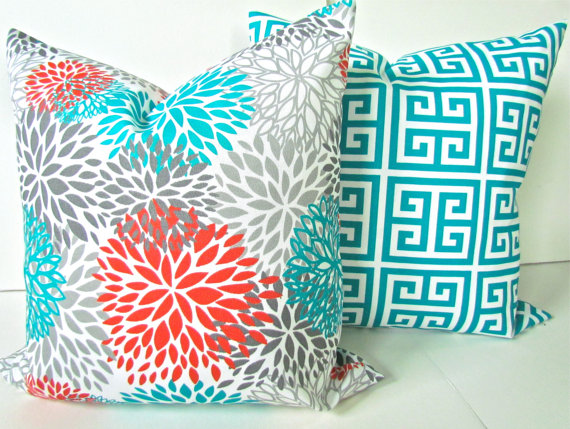 I couldn't find the cushions I wanted in the UK – it sounds ridiculous. They needed to be brightly coloured and with weather proof fabric. You would think that this would be a popular product in the UK, but noon. So I discovered Etsy and a vendor who could provide the cushions I so *needed*. The ordering process was super simple and within a week or so, the cushions were in the UK. Each cushion cost £9 from Etsy.
Outdoor Lighting
I was in the Maldives recently and became obsessed with some of the light fixtures that came out to the bar area of the hotel after sunset. After a bit of research, I found some very similar ones (they come in all shapes and sizes) on Amazon.
We bought 2 of the PK Green 40 cm LED Cube Mood Light Tables – which can be used as a table, a stool or just as decor. We have tried and tested all its uses and are very happy. It comes with a remote and you can change colours and we love it.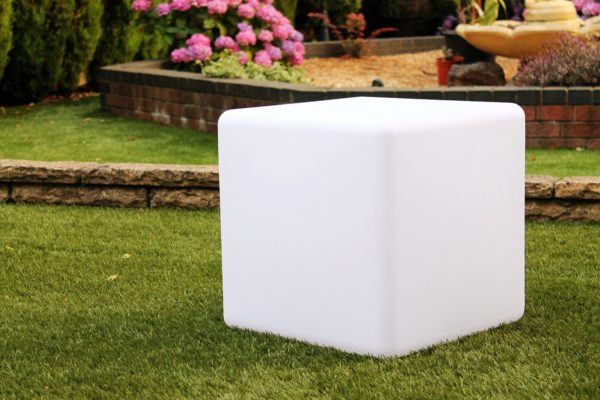 We also bought 2 of the 20 cm table top cubes, which are exactly the same as the 40cm ones, but smaller, obviously. To finish things off, we also got a couple of 10cm cubes for good measure.
Outdoor heating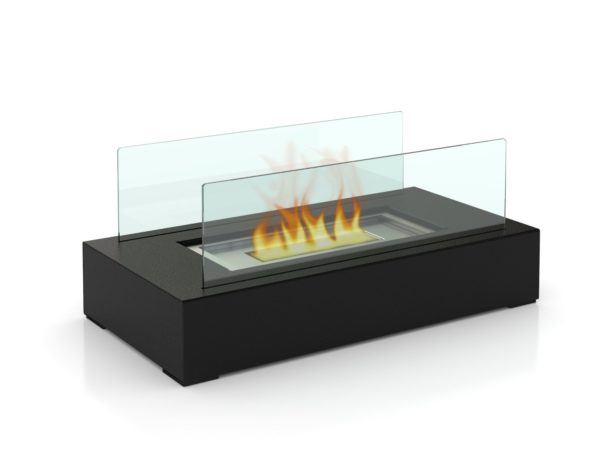 One of the best purchases (and for under £30), was the Bio Ethanol table top fireplace which not only provides warmth but also adds to be whole outdoor experience. Expect to use 1 bottle of Ethanol per evening (assuming you would have it lit for 5 hours), so bear this in mind when ordering. Cost: from £27 from Amazon.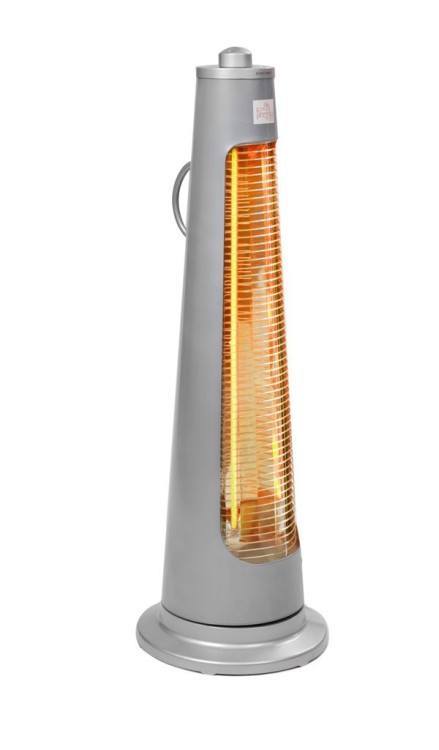 To keep us warm in those delightfully chilly British Summer evenings, we got a Firefly outdoor infrared heater which has been excellent and widely used. We weren't sure between a fire pit, a mushroom heater or a wall mounted solution and have to say we are delighted with this option (which only works if you have power plugs outside). Cost: £49.99 from Amazon
Parasol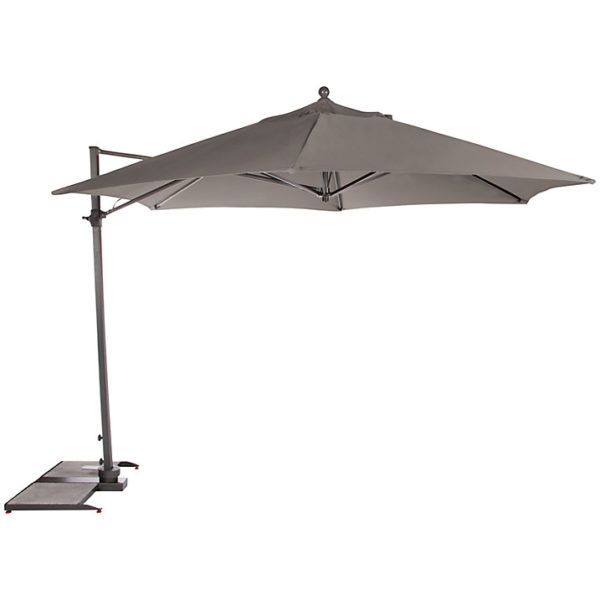 We have been delighted with the new parasol, a 3.5m cantilever parasol from Kettler which we bought from John Lewis. You can move its direction – e.g. to provide shade to the dining area or the lounge area and it is very sturdy. One super important thing: you need to buy the weights to go on the base separately – I hadn't realised it, and it meant we couldn't use it until we got them. John Lewis now sells it as an extra. Cost: £299 for the parasol and £49 for the weights from John Lewis.
What do you think about my selection? I would love to hear what else you have bought recently for the garden as I feel we are not done yet. But the best bit? The O'Reilly Gin bar is now open.. who wants to join us?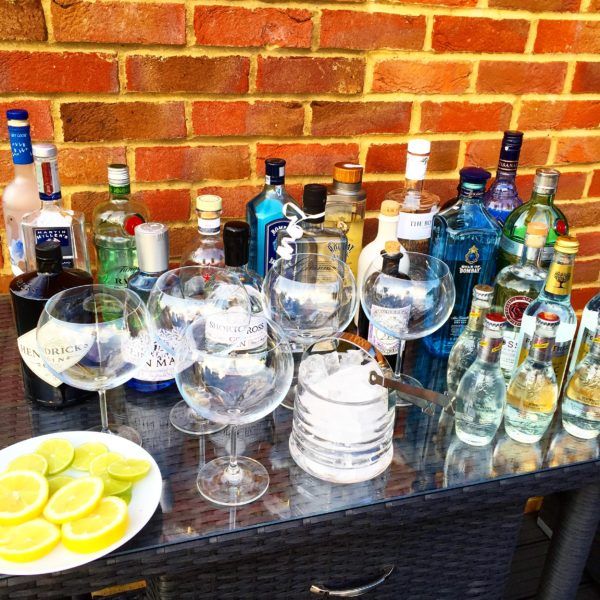 And if you want to buy the Gin glasses, the lovely people at El Corte Ingles now deliver worldwide. A set of 4 can be yours for £9 (for real).
Here's to a great Summer!
Xo
Mrs. O