Here are some of my favourite instagram shopping finds
If you follow me on my Instagram Stories, you will see that I share links to items I have purchased and could be of interest to others.
I will divert my Swipe Up links to this page, so your clicks are correctly tracked and attributed to me (if they come from Instagram and if readers don't purchase immediately, I won't get credit for it).
My sale finds below are in reverse chronological order, so it makes sense for those clicking in from Instagram (and they find the item they are looking for first).
Cayumas Venetian Slippers
Cost from £80 from Cayumas (mine are the Verde Oliva C25)
White rattan serving tray
Costs 29.95 from El Corte Ingles. Amazon have a very similar one too. Mrs. Alice does too (nicer even)
We love this tray and have it both in England and Spain – perfect for outdoor nibbles.
Fitbit Luxe
Costs £79 from Amazon
I wanted a new Fitbit (purely for counting steps and did not want an Apple Watch), so I recently ordered this one. Cheap as chips and looks very decent too.
Valentino jelly sandals
Cost £360 from My Theresa, Harvey Nichols (check out to see if you have an Amex offer, and also don't forget you get a £50/semester shopping credit with Amex Platinum).
These are perfect. I was unsure about the shade of nude as they looked a bit pink online, but when I got them… I understood what they meant by 'suits every skintone nude'. They are not too pink or too beige.
These are jelly sandals, which means they can be actually used to go to the pool or beach (and then rinsed) but I found them a great holiday staple as you can easily wear them in the evening. Get them before they go. They are also available in black.
Interestingly, they do not seem to be available from USA retailers – only a different model.
White raffia clutch
Costs £65 from Fenwick
Have been looking for something simple and easy for Summer and turns out a white raffia clutch isn't so easy to find. This was the closest I found – it does have some gold but looks lovely and is very well made. Also available in gold.
The chain is long enough to make it cross body. Size is approximately 30cm x 20cm.
Silke hair ties
Cost £30 from Cult Beauty
There are phenomenal and do not even compare with the Slip ones you see everywhere. Trust me on this.
NSI Nails Builder Gel in Soft white
Get it from NSI Nails (also search online as they have other localised websites)
My shellac isn't lasting very long on my hands (10 days maximum) and until I had my nails done in Spain and they lasted 3 weeks without any chips (I kept it going for an extra week as I was curious to see how they would fare). I asked the lady what products she used and it is a builder gel (used as a base for nail art), which comes in soft white (my favourite shade) but there are also other neutral shades available. You do not need a base coat as this is it – and she recommended I bought the matching gel top coat as it really works. I have and my nail lady in England now keeps it for me and I am thrilled.
Melissa Odabash bandeay swimsuit
From The Outnet (ships globally), now with 50% off
I have had this version of a swimsuit in a variety of colours and cannot recommend it enough. Very forgiving and flattering and I really rate Melissa Odabash's quality in terms of swimming costumes.
Cotton waffle duvet cover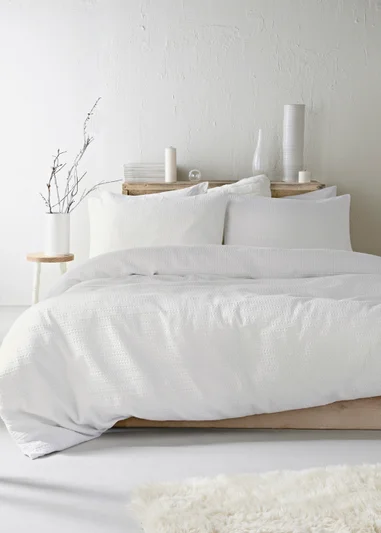 I came across these online last year (when I was looking for options for guest beds for our Summer home in Spain) and could not believe how fantastic they were. They are 100% cotton and the waffle is perfect (it is exactly the same material as the one selling at Pottery Barn for an extra zero, I kid you not). As a result, all our guest beds in Spain have these duvet covers and all our guests have purchased them… if you dry them well, they won't even need ironing. We even bought some in double size and had them altered for the single beds we have as we couldn't beat quality/value.
I paired them with this soft and silky fitted sheet, top sheet (if you use them) and pillow cases.  If you are looking to spend a bit less, we also got some sets with 400 thread count (instead of 800) as stocks were all over the place – they work well too. For Spain, we have bought these duvets and these pillows.
At home, we have this duvet and these pillows. Little one has this set.
Flowery dress
It is really flattering and I wear a size M.
Loewe puzzle shoulder bag (with crossbody straps)
Costs £2350 from Selfridges. Also available from Nordstrom and Net a Porter.
It is my current bag and I love it 🙂
Hermes Apple Watch (unisex)
From £1250
It comes with the leather strap (and also a bright orange plastic one), but what sets this Apple Watch apart from others are the faces, which are exclusive this model. You have quite a few Hermes options (and can customise colours). There are seasonal updates too.
Emergency Bag
Costs £10 from Amazon
I bought these (and tested them on 2 trips recently) and they are great. They fold to nothing and will be there for you when you shop a little bit too much.
Frette Bed Linen
Starting at £140 (down from £400+). Click here for UK and Europe, and also the USA.
Worth looking at towels too. Click here for Europe and UK and also USA.
You can find the outlet link for Europe here and USA here.
There's a bit more variety in the USA at present, but still good availability in Europe.
With regards to bath towels, I recommend the Eternity range (which is excellent and 750gr) – we bought the light grey ones for England and have the sandy beige in Spain.
Try and use the code checkout as a discount code as usually works (for new customers or new email addresses) and gives you an extra 10% off. Prices in the UK include duties and tax – but it is slightly cheaper if you send it to any EU country, so for those readers with homes abroad, ship there direct.
Men's Sebago Dan Loafers
Cost £165 from Amazon
Conair fabric shaver
Costs £17 from Amazon UK in Green or £20 in Blue. More colour options in the USA (inc white), for $12.
Skims bralettes
From $32/£38 each and they are super comfortable and available in every shade of nude so it will match your skin tone.
Get it from Skims (USA but very good global shipping inc duties, so works out the same and better range), Net-a-Porter and Selfridges.
I will update this list as and when and will they and remove items as they sell out (if you notice something, please help me by letting me know).
Happy Shopping!
Mrs. O