Looking for summer beauty ideas? Here are my top beauty essentials for Summer
Welcome, Summer! Spring has come and gone in a very strange manner for us in the UK and around the world with Coronavirus, but I am absolutely ready to welcome my favourite season of the year.
Our plan this Summer is to stay in the UK – we have booked a handful of luxury hotel stays as obviously we want to support the travel industry and having been blessed with the hottest Spring on record, we are looking for boutique hotels with a pool. And I think we found them!
I had many requests for this post (which really makes me happy as I am no beauty blogger and finding 5 products per season is absolutely my limit). Without further ado, here are my Top beauty essentials for summer 2020 that will shake up your summer skincare routine a bit.
Aesop Redemption Body Scrub
Costs £25 and you can get it from Selfridges (global shipping), Look Fantastic (USA/Canada) and Cult Beauty (Global)
I have been looking for a 'proper' body scrub (and by that I mean one that you really 'feel' when you use it) and this Aesop number gets extra points for its shower-perfect packaging too.
Baby Foot Peel
Costs $25 from Amazon USA and finally now available in the UK for £15
This was the ultimate 'lockdown' home beauty treaty and can be repeated every 8 weeks. I highly recommend it as it will leave your heels and your feet softer than ever. And please get your better half some too. It promises to rid your soles of the toughest, roughest calluses and reveal the smoothest feet you've had since, like, birth. And it delivers.
Nuxe Huile Prodigieuse dry oil
Costs £18.50 from Cult Beauty (global) and Look Fantastic (UK) and $30 from Look Fantastic (USA/Canada) (also see its travel set)
It has been a staple in my life for a few years – and I always keep small samples in my wash bags as they do come in handy. I used them all up during lockdown and I ordered a large sized Nuxe oil again as I fell in love with it again. Great to hydrate all over (namely during the pre-dinner shower which was a travel ritual we brought back into our lives in the days where we got to sunbathe at home) and also for my hair which needed some love. I also found some of their shower oil (which is a shower gel and took me years to find out). Get it from Look Fantastic UK and Look Fantastic (USA/Canada)
Bumble & Bumble Summer Air Dry Set (limited edition shampoo + conditioner)
Costs £22 from Bumble & Bumble UK, Liberty London, Bumble & Bumble USA or Ulta Beauty
I have a thing about hotel toiletries whereby I really do not trust the hair products (some can be nice, but you never know), so I always travel with my own, which isn't as easy, but it is life.  This 'air dry' set is really great and a summer beauty essential.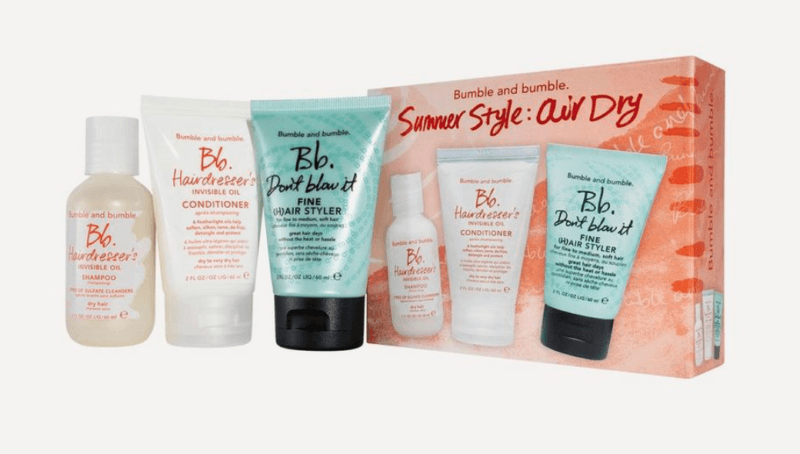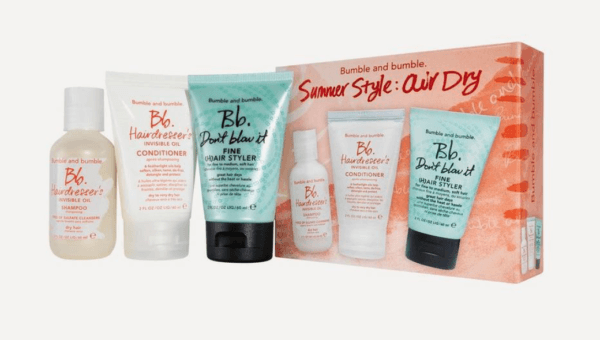 Kerastase Nutritive Masque
Costs £30 from Look Fantastic and you can get it from  or $45 from Kerastase USA.
A classic which I back to every season and been through a whole one during the lockdown. I use it during my weekly bath and my health is shiny and healthy.
Fresh Hesperides and Grapefruit Shower Gel
Costs £21 from Harrods or Space NK (Global Shipping) in Europe and Nordstrom or Sephora (USA)
One of the things I have done during lockdown is go through all the hotel toiletries we have brought home (and we are quite picky, as you can tell by reading this article about the hotel toiletries worth stealing, ironically the most read article in this blog on the second quarter of 2020). You can also see how I saved each 'experience' each week on my Instagram Stories as they really brought back memories of wonderful trips.
The Fresh range came from the Balboa Bay Resort in Newport Beach in California and we just had to order it the next day. I forgot how much I loved it.
Nivea Body Mousse
Costs £3 from Amazon UK and it is easier to find in supermarkets around the world than online.
I love love love it and after taking a break during the winter (where something thicker is required), I came back to this Nivea mousse which I bulk buy on Amazon as it sells out regularly. I can't say enough things about this product and it is also Mr. O approved.
I will keep adding to this round up of my summer beauty essentials as I find more products I love.
If you are looking for more specific round ups, have a look at my favourite luxury hand washes, hand creams and hand sanitisers.
Until the next time
xo
Mrs. O
Pin for later