My recent trip to the Maldives came with a bonus. More than just business class seats and incredible service from Qatar Airways, it came with 3 days in Doha, the capital of the Middle-Eastern state of Qatar. And to be honest with you, I was quite excited to have a (fair) bit of civilization to cushion the blow (and the glow) from ending our magic trip to the Maldives. I can't tell you how sorry we were to leave that magic island – but I can't also tell you how excited we were to arrive to such a different place.
Thursday afternoon and evening
Upon arriving, we made our way to the Four Seasons Doha, who welcomed us during our stay in Qatar. Located on The Corniche and with a private beach, we felt immediately at home. After a quick lunch, we were urged to enjoy the afternoon ahead as the weather was supposed to change. I didn't quite understand what it meant – I thought Qatar was supposed to be warm and sunny all year round.. hum!
To be fair, Doha is not the "ultimate cultural destination", but while Jean Nouvel's team is busy building what will be the über impressive National Museum of Qatar, we were delighted to spend an afternoon at the MIA – the Museum of Islamic Art. Stéphane at the Four Seasons really insisted we went (and I wasn't quite sure why… until we got there).
An imposing building from the outside (and a considerable change of scenery from our over water bungalow in the Maldives), nothing quite prepared me for what we were to expect inside – and that was one of the most beautifully designed museums I have had the pleasure of visiting. Obviously I am not going to pretend I know a thing or three about Islamic Art, but the building (both inside and outside) was outstanding, and the collection was extremely well curated.
From the museum, we walked slowly, by the seafront to the Souq Waqif, where we were transported back into time. It was lovely to see how Doha made the old and traditional work with the brand spanking new – needless to say that this is a very wealthy nation, and it has been a while since I saw so many building cranes in one place.
The Souk was lovely, and one thing I am glad we did, was to head to the information centre. A lovely gentleman explained to us (as there were no maps) how the souk was organised – from the restaurants (all dry, take notice, except in 5-star international hotels, which is absolutely fine), to the clothing areas, the food areas, the ladies areas (where ladies cooked for free to passers-by), the spice market (obviously), the pet/animal area.. it was all clearly separated and organised.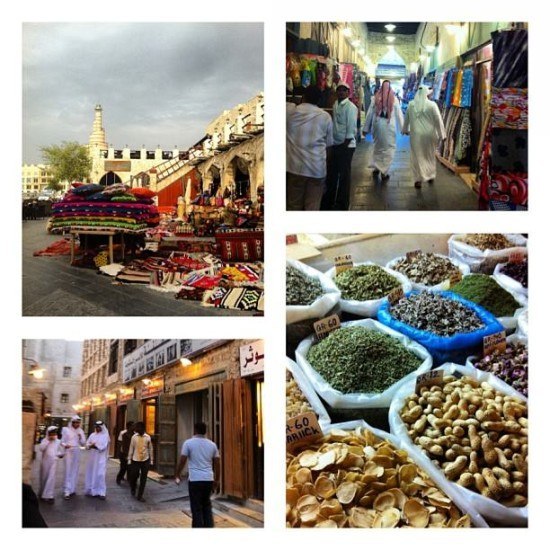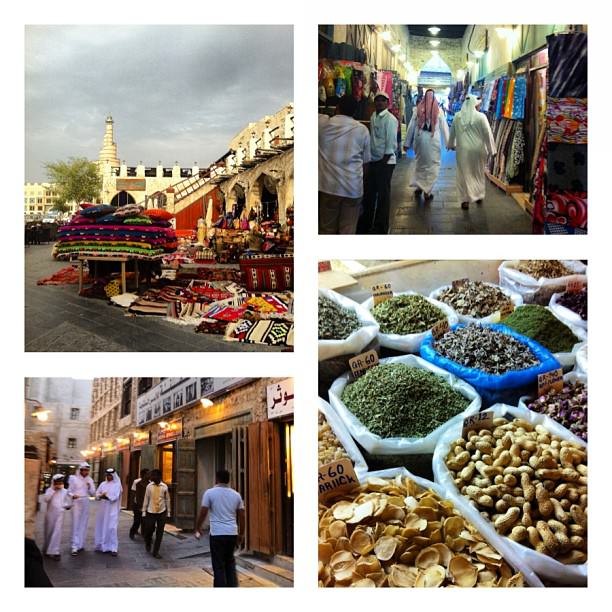 I would love to say that I bought a lot of things, but sadly I didn't. But what I did do? I ate, of course. We found the local food extremely interesting and strangely familiar. And halloumi cheese with everything? Yes, please!

After a couple of hours walking around, we braved the Doha rush hour traffic and headed back to the hotel, where we enjoyed a fabulous dinner at the Four Season's Il Teatro, followed by its weekly pool party, which takes place every Thursday from 7pm to 1am. A great evening indeed!

Friday

Friday is our "Saturday", i.e. the first day of the weekend. We were surprised  by the rain (which apparently almost never makes an appearance, but it did so during all of our stay). After a delicious breakfast, we retreated to the pool (in the rain.. why not? It was still warm) and I spent the rest of the morning at the spa, where I enjoyed the signature massage treatment. You can read my review here. This, turned out to be the silliest decision ever.. as I didn't somehow prepare myself for what I was doing that afternoon.

Why? Because I am a girl and quite silly sometimes. Qatar Airways had prepared a special afternoon which involved going to the desert. I didn't read the whole programme, assuming I was going for a little ride and look at some camels, potentially (hence why a massage before didn't seem like a bad idea).

The beginning of our journey was extremely nice. What I didn't know? That I was going to partake in Qatar's national weekend sport: dune bashing. Dune bashing? Well, that involves being in a 4×4 and drive at high-speed on, around, and God knows what around the sand dunes. It was mad – at times I thought I was not going to survive (Mr. O has the marks in his hand), but I can't tell you what an incredibly crazy but fab experience it was. The adrenaline rush I got from it (and the times my heart skipped a beat, oh my) is indescribable.

Obviously in hindsight, I wished I had filmed it, but my hands were busy and my mind was elsewhere. With this, we had to rush back into Doha, if we were to make it in time for dinner with some local friends. We had a great meal at a local restaurant, and as we didn't have enough excitement in one day (I am obviously joking), we thought we would check out the W Doha hotel, which is one of the city's nightspots.

I loved the contrast of über modern and über local – it was such a nice hotel. Sadly we couldn't eat the delicious treat that the hotel had organised for us, but were able to enjoy a cocktail at Spice Market and then later at the pool bar.

Saturday

(Or Sunday, if I just want to confuse you!). Sadly the weather continued not to cooperate, so the pool or beach was out of the question. As we had seen most of the sights, the only thing we could do was shop. And one isn't spoiled for choice as in nearby Dubai (but apparently it will change in the future).

So we headed to the largest shopping centre, the Villaggio Mall. I can't tell you how surprised we were when we got inside.. we thought we were.. in Las Vegas! It was the most bizarre feeling… but very interesting to see all the brands and how they adapt locally, or not! It was a great mall, but prices weren't really interesting for us as everything was pretty much the same price. But I did manage a pair of shoes!

After a quick bite to eat, it was time to head towards the Sharq Village & Spa, a really interesting resort, located not far from the airport, managed by the Ritz Carlton.

We spent a great afternoon at the Six Senses Spa, where we had incredible massages and other beauty treatments. I thought the spa was lovely and very different, as was the whole resort.

The Sharq also has a beach with great views of the Doha skyline, and where we enjoyed the last sunset of this incredible trip. To end it in style, we enjoyed a beautiful meal at its Persian restaurant, which was simply incredible and our best meal in Doha, without a doubt.

After a great two and a half days and some great sleep at the Four Seasons, which I absolutely adored, it was time to say good-bye to Doha. And we did so in style, by departing from Qatar Airways' Premium Terminal, which is for exclusive use of business and first class passengers only, and a great idea.

What did I think of Doha? Well, to be honest, I didn't quite know what to expect. I think 3 nights was possibly one too many (especially as we were quite unlucky with the weather), but we seriously had a great time. We actually met some incredible people, which make the memories even sweeter. I wouldn't say I would go "on holiday" to Doha, but when I fly again with Qatar Airways, I will certainly stop over for a night or two and enjoy it all over again. May even go dune bashing again, who knows?

xo

Mrs. O

Disclaimer: I would like to thank everyone who supported this trip and made it possible – Qatar Airways, Four Seasons Doha, W Doha, Sharq Village & the Six Senses Spa. Opinions, as you know by now, are strictly my own. And I had fun! If you want to find out what you could do on a quick stopover in Doha, Qatar Airways has some ideas – find out more, right here.

Article was posted on

<!-comments-button-->