Have you written your letter to Santa? I have mine ready since September, and have sorted all my Christmas shopping. I know most of you will laugh, but it is how I do it every year.
I have been asked for some Christmas gift suggestions for friends and family, and here are my Top 10 Christmas Gifts for luxury travellers, from £10.
For the lux hotel lovers
1. Mr. and Mrs. Smith vouchers (not your average boring hotel voucher, promise)
Have a picky partner? Boutique hotel experts Mr & Mrs Smith's Get a Room! hotel gift cards can be used towards stays at any of the 1,000 hotels in the worldwide collection.
Putting their own irreverent spin on the seasonal-ad phenomenon, they've produced this somewhat cheeky film telling the tale of one man's attempt to wow his wife on Christmas morning… (Warning: it's a little bit sweary.)
Presented in a sexy black pop-out box that little bit more exciting than your average envelope, Smith hotel gift cards are available for any amount from £50 up, and can be put towards a stay at any Smith hotel in the world, from all-out luxury five-stars to one-of-a-kind boutique retreats . Whisk me away!
For the memory lovers
2. A photoshoot with Flytographer
I am a great fan of Flytographer and have used their services more than 10 times in the past year or so. In the trips that I have used them (Lisbon, Paris, Abu Dhabi, Venice, Amsterdam and Istanbul to name a few), I have the most amazing photographs which are indeed, the best memories. You can choose between a 30 minute, 1 hour or 2 hour shoot and they will be super discreet. If you have an upcoming trip, it would be perfect, but if you know someone who is going somewhere, it could make their whole trip extra special! From $250 for a 30-minute session or $350 for a 1-hour session at Flytographer. For $50 off your session, use 'MrsOHoliday' discount code when you book.
For the beauty product addicts
3 – Liberty London Print Christmas Advent Beauty Calendar
The ultimate indulgence for the festive countdown, this Liberty Print advent calendar will make a sensational pre-Christmas gift for a special someone. A new surprise is unveiled every day, complete with an enviable selection of Liberty's must-have beauty buys, from skincare to scents and everything in between. A decadent delight for lovers of all things beauty, just remember not to peek at the goodies before it's time. £149 (shipped to UK addresses only) at Liberty London. NOW SOLD OUT (IT WAS THAT GOOD!)
For the gadget lovers
4. Bose QuietComfort 25 accoustic noise-cancelling headphones
Mr. O and I had been resisting this purchase as it is not the most practical thing to carry around when you travel, and usually we get decent headphones in long haul business class flights, but there was life before Bose and after Bose. The new series, the 25 acoustic is fantastic and very comfortable to wear. From £269 at Amazon. (ships internationally too)
5. Avantree PowerHouse Universal Multi-device USB Desktop Charger
Something so simple, but it was causing some trouble at home. Why? Too many devices and too many chargers. This charging station seats neatly anywhere around the house, looks very pretty and works with any smart phones or tablets (you just need to buy the right charging cables). The other plus, is that we always know where our phones are now. From £29.99 at Amazon (international shipping)
For the leather goods lovers
6. Stow Amelia Leather Luxury Case in Pink (and other colours)
Stow London is a recent brand whose development I have been watching since the beginning. I love the way they present themselves and how practical their products are (and oh so pretty). This luxury leather travel jewellery case is designed for longer trips and clever storage of both jewellery and tech gadgets including the brand's portable power banks.  The Amelia luxury jewellery case is available from £230 from Stow London (international shipping)
7. Louis Vuitton's Neverfull MM in Epi Leather
I have been searching for a good 'any time travel' handbag which looked great and was flexible enough to take as a second bag on a plane (with magazines, books, phone chargers etc), but also would fit my laptop and other gadgets, but that I could still wear as a normal handbag say on a weekend trip. Whilst Louis Vuitton have had this bag in monogram and other patterns, it has recently launched the Neverfull MM model in its trademark Epi leather  in 14 colours, so I made mine navy, of course. It also comes with an inside clutch which can be used on its own, and the bag's laces can be tightened to create a more compact, chic city bag. From £1,160/€1320 at Louis Vuitton (international shipping)
For the gin lovers
8. Shortcross Gin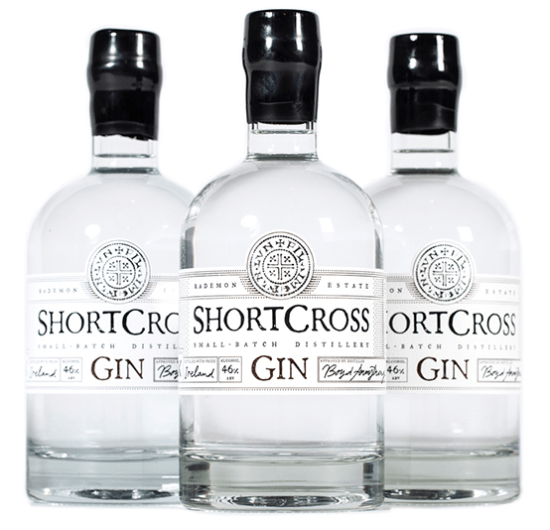 Hand-crafted by Rademon Estate Distillery, Shortcross Gin is the first gin to be distilled and bottled in Northern Ireland . This citric classic gin uses local produce as botanicals, such as apples from County Armagh and wild Irish clover foraged from the distillers' garden. A classical style of gin, it has a unique twist, showing floral meadow notes with green, wet berries and citrus.  From £40 at Fortnum & Masons. (UK shipping)
9. Gin Mare
Gin Mare is a small-batch gin inspired by Mediterranean culture and made using the finest botanicals of the region such as Arbequina olives, thyme, basil and rosemary. It hails from Spain and works wonderfully with rosemary or basil (I am serious!) – I love it paired with FeverTree Mediterranean. From £39 at Waitrose (UK shipping) or  Amazon (international shipping)
10. The perfect gin & tonic kit
I was looking for the perfect gin & tonic glasses and whilst searching, I found this kit, which is the perfect Christmas gift. If you just want to buy the glasses, click here. We have the full set at home and our gin and tonic parties have never been the same again. The kit is costs £25 at El Corte Ingles (also ships internationally).
So, what have you asked Santa this year? Do any of these take your fancy?
Happy shopping!
xo
Mrs. O