Looking for Autumn beauty ideas? Here are my top beauty essentials for Autumn
Summer has come and gone, sadly, but there is something comforting about colder evenings and shorter days. I know it is wishful thinking, but it is what it is. But there will be jam, and more tea, and scones. And a slightly different beauty routine. Here are some of my Autumn beauty essentials for this year
I don't try dozens of products every month – in fact, I cannot be asked, so my recommendations for the best skin care or the best cleanser are the ones I currently am using (or have done so for years).
Bobbi Brown Vitamin Enriched Face Base
Costs £39 for 50ml from Amazon (currently £10 cheaper than all other retailers). Selfridges is selling it for £48.50. You can try a smaller size for £10 – from Amazon.
It all started with a friend asking me to take her some of this 'face base'. Everywhere I went, it was always sold out. So obviously I was curious! I have been using this face base over the Summer and it is lovely. Light and easy to apply – it is a moisturiser, after all. And it does give you a dewey glow. It is a cult product and I have joined the cult.
Bamford Deodorant
Costs £20 from Bamford (100ml)
I have been trying aluminium-free deodorants for a bit and in all honesty, nothing really worked for me. On a recent trip to Bamford's Haybarn Spa in the Cotswolds, I tried this deodorant and have road tested it throughout the whole Summer and it is going to be my go-to from now on. It took about 2 weeks for my body to get used to it – you do sweat but absolutely no smells. It is bulky (so I will have to decant it to travel), and I do wish I did a 50ml or even a 30ml version. I feel this will last a whole year (so it isn't a value for money issue), but it takes a lot more space than my other products on the counter.
Origins super spot remover
Costs £17 from Selfridges, Amazon
I have always dismissed Origins for things like these (as 'too organic'), but a lady at the airport gave me some to put on a spot (ironically as I was buying the Bobbi Brown face base) and it was gone. It was almost as good as the Clinique spot treatment (which was pulled from the market for being too strong – those were the delays).
I have been using this spot treatment for 6 months now and pretty happy with it (just not pretty happy with all the random spots I am now getting since I turned 40!).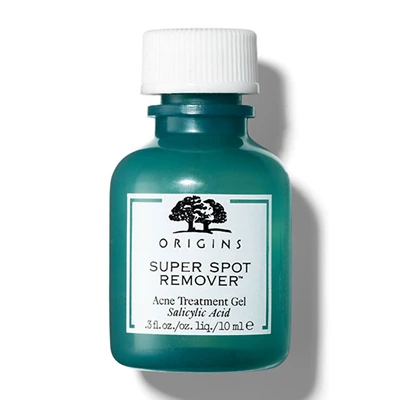 Margaret Dabbs hand serum
Costs £30 for 30ml. Get it from Look Fantastic (see discount codes on the website), Space NK, Cult Beauty
Absolutely fantastic product (I am a huge fan of Ms. Dabbs' line). We have both been trying it each evening and there's a visible improvement in elasticity and firmness (something I have started to notice). I use it a hand cream whilst I watch TV in the evening and then use a little bit of this gem before I go to bed.
Worth having a look at the Margaret Dabbs hand kit.
Living Proof Advanced Dry Cleaning Shampoo
Costs £13 for 100ml. Get it from Space NK, Look Fantastic, Cult Beauty
I am a huge fan of Living Proof products and their dry shampoo has always been outstanding – and this new one is even better. Try the smaller one first (it will last a fair bit).
Body wash: Apivita Tonic Mountain Tea body wash
Costs £13 from Look Fantastic.
I will be adding this to my selection of hotel toiletries worth stealing as these are just divine. Apivita is originally from Greece and makes very good natural products. This shower gel will always remind me of Greece.
Hair care: Bumble and Bumble Hairdresser's Oil Heat and UV Protector
Costs £22 from Space NK. You can also get it from Amazon UK or Amazon USA
I have been in denial with the need to use a heat protector but finally converted before it was too late – and this is the product which made me do it. Spray it whilst damp, and then go to town with your preferred hair styling tool. It also smells divine.
Tan Luxe Sleep Oil
Costs £34/$50 from Space NK (UK + Europe), Net-a-Porter (Global), Sephora (North America)
I have never used self tan products, but I liked the promise of this Tan Luxe Sleep Oil: to prolong the tan I have from my summer (all with SPF 50) but in a super easy way: no streaks, just a few drops a night before bed and that would be it. I did not tell my other half and he has made comments on how my tan is really lasting. You absolutely need to wash your hands afterwards (I didn't one day and I had a weird stain on my hand which I couldn't place). But it really works and I will try the body product in time too. My skin looks really healthy and smoother too.
I hope you find my Autumn beauty essentials useful! If you are looking for other ideas, you can browse my Summer edit as I think the foot peel is a must for Autumn as well or maybe my hand wash selection?
xo
Mrs. O
Pin for later
.