You know I like a cocktail or three – I was introduced to these on trips to the USA, as they weren't very popular in Europe at all. But things have changed!!
So without further ado.. here are some of my favourite cocktails – in no particular order (please don't ask me to do that.. I simply can't!)
1. Mojitos
Pictured on the left of this image, is one of my favourite drinks. Meet Mr. Mojito! Be that a classic or flavoured.. have tried a few variations of this beauty and always go back for more. It is a perfect summer drink as it is so refreshing. This particular one was enjoyed in Lisbon with Mr O, my sister and her boyfriend.
2. Cosmopolitans
Think Sex and the City and you think of Cosmopolitans – a drink that became a staple in our lives. And weren't those years fun? It takes me back to fun nights out with the girls, and this one was indeed enjoyed with very good company – with my friends Trudi and Justine at a pool party at the W in Barcelona.
3. Caipirinhas
Oh my, this could be a firm favourite, and without a doubt a drink I miss now that I don't live in Portugal anymore. I hate to say it, but caipirinhas in the UK simply are not up to the standard! I love pineapple caipirinhas, but also keen on strawberry, or lychee, or mango.. you get the idea. Apologies for such a bad-looking photo, but I was more interested in trying these beauties when I last went to Rio de Janeiro with Mr. O. These flavours were quite unusual and incredible!
4. Daiquiris
I usually don't drink at all when I am at the beach or pool (water being my preference), but every now and then I love a frozen daiquiri.. preferably strawberry! This was enjoyed with my dear friend Leah when we were last in Miami – aka the last time I saw the sun, which I miss desperately!
5. Sangria
Life without sangria may not be worth living – but I am referring to a very special type of Sangria, which you can only find in Portugal. You should know by now that I am all for giving credit where it is due – and here I publicly thank nuestros hermanos in Spain for coming up with the concept, which was, without a doubt, perfected by the Portuguese. Red wine sangria? Nope! Think white wine sangria, or even better, champagne sangria – perfect for our lazy beach lunches. But the invention of the century? Rosé port sangria – it is perfect (and not particularly alcoholic). I loved trying it for the first time last summer and can't wait for the weather to get warmer again!
 6. Georgia Peaches
Now we are talking.. with a Southern US accent! Georgia peaches.. well, must have been invented in the State of Georgia and have peach in it..  interestingly enough, this delicacy is always enjoyed not where it came from, but in Palm Desert, in California, with Mr. O, Leah and Lola. Fab fab fab! And of, course, they look pretty!
7. The Lividus (rather strange name, but go along with it!)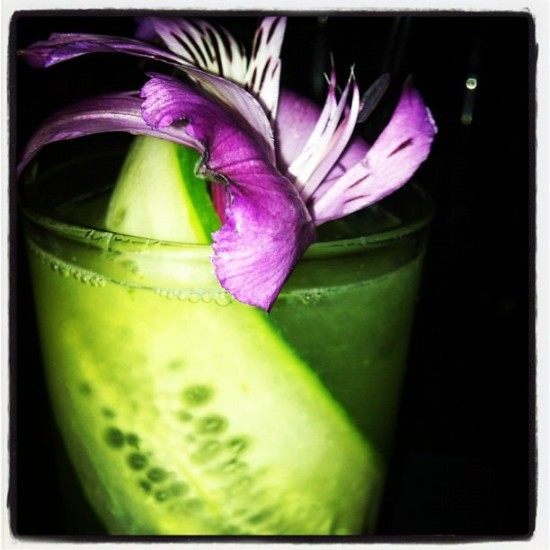 This is possibly one of the best drinks I ever had in my life – Gin based (I love Gin & Tonic, which of course, is too simple to be called a cocktail), the Lividus is one of the signature drinks of the W hotel in South Beach, Miami. I have to say, this was a place where every cocktail we tried was delicious and quite unforgettable. I vividly remember speaking to a hotel guest who was staying for a whole week and working her way through the menu, as she simply couldn't choose. Clever girl!

8. Mint Juleps

I had never heard of Mint Juleps until I went to New Orleans – and only because some of my lovely readers told me about it! I would describe it as a mojito, but made with bourbon whisky, rather than rum.. what is not to like?

The interesting thing, is that I have now enjoyed them in other cities – namely Paris and Zürich ever since.. and wonder.. where were they all my life?

9. Bellinis (of course!)

You thought I was going to forget? It is such a simple drink, but oh so lovely! And perfect for any time of the day 🙂 I love Bellinis and will never forget the one I had at Harry's Bar in Venice, technically where they were invented. This one, enjoyed with Mr. O, my BFF Trudi and her lovely husband was tasted at NYC's Grand Central Station – it was our boys' birthday and they deserved a treat!

10. The Mrs. O Around the World

I am not joking.. the lovely Bruno, the barman at the Sheraton Lisbon, in Portugal, created this incredible drink for me and we named it, well, you can guess how creative we were… This is off menu (for the time being), but if you go there, it can be made for you. I think Starwood could totally take it global – for the time being, I carry the recipe with myself on my phone!

And there you have it – some of my favourite cocktails for your online enjoyment! And as it is friday, I am certainly going to have one!

Cheers!

xo

Mrs. O

Article was posted on

<!-comments-button-->