A review of JetBlue Mint Cabin (Business Class)
Yes, you read it right. USA-based airline JetBlue now has business class. Named Mint (in true JetBlue fashion), it is available on routes between New York's JFK and Los Angeles and just has been introduced on selected flights between JFK and San Francisco. On a recent trip to California, I had to connect via JFK so I really had to try it. And priced from just $599 each way, I was very intrigued to see how it would compare with other 'transcontinental' services which have been recently introduced by other airlines (which can cost 3-4 times more each way).
Here's how My Flight with JetBlue went.
Pre-flight correspondence and experience
We made our booking online using JetBlue's website and it was pretty straightforward. We had pre-selected our seats (1A and 1C) and expected a smooth ride. In the months that preceded our trip, we were surprised by a barrage of promotional emails (I had clearly opted-in without realising) which were totally inappropriate to us as a) we do not live in the USA and b) not one single email was about Mint class, so totally irrelevant.
On this trip, I was connecting in NYC and flying with British Airways to London. I was due to land in NYC at 5am and have a whole day in the city and then depart for London at 9.30pm. Since both airlines had recently announced some sort of collaboration, I was hoping I would get some luggage assistance as the flights arrived and departed for different terminals (and we *only* had 5 suitcases) and we really did not need our luggage.
I tweeted both airlines who said that not much could be done, which surprised me, as I was flying Mint and BA First and because they announced a partnership making things easier for passengers of both airlines. I was told by JetBlue's team that my option would be to leave the bags with them at Terminal 5, which would mean I would have to go to NYC, come back to one terminal, get the luggage and miraculously find a cab which would take me to BA's Terminal 8. Getting 5 suitcases on the Air Train would obviously not be an option, so I took the luggage with me to the hotel and then checked in with BA at 10am and spent the day in NYC with no bags. I honestly think there is room for improvement here – seriously what is the point of that announcement? To be fair, JetBlue responded to me on twitter in real-time.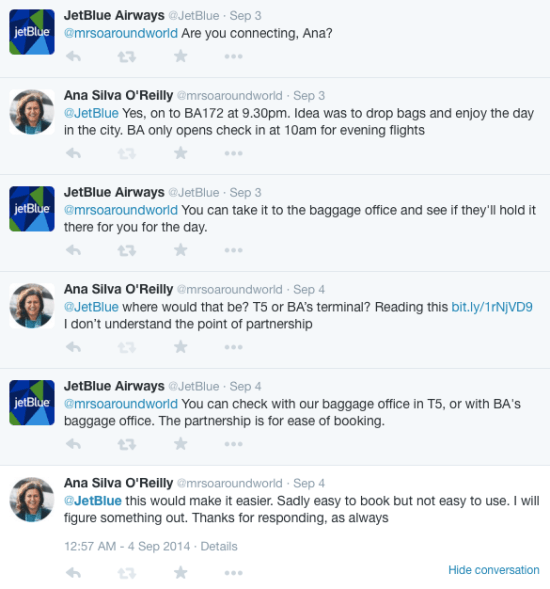 Check-in 
We had checked-in online and I was curious about the number of check-bags we would be allowed. We knew we were over (and paying would not be the issue), but were surprised not to find any information. I checked the small print on our ticket and there was no mention, checked the website and 'nada', so they I tweeted JetBlue. The response came quickly, as always and we knew we had 2 bags each and would have to pay for 1 extra suitcase. Not an issue at all, but still found it weird… why isn't it on the website?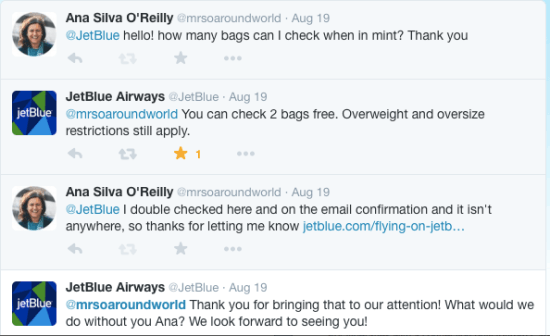 At LAX, we found the JetBlue area and saw that there was a separate check-in line for Mint and Mosaic (frequent flyers) passengers, with no queue. There was hardly any queue for coach passengers either. When we checked in, we were told that we had to pay $75 for the extra bag, which we thought it was interesting as the first 'extra' bag is priced at $50. If you fly economy, your first bag is free, the second bag is $50 and the third or more bags are $75. As our allowance was 2 bags, one would assume that 'our first extra bag' would be charged at $50, but we were told that it counted as a third bag. I did not say a word for the sake of $25, but believe this could be made clearer going forward.

Security

As Mint passengers, we were able to use the Fast Track security lanes, which were not particularly busy and we went through under 8 minutes, which is not bad.

 

The Lounge

There was no lounge at LAX, sadly, so we found a bar and had a pre-flight Gin & Tonic. Getting a seat wasn't easy and it was different from our normal flying experiences, but I understand that there is a lounge in NYC and there could be one on the way to LAX, soon. The terminal isn't particularly exciting, with limited shopping and dining.

The Flight

I cannot tell you how excited I was about getting on the plane – the website did promise a very special flight experience with lots of curated touches, which I was keen to experience.

–          Welcome

We boarded and were very quickly directed to our seats, which were 1A and 1C. The cabin looked über smart, with great lighting and the crew were very friendly. Throughout the flight, I was surprised to see everyone always being addressed by name, which was a nice touch.

–          Amenities

On our seats, we found a snooze pack, a blanket and a pillow and later on, we got our his and hers Birchboxes. I love the concept (it is a subscription service whereby every month you get a box full of wonderful beauty products at home) and I thought it was a very clever brand association.

–          Drinks service 

Before take off, we were offered a Mint welcome cocktail – which was Minty, of course. How sweet. We were asked if we wanted it with or without vodka, so in the name of research, I said yes. They were yummy.

For the meal, we had 2 choices of American red and white wine, very appropriate, and a US-produced sparkling wine. There was also a bar and beer service with plenty of options as well as soft drinks. I tried the Sauvignon Blanc, which was good.

–          In-flight dining

I was looking forward to trying the food, as it isn't your regular horrible airplane food (or so the marketing materials promised). In a partnership with Saxon & Parole (a very cool NYC restaurant which I had actually been to before), JetBlue hopes to revolutionise the food served on American skies, which can only be a good thing and much-needed.

The menus were also interesting and very well presented, as you can see.

The tray arrived and I have to say, it looked pretty good. The soup was delicious and the 3 tapas-style courses were not unpleasant to the eye. From the 3 options, I wasn't so keen on the lentils, but the shrimps were good. The dessert was actually fantastic and the sorbet worked very well up in the air.

I wasn't so keen on the breakfast sandwich, but I thought the concept was very interesting and JetBlue may be on to something here. It was, without a doubt, better than any other domestic USA flight I had ever taken.      

–          The seat

The seats and the cabin itself looked extremely smart – they were very comfortable and had lots of very interesting details. Storage was extremely well thought out, with room for a water bottle (which was there from the beginning), an actual place to put your phone so you don't lose it (very clever), and lots of space overall.

Rows 1, 3, 5 have 2 seats on each aisle, but rows 2, 4, 6 have just the 1… with a door! Obviously I had no idea (but we were 2 people flying), and if you can, absolutely book these seats as you have a little mini suite and are more secluded from the rest of the cabin.

The seats supposedly become flat beds and have a massaging feature, but ours sadly did not work. The crew tried hard to change them, and were able to get them almost flat, or in landing position. It was a real shame as we were keen to test the seats (and sleep properly).

We were promised a $100 voucher per passenger, which never materialised. It would be nice to get them at some point. (Note: within 1 hour of this article being published, JetBlue's twitter team has gotten in touch and provided me and my husband with the credit towards future travel. Impressive or what?)

There were proper power and USB plugs on each seat, which worked very well.

–  In-flight entertainment 

I had flown JetBlue once before in my life (a good 15 years ago) and was mesmerised when they had live TV on board. On this flight, they still offered the same, with many channels to choose from, and there were also feature films. I was surprised to find out that the films were not on demand, so they just kept going. This meant we missed quite a bit as obviously we had to interact with the crew during the meal service – don't get me wrong, I always do this and think it is very rude to not to, but being a brand new plane, I wasn't sure why this wasn't featured.

We also had wifi (which is still a novelty for us in Europe) and I used it for 10 minutes just to test it for fun, and worked very well.

The headphones were OK and cancelled some of the noise and the in-flight entertainment was easy to use. The screen was large and worked very well.

Final thoughts

Despite some mishaps, I thought that the flight was very good and JetBlue is certainly innovating and created a very interesting business class product. Service was good, but you could tell it was a new concept and the crew were finding their way around, and doing a good job. At $599 each way, I thought it was extremely well priced and it delivered on the promise (assuming your seats work as advertised). Our bags were the first ones to get out on arrival and we were also ahead of schedule which is always good news.

Would I fly again? I would – even knowing that I would forfeit my beloved OneWorld points. Would I recommend it? Without a doubt.

To find our more about JetBlue's Mint Cabin, visit its website.

Until the next flight…

xo

Mrs. O

Article was posted on

<!-comments-button-->