A review of British Airways Club World Business Class
The British Airways Club World (Business Class) cabin is one I know very well and which, in my opinion, delivers exactly what I want on a regular basis – great service, food and drink (add extra chocolates to that) and comfort. Here is how a recent flight from London Heathrow to New York JFK went.
A good travel experience does not begin when you arrive at your destination. For me, it is pretty clear – it all starts at the airport. Long-haul flights for me, are very special moments – it is code for 'me' time: no interruptions, time to catch up on movies and TV, bubbles and of course, continuing to believe that 'there are no calories up in the air', especially when it refers to chocolate. Don't ask.
Check-in
Checking in at London Heathrow's terminal 5 is always a breeze. I call this one of my 'spiritual places' (it is where many travel adventures) and it really has a calming effect on me (as soon as I enter the terminal). It is bright and airy, very quiet and there are no queues. British Airways Club World Business Class passengers have many dedicated check-in desks, but as a BA Executive Club Gold Cardholder, I am also able to check in for any flight on the First Check In area. I chose the latter as there was no queue (and because it always feels special).
When you approach this area, you are greeted by BA ground staff and directed to the next available check-in desk. Ours was short but sweet – the ground agent was nice and seemed particularly excited by our final destination (which was Miami, via JFK) – everyone wants to escape the British winter.
Security
All Club World Business Class passengers (as well as silver and gold cardholders with a guest) can use the Fast Track security lane, which usually works well (but depends on the time of day). We had 5 people before us on our lane and it took us around 10 minutes – most people were leisure travellers and they took their time.
The Lounge
We could use either the BA Galleries lounge (as can all business class and silver cardholders) – both at the main terminal (T5A), where you have a choice of North and South lounges (I prefer the South one), but you can also use the lounge at T5B, the satellite terminal where our flight was to depart from.
As a gold member, I love stopping by the First lounge, and obviously we did so. This lounge is for First (who can also use the *heavenly* Concorde Room) passengers and Gold cardholders.
On this occasion, the lounge was very busy, although finding a place to seat was not a real problem. However, finding a clean one, proved more challenging. BA has recently changed the catering on its Heathrow lounges (with some hiccups, but I do think everything is OK now), but I feel that there is less staff than before. Do not quote me on this, but it was clear on this occasion (and other subsequent visits). It feels that you need to get hold of someone, rather than have someone come to you, which used to happen. We did find someone, who promptly cleared the table we intended to use and we placed our order: an epic bacon and egg made-to-order sandwich, aka my favourite breakfast.
You have a buffet available (which has improved a lot) – and obviously it changes during the day. You can find a very good selection of continental breakfast items – bread, cheese, hams, muffins, pastries, cereal, etc, as well as bacon, and all the things you need for a full English breakfast. I must confess I rarely use the buffet as I love the made-to-order selections – so I always make sure I have enough time at the lounge, although I never had to wait more than 10 minutes at any time.
You will also find a full coffee, tea and soft drinks selection and, of course, the fab champagne and wine bar. As it was early in the morning, I actually did not have any Taittinger (which is back on offer, both the rose and the lovely Prelude brut). The champagne selection changes every now and then (and I really was surprised to find a brand like Castelnau on offer for a while, alongside a lovely Bollinger. But we are back in Taittinger World, and that is a good place to be).
The lounge offers a wide newspaper selection, but the magazine options can be completely hit or miss. Sometimes you have a good day and you can get 'normal' magazines (like Tatler, CN Traveller, Vanity Fair, Hello, etc), but most often than not, it is full of 'airport lounge' magazines, and I am not sure who reads them. I was able to get a copy of Hello! (I have a little trick which I shall not divulge… well, basically, you can ask!), but nothing else. I hoped I would get more on the plane, which actually happened (as normally).
I tried to use the Elemis spa, but I couldn't get a slot. Sadly, this has happened a lot lately, and I always feel that there aren't enough therapists for the number of treatment rooms. You can also try to use the T5B Elemis Spa, but there was no availability either, not even for a chair massage. It is not a deal breaker, but I do confess I like my pre-flight mini facial.
I think the lounge, overall, is outstanding – it is a really nice space, tastefully designed and decorated and you don't find lounges like this everywhere. I am very lucky that this is my 'home' lounge and it is the one I measure every other lounge in the world against. It is a busy lounge, because obviously it is the 'home' of British Airways.
The Flight
–          Welcome – we boarded the plane using the fast-track lane. When we got to the door, we were greeted by name (which is always a nice touch. All it takes it a quick glance at your surname…). We also got the 'Welcome back, Mr. and Mrs. O'Reilly', which I have to say, is one of the things that really mean something to me. It is silly, I know, but it is all about the little things. Our seat was on the main floor (the upper deck, which I usually prefer, was full), but we had the last row facing a wall, meaning that one of us had no other passenger contact, which I quite like (sounds very anti-social but given a choice, I prefer not having a stranger climbing over my seat).
–          Amenities – on our seats, we found a pillow, a duvet and noise cancelling headphones. As we got ready to sit down, the crew came round with drinks (champagne or water) and also brought the amenity kit, which turned out to be the new one, which was introduced in late 2013. I was quite intrigued as it looked completely different from the previous ones (it was time for a change!). Elemis was kept as a brand (which I find interesting – I like it, but I don't love it. I have been thinking about a new brand to suggest to BA and I can't think of another brand which would fit the bill, besides Aromatherapy Associates and REN, both used in the First Cabin, *sighs*). Love a good first world problem.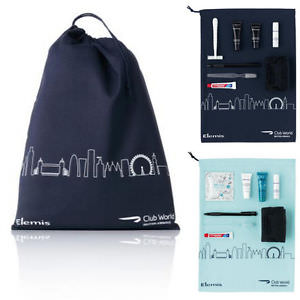 With the change, there is now a male and female version (obviously Mr. O and I got one each), which makes perfect sense as we have different needs. To be fair, the products included are better than before. The lip balm and the moisturiser in particular. The 'bag' is given to you folded, but once you open it, it becomes quite a large bag, perfect for shoes, or underwear, or just 'stuff' for future trips. I have been using mine as a 'tech bag', where I put all the adapters and cables and what-not. I think it is also great as an overnight laundry bag, for example. It also includes a pen now (which was only given to you in World Traveller Plus, aka Premium Economy), but interestingly, it is unbranded.

Worth noting that I almost had a heart attack when I realised that the ear plugs and the eye mask were not included. Why? Because most people don't use them (and worry not, they are available on request). But what you don't know is that the ear plugs in Club World (and no others in the world – believe me, I have tried everything), keep my marriage alive and well. Without going into too much detail, they are the only ear plugs in the world that work for me, and block out, let's call it 'noise' (and what every friend that flies Club brings me back – unused, of course). For years you were unable to buy them, but thankfully there is a similar model available for purchase in the UK now. But I was counting dearly on both pairs for the upcoming trip ahead, and was delighted when the cabin crew brought me not one, but 10 pairs.

–          Drinks service – As stated previously, we were offered a glass of Taittinger champagne when we boarded, and before the main meal (which was lunch, on this flight), you are offered a pre-meal drink, as normal. I choose a kir royal (not pictured), as well as water. I declined the nuts and asked for the pretzels (which I prefer), and the crew gladly got me some.

At this stage, you are also given a menu which lets you know which options you have during the flight. It has good variety and more and more healthier choices, clearly marked.

–          In-flight dining – as my starter, I picked the 'tarragon and orange cured salmon gravlax with vegetable caviar' and I have to say, it was outstanding. It came with a fresh salad, which I also ate. For my main course, I had a 'seared fillet of British beef with horseradish, dill and chive sauce, broccoli, courgettes and sweet potato mash'. And although it didn't look like fine dining (it was the sauce, of course), it was also delicious. For dessert, I did everything I could to resist the key lime pie (only because I was heading to Miami and there would be plenty of it) and had the cheese selection, which is obviously something I don't have a lot of when I visit the USA for obvious reasons. On offer were 'Coastal Cheddar' and 'Somerset Camembert' with grapes and biscuits. On recent flights (and everywhere in the UK), traditional crackers have been replaced by oat biscuits, which I personally really do not like. I expected these and was pleasantly surprised by the new flat breads which were also lovely.

In terms of wine selection, there were 2 reds and 2 whites available – I had a Chateau Favray Pouilly Fume 2012 with the salmon and a glass of Meiomi Pinot Noit 2012 from California, as I was heading to that part of the world. Both were very good. 

Prior to landing, we were served 'traditional afternoon tea', which I must confess, is one of my favourite BA meals. It comes with 3 sandwiches and warm scones with clotted cream and jam. And your choice of tea (mine was Earl Grey).

During the flight, you have access to the 'Club Kitchen' where you can help yourself to snacks during the flight and in between meals – I am particularly keen on the chocolate and sweets basket, I must confess. You can find a selection of wraps, fruit, salads, ice cream and drinks. If you need anything else, there is always a crew member around to help you out (especially if you want an alcoholic drink).

–          In-flight entertainment – Obviously the screens are not of the same generation of the new A380, but they are reasonably sized and worked well during my flight. Needless to say, I went to town with the films and I think I only slept a couple of hours, as there was a lot to catch up on. There is also a power plug to charge any devices, which I did not use.

–          The seat – the seats are absolutely fine and I love the cabin colour (I cannot wait to try the new new ones, which are grey and also look the part). They recline to a flat bed with the help of the footstool and I cannot fault them. They are wide enough, comfortable enough and I like the privacy you get if you have a window seat. The cabin has a 2-4-2  configuration with seats facing each other, so Mr. O and I can have lunch and look at each other (very romantic). If I am travelling solo, there is a little screen that you can put up.

Final thoughts – we had a really good flight, as usual. The crew was really nice and friendly, nothing was too much trouble – this is what I expect from BA, and I got it. Flights from London to NYC in British Airways Club World cost from £1650 return.

Until the next flight…

xo

Mrs. O

PS. You can also read other flight reviews – BA Club World (Business Class) on the A380, World Traveller Plus (Premium Economy) on the new A380, and for the BA001 all business class service from London City to JFK. See also other airlines including Qatar Airways (Dreamliner), Jet Airways (Premiere) and JetBlue (Mint).

Article was posted on

<!-comments-button-->