When I heard that The Lazy Travelers were plotting European domination (i.e planning a trip to Switzerland and Ireland) in December 2012, I had to interfere. I had to make sure they would sleep well. In a nice hotel. Having been to Dublin earlier this year, I didn't have a chance to go back again to this incredible city and accept the lovely invitation from The Doyle Collection. So I sent these lovely New Yorkers instead. Xo Mrs O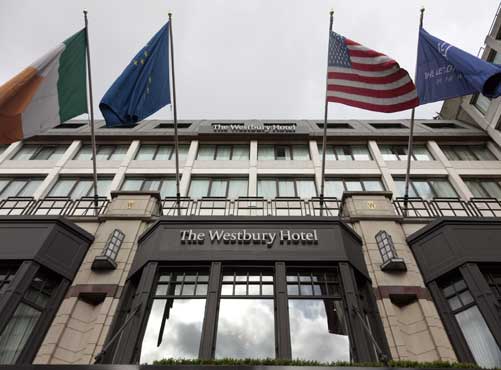 On our recent trip to Switzerland and Ireland, we realized something: we are absolute masters of the high-low travel mix. Over the course of seven days, we managed to stay in every type of accommodation: ranging from one very sketchy hostel to an incredible five star hotel – The Westbury Hotel in Dublin.
Along with learning that we have a very low tolerance for shared bathrooms and abnormally small bath towels, we ended our trip learning a much bigger lesson: always finish your vacation in the nicest hotel you can manage.
Though we've been fortunate to stay in some amazing hotels before, we usually splurge on properties that are true getaways. As New Yorkers, we'll spend more money to escape to somewhere with a beach or out in the country, but tend to grin and bear it in cities (see: our hostel in Geneva and every single time we've thought it was a good idea to crash on someone's couch).
Though we pride ourselves on our low-maintenance attitudes, we're afraid The Westbury completely jaded our expectations of future travel. We got seriously spoiled. Like, seriously.
Location
Situated just off of Grafton Street, The Westbury is in the ideal spot for shopping addicts but is set back just far enough from the hustle and bustle of the main street to maintain a relaxing and quiet environment. We were in the heart of Dublin, which made exploring a city we know so well that much easier, and since we were short on time, we were able to bounce around our favorite neighborhoods with frequent stops at our hotel… i.e. dropping off our shopping bags before hitting the pubs.
Tip: To avoid crowds on Grafton Street during the busier times of the day (so, basically any time after 2 PM, especially during the holidays), use the back exit that takes you out onto Clarendon Street.

Afternoon Tea
When we arrived at The Westbury, we were enamored with the Christmas decorations adorning the lobby. Afternoon tea amidst the Christmas trees sounded like the perfect way to unwind after the busy morning we had planned, and that couldn't have been more true. Lucky for us, The Westbury offers a champagne upgrade to the standard tea and sweets, and we can now say that nothing gets you in the holiday spirit like sipping champagne under a giant holiday wreath while spying on tourists buying gifts.
Tip: Try and nab a seat by the window, where it feels a little cozier and you have a view.
The Service
The staff at The Westbury takes care of you. There's no better way to say it. Upon arrival, our heavy backpacks were whisked off our shoulders and delivered directly to our rooms without a moment's hesitation. The general manager personally greeted us, and the concierge who escorted us to our room offered us an "orientation" to the room amenities before leaving us to explore. Regularly, the staff checked on us to see if we need water refills, fresh towels, or tidying up.
Tip: The wi-fi wasn't stellar, though the staff was eager to fix the issue. Keep this in mind if you have an unhealthy addiction to social media.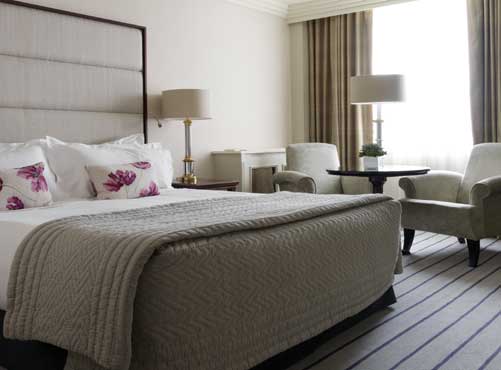 The Comfort
Ahhh, the comfort. After two nights sleeping in bunk beds and drying off post-shower with a towel the size of a dinner napkin, we were practically swooning over the plush accommodations in our Westbury rooms. We had to fight the urge to put on our white terry cloth robes, slippers, and toss our feather pillows in the air. Disclaimer: the wino actually did two out of three of these things.
Tip: Ok, don't actually toss your feather pillows in the air. This is a classy place.
From the towel warmers in the bathrooms to the in-room Nespresso machines offering complimentary coffee to the crystal champagne glasses, The Westbury rooms have absolutely everything you need to make your stay comfortable and luxurious. With a second property in Dublin (The Croke Park Hotel), as well as hotels in London, Boston, and DC, we're eager to visit more Doyle Collection Hotels in our (hopefully!) near future.
xo! the romantic & the wino
We are two girls who have survived driving across ireland without a valid license, sleeping on a sailboat in St. Thomas, singing along with drunken expats in a Parisian piano bar, food poisoning in Egypt, and many poorly packed last-minute getaways. we've gone on an 8-day proper Irish bender and navigated London in less than 24 hours.  Collectively, we've covered four continents, 19 countries, and more than half of America. Maybe we haven't seen the Spanish Steps due to the world's worst hangover, but we think we've got traveling the globe down to a science.
Disclosure: The Lazy Travelers were guests of the Westbury Hotel. Opinions stated here are, as always, their own