A few of you may already be familiar with my friend Tom. He is one of the UK's leading travel writers, and you can see his work regularly featured on The Times. He is also one of the best storytellers I know, and he has recently released his 5th book, named  Gatecrashing Paradise: Misadventures in the Real Maldives
. His previous book, 'A Tourist in the Arab Spring' was also featured on this blog a while ago, and generated a lot of commentary from interested readers who were keen to ask Tom some questions and share some stories.
In his latest adventure, beyond luxury hideaways, Tom Chesshyre travels to see the real, unexplored Maldives, skirting around the archipelagos periphery, staying at simple guesthouses, and using cargo ships and ferries. He discovers that beyond the glossy brochures lies an almost undiscovered country that is brimming with life, yet also a paradise teetering on the brink of trouble.
In the Maldives outsiders used to be banned from islands not officially endorsed as tourist resorts, but now a thousand sandy shores can be visited in this remote nation deep in the Indian Ocean the flattest on Earth. This is island-hopping for the twenty-first century, sailing around 600 miles of the most beautiful islands and atolls on Earth, often to communities that have not seen an outsider for decades, …and gatecrashing the odd posh hotel.
What you may not know, is that we were in the Maldives at the same time – and at the same hotel. I did not know either – it was only for a day, and was gutted that we did not meet on location! I can imagine a great evening with lychee caipirinhas with Tom and Mr. O – but failing that, we catch up regularly in London. I was offered a pre-release copy of Gatecrashing Paradise: Misadventures in the Real Maldives and loved it. But being me, I had to ask some questions to Tom – and here is what he had to say!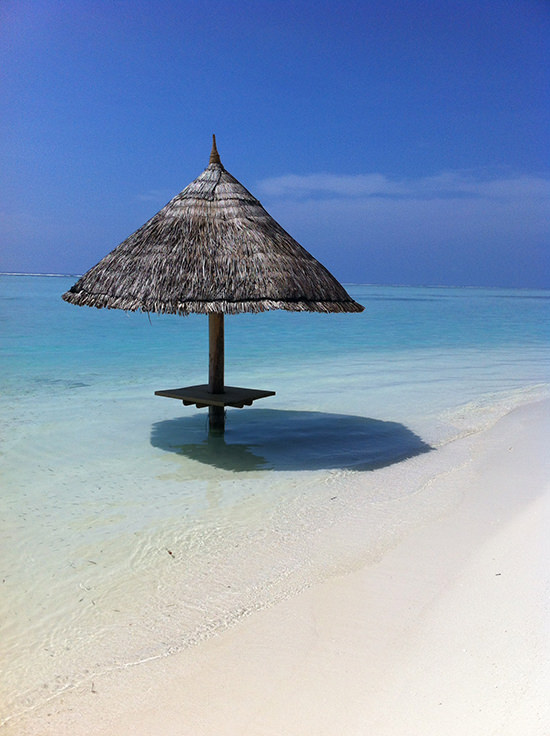 1. After your last book, A Tourist in the Arab Spring
, what made you decide to pick somewhere like the Maldives for the new adventure?

The Maldives is certainly very different from Tunisia, Libya and Egypt soon after the Arab Spring revolutions – or so you might imagine. Yet in some ways there are similarities. Few people who pick the much-lauded 'honeymoon heaven' for their holidays have a clue of what goes on behind the scenes on the islands, yet I had heard stable whispers of great discontent. A democratically-elected leader had been ousted – the opposite of the Arab Spring revolutions, perhaps, but obviously a big event on the archipelago.

There was said to be a rise in Muslim fundamentalism: threats to and attacks on those promoting gay rights, for example, just as in parts of the Middle East. Human trafficking of workers from Bangladesh and elsewhere was rife, with passports taken by foremen and pay withheld; effective human slavery. Then also, great questions were unanswered about where all the tourist cash was going, quite possibly into the pockets of cronies of the regime. Local journalists who tried to find out were intimidated. Add to this the vast gulf between the wages of the average Maldivian and tourists spending $1,000 a night on water villas, and the matter of the 'haves and the have-nots' of the world that so many people are concerned about was laid bare.

The Beckhams were estimated to have blown the annual salaries of the equivalent of 64 Maldivians during their luxurious 11-night visit. Meanwhile, the country was the flattest on earth and likely to face evacuation of many islands due to rising seas by as soon as 2050. So many of the world's most pressing concerns seemed to be lurking in the holiday brochure 'paradise'. I was intrigued.

2. What were you expecting from the various trips, before you went on them?

I travelled round the islands on cargo ships and local ferries mainly – and I had no idea what to expect. Finding the right ride was tricky, and when I did I might end up on a simple, open-sided deck sleeping next to sacks of onions or boxes of powdered milk. Ferries timetables seemed to be almost non-existent. I decided to go with the flow and let the boats take me where they would, though I knew that I wanted to cover the entire length of the 1,200-island archipelago in a big circle. I expected to see little islands with no tourists . . . I was not heading for five-star land.

3. What was the best moment of gatecrashing paradise?

There were many memorable moments, but in terms of excitement my overnight tuna fishing trip stands out for me. We gathered at 11pm, and went out into the ink-black waters to collect bait fish with the help of floodlights beamed into the sea; this attracted little fish that were subsequently scooped up. Then at the crack of dawn we took off in search of tuna. The fishermen consisted of 16 guys with joust-like poles who were poised waiting. We soon found the fish and then great sprays of water were fired off the back of the boat to fool the tuna into thinking the water was alive with bait fish – of which a few were flung from the night's haul to add reality to this illusion. The rods were soon whipping back and forth and tuna flew through the air thudding on the deck before being swept into a hold. It was incredibly dramatic. This is how the little cans of tuna in your supermarket get the fish that's in them.

4. You mention the local Maldivian food a lot (something I also adored and grateful to have been able to try on my trips to this part of the world). How weird was it to have tuna for breakfast? What was your favourite meal?

My favourite meal was called garudia, which consists of smoked tuna with lime, chilli and onion in a thin soup, usually served with rice. It's very more-ish and healthy too, I'm assuming. I also enjoyed boakiba, fishcakes made with onion, garlic and coconut. As I was off-the-beaten-track I'd be served dishes like this at the homes of people I met. Tuna for breakfast is excellent – the Chinese are much weirder about what they have in the morning: braised duck blood and chicken feet and so on.

5. If you had to pick 3 things that negatively surprised you what would they be?

The three biggest 'negative surprises' were being followed by the secret police on occasion, meeting young female activists for democracy for had been thrown in cells for no good reason, and seeing that an island rebuilt after the 2004 tsunami was already disappearing back into the sea due to wave erosion (50ft of land already gone).

6. How do you feel about the Maldives as a destination? Has this adventure changed your perspective and opinion?

It is, despite all of this, one of the most beautiful places on Earth – while it is still there. The rising sea is such a huge problem and the Maldives has come to symbolise, I think, our heads-in-the-sand attitude to climate change. And yes, of course, I recognise the paradox of flying and emitting CO2 in order to go on holiday there. Tourism will not go away, so it is a given across the globe now – in fact, if it did go, much of the world's economy would most likely collapse. My adventure did not change my opinion of the beauty of the watery nation, just the people who run it.

7. Where to next? Make us jealous!

Wales is next . . . what prettier a place than the beaches on the Gower Peninsula? You don't have to take off round the planet to enjoy somewhere heavenly.

Tom Chesshyre is the author of five travel books that have taken him from Hull to Tripoli via assignments in North Korea, Nepal, India and Iceland. He writes for The Times and has contributed to the Guardian, The Financial Times, The Times Literary Supplement and the Mail on Sunday. His magazine work has been for Geographical and Condé Nast Traveller. 

On his travels he has been hijacked in Africa, met tornado-chasers in America and followed in the footsteps of Graham Greene in Haiti. His previous books include A Tourist in the Arab Spring, Tales from the Fast Trains, How Low Can You Go and To Hull and Back: On Holiday in Unsung Britain. For more information, visit Tom's website.

And to make things more interesting, Tom will be giving 5 signed copies of Gatecrashing Paradise: Misadventures in the Real Maldives to 5 lovely readers, which is also available on Amazon. To enter:

1) Answer this question in the comments area below: 'Where was the most beautiful place you have ever been to, which you would describe as paradise?'

2) Share this post via social media (Twitter, Facebook or Google +) using the sharing buttons on the left hand side or below.

This competition is now closed. Winners have been selected and contacted via email.

And Happy New Year!

xo

Mrs. O

Article was posted on

<!-comments-button-->