This post is brought to you in partnership with Visit California
If there is a place that lends itself to epic road trips, it is California, without the shadow of a doubt. On this occasion, I drove down the epic Highway 1, which has reopened to all traffic following a long closure – and you can drive from Monterey, stop over in Carmel, enjoy the stunning scenery of the Big Sur (and even stay the night like we did) before heading down to Santa Barbara.
California Road Trip on YouTube
We spent 4 nights on this part of the trip, and with hindsight being a beautiful thing, I would have actually stretched it to 6 at the very least. I am 'packaging' this trip as a stand alone, which would be perfect if you started from San Francisco, for example, but in reality, I arrived to Monterey fresh from Palm Springs (where I spent a week recharging and it was only a 5-hour drive). From Santa Barbara, I went on to Beverly Hills and Newport Beach, before finishing my trip at The Golden Door. I spent 3 amazing weeks in California, one more than I normally do each Summer because why not?
Without further ado, here are my tips for the perfect California Highway 1 road trip – Mrs. O style, of course.
California Road Trip Stop 1 – Monterey and Carmel
I hadn't returned to this part of the world for a good 10 years, and in all honesty we did not want things to change too much – which they did not.
Where to stay in Monterey and Carmel
We spent 2 nights in the area (which should have been 3), but we were not blessed with the amazing California sunshine, so we were unable to go on the epic beach walks we had hoped for. With that in mind, we chose to stay at one of the beach cottages at the Sanctuary Beach Resort – you cannot get any closer to the sand. But 10 years makes a lot of difference and the rooms had not been renovated since.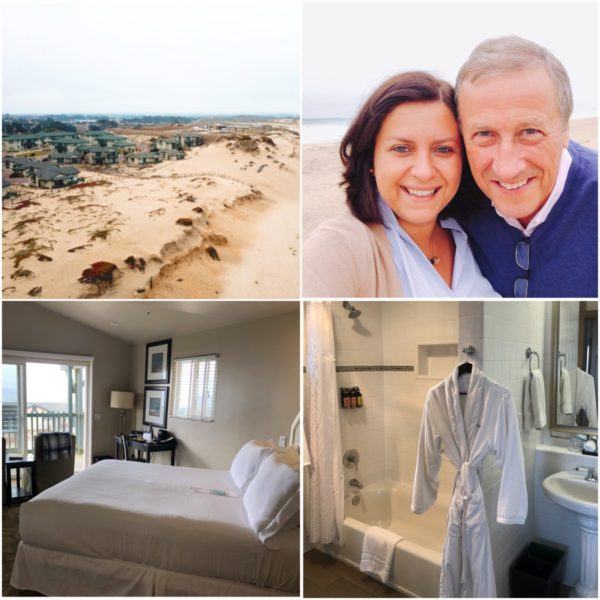 They were still comfortable, and the resort is changing dramatically as you can see by the very sexy new reception area and spa and Salt Wood, the fish and seafood restaurant (which I had booked before even realising it was part of the hotel and 100% worth a visit if you are not staying).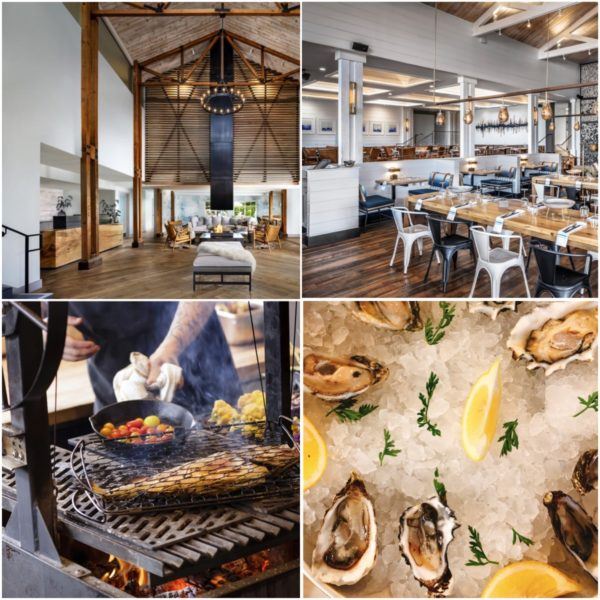 Room rates start at $300, with them being over $700/800 in July/August, which is when we stayed and absolutely peak season. The meal was around $100/head with drinks and probably one of the best we had during our whole trip.
This hotel is located in Marina, a few miles north of Monterey and I still think the beach is extraordinary and once the rooms are done up, I am pretty sure you won't be able to get in (as they are always so busy).
Other options in the area to consider are, of course, Pebble Beach or Bernardus Lodge (which were both fully booked).
Where to eat in Monterey and Carmel
With 2 nights only, we actually only had a few meals to enjoy. We spent the first morning walking around Monterey (which we had visited before) and Carmel by the Sea, where you can find the best shopping. It is as cute as I remembered it –  but with better shops.
I strongly recommend a visit to the local cheesemonger (in the new shopping centre) which made that part of our morning even more interesting.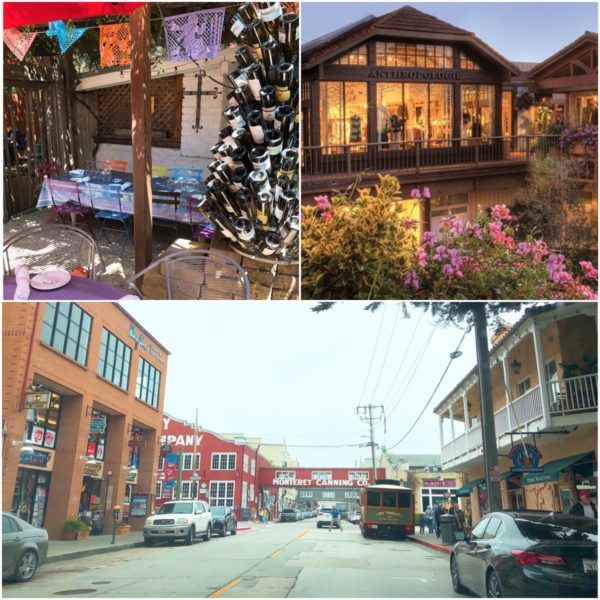 For lunch, we literally chased the sun – which we found in Carmel Valley, not far from the seaside town. It was amazing how quickly it changed! We had lunch at the Corkscrew Cafe, recommended by the hotel manager which was actually lovely. We had a fired-oven pizza and a glass of wine, wandered about the local food store (all organic, obviously) and just relaxed a bit.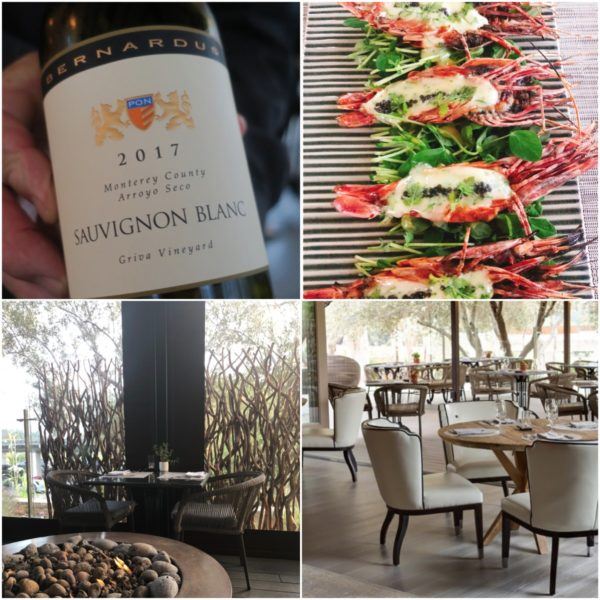 For our final dinner, we had a great meal at Lucia at the Bernardus Lodge & Spa (which is not related to the well known Bernardus winery). The Monterey spot prawns we had were unexpected (yes, shells in America) and absolutely divine. Dinner for two was just under $200 including drinks.
California Road Trip Stop 2 – Big Sur
We were excited to return to this part of California after such a long hiatus – and were really hoping for a sunny day for this drive. We did not get it (it is a 50-50 chance, remember!) – but it is important to show how gorgeous it still is without the sun.
We drove the hour from Monterey to Big Sur (there is actually a town named Big Sur, where we filled up with petrol 'just in case') and made that drive last a bit as we stopped at the Bixby Creek Bridge, which many of you will have seen before (obviously highly featured more recently on Big Little Lies with Reese Wetherspoon and Nicole Kidman, filmed and set in the area).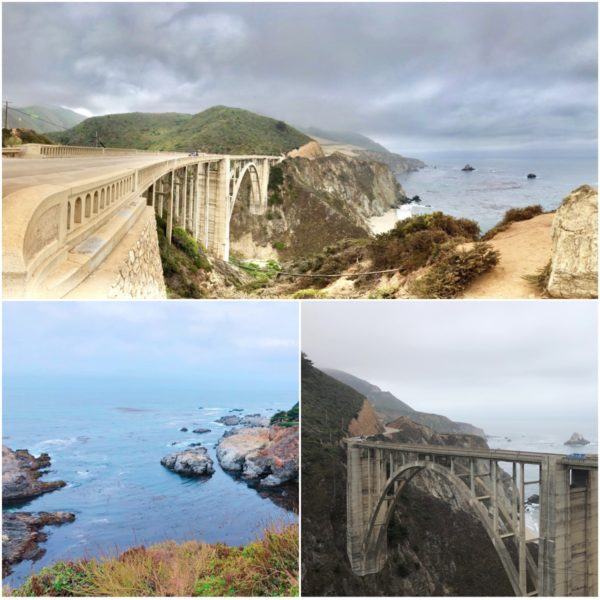 A tip: get there early before 'everyone arrives'. We were there by 9am and it was pretty good.
Where to stay in the Big Sur area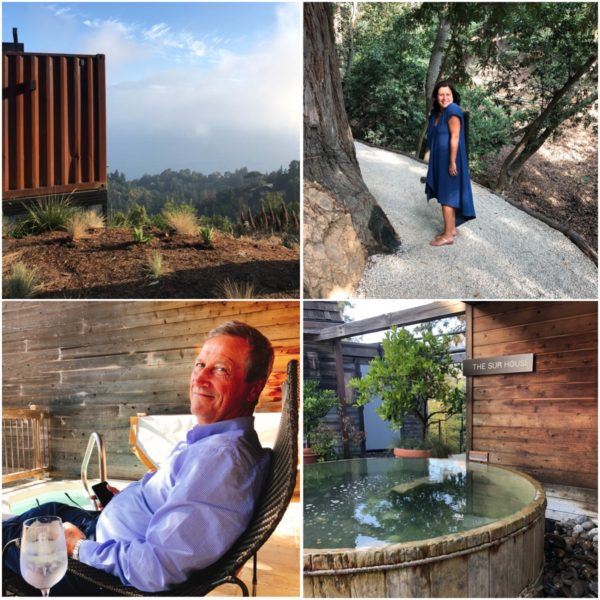 We stayed for one night only at the Ventana Big Sur (Alila's first hotel in North America) and I have to say, please stay for 2 at least. We arrived after lunch, had a lovely afternoon and dinner and left the following morning – and whereas I loved it, I didn't really experience the hotel. I made a mistake when booking and just want to make sure you do not.
The hotel was full yet super quiet – the pool looked divine and everyone was just enjoying the sunshine. Our room was beautifully decorated – and I cannot fault a single thing. It was perfect. And it even had a hot tub (not pictured).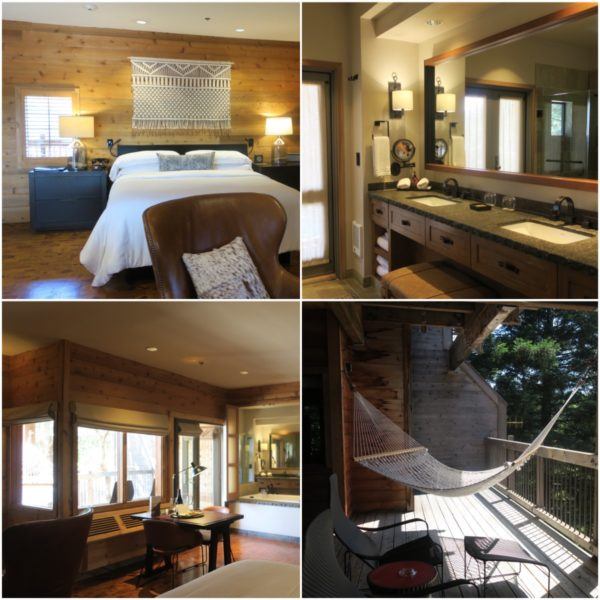 Rooms start at $750 per night, and average around $1200-1500 in the Summer. Book way in advance. We really enjoyed our brief stay.
Where to eat in the Big Sur area
For lunch, we had a booking at Sierra Mar at the Post Ranch Inn, which is one of the most iconic hotels in California and most likely, the United States. With just a handful of rooms, it books up months in advance – and so does the restaurant, so book in advance.
The 3-course lunch menu costs $75 (wine pairing at $57) and was lovely. We loved the lobster bisque and as I was 'on location', I thought the Kobe beef burger would pair nicely with a glass of Chablis.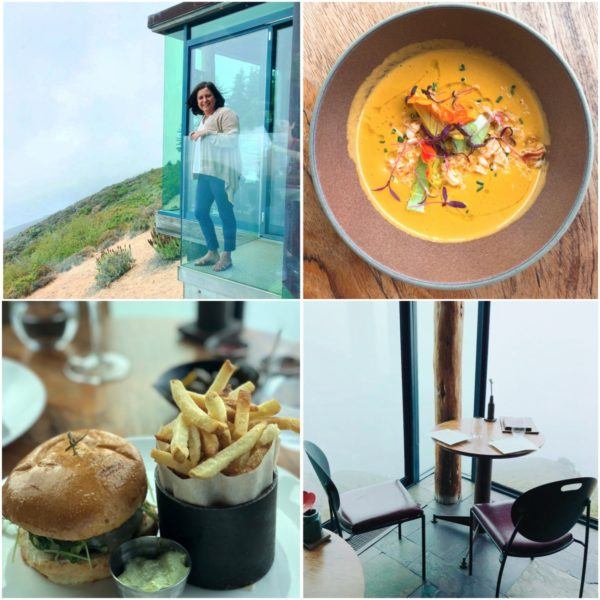 Service was casual and lovely (very California in a way) and we just wished we could have admired the view – obviously means we will have to return. The hotel is located literally across the road from Ventana Big Sur.
For dinner, we ate at The Sur House, part of Ventana Big Sur – which we loved loved loved. The place had a great vibe, was busy and people didn't just disappear at 9pm which happens in many places in America. We were able to be out til around 10.30pm which made for a great change.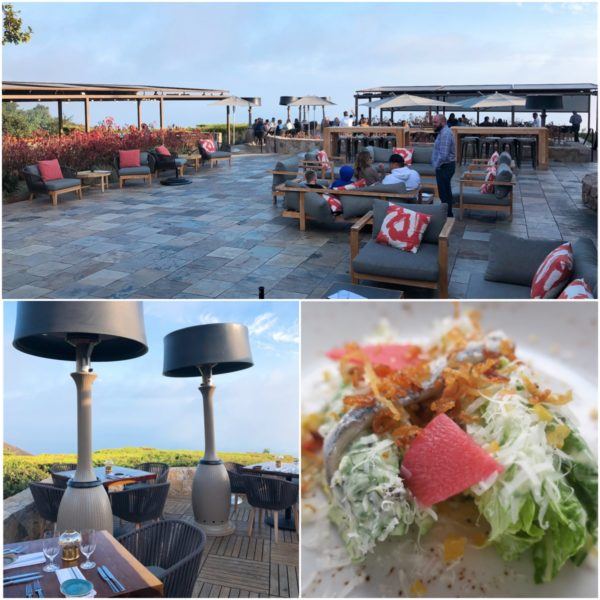 The 4-course menu cost $95 per person, but we actually went a la carte as we could not eat everything. Also worth mentioning that the breakfast was good for European palates (the sourdough toast was amazing and you could order just one egg or two, without the potatoes and all the other bits that normally come with). Dinner for two stayed at the $100 per person mark and breakfast was actually under $40 for 2, including juices.
California Road Trip Stop 3 – Santa Barbara
The next morning, Google told us the 160 mile drive to this great vineyard near the Paso Robles area was going to take 3h15, but guess what? We did not allow for photo stops and a bit of traffic, so the drive took us over 5 hours – meaning we missed our lunch booking by 'a lot' (and couldn't call as cell service was limited). We made do with a yummy California staple: an Inn-n-Out burger just outside a Walmart somewhere on the way to Santa Barbara. As my husband said: 'Kobe Beef one day, and something quite different the next. This is real life, Ana'. All said as a joke, but 24h ago there was a bit more glamour in our lives.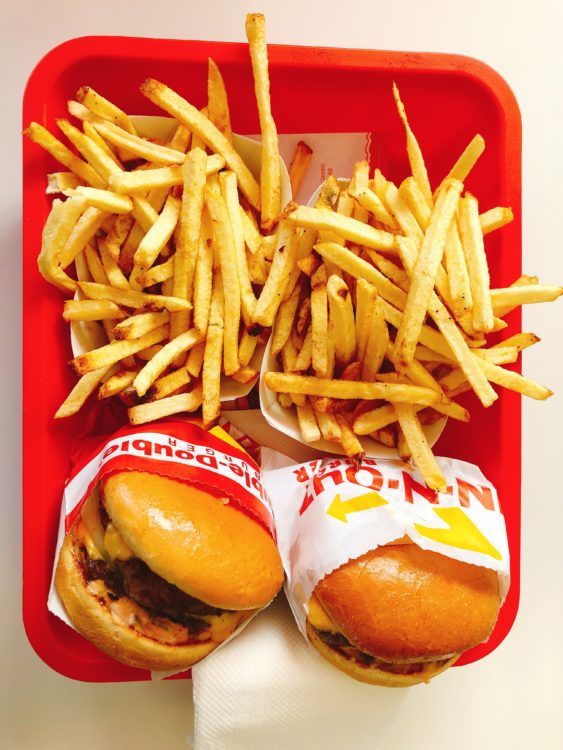 We made it to Santa Barbara mid afternoon and still managed to have a truly lovely evening.
Where to stay in Downtown Santa Barbara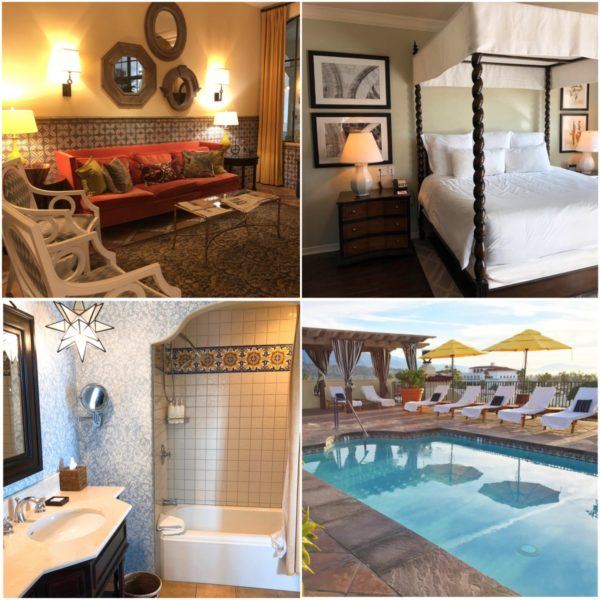 On our previous visit to Santa Barbara, we stayed at the lovely Belmond El Encanto (which I highly recommend). But on this trip, as we only had 1-night in town (again, HUGE mistake, as it should have been 2-3), we chose to return to The Canary Hotel (where we stayed 10 years ago when we did this drive for the first time). It still has the same charm (the rooms could do with an update) and the bar was still as lively and the rooftop pool as lovely. The hotel is now part of Kimpton and room rates start at $450 per night.
We chose to stay here so we could literally walk everywhere in town and not worry about the car – which is exactly what we did.
Where to eat in Downtown Santa Barbara
My one priority for the afternoon was, in all honesty, wine. We wanted to follow the Urban Wine Trail route – which changed so much since our last visit. For starters, the wineries all seemed to have relocated to another part of town, closer to the pier and they were 'so cool'. We stayed in the 'Funk Zone' and visited Melville and then asked the lady where we should go next. And guess what? We did just that.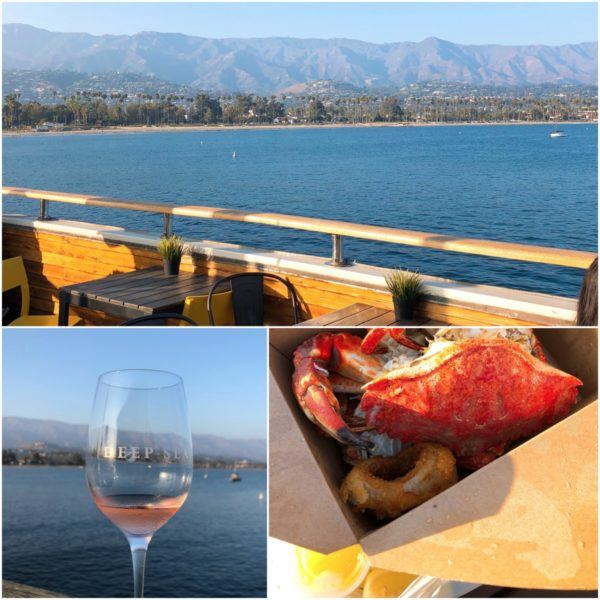 We walked along the pier, bought a crab, and took it to the Deep Sea tasting room which offers the best views of Santa Barbara. We would have never found it – and it made for a truly spectacular and inexpensive sunset.
I was almost in tears – happy ones. I never thought I would be served a whole crab (you buy it from the Santa Barbara Shellfish Company) in the USA and get to enjoy it with a proper glass of wine. It was one of my favourite moments of this trip. (PS. you eat with your hands and somehow it comes with onion rings! Get extra napkins).
For our only dinner in town, and because we were half full of that delicious crab, we had a very nice casual meal at Loquita, which was quite Spanish (starting with the gins). Dinner for two was around $170, but included extra drinks as we stayed on a bit longer. Again, the place was packed by 10pm still.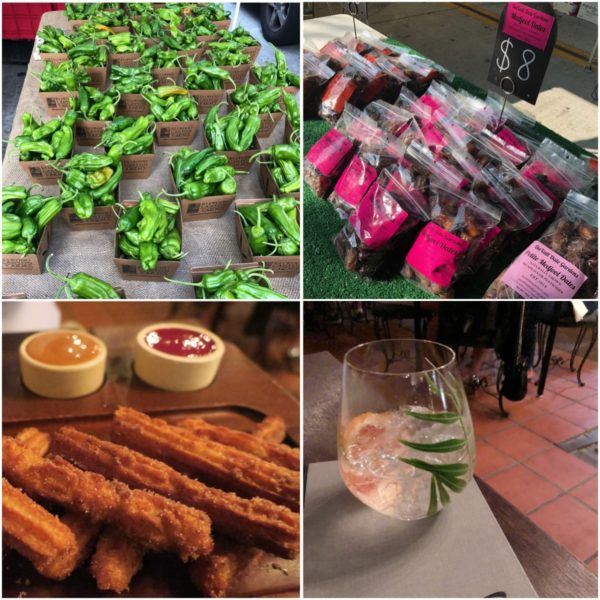 Good things come to an end
We really enjoyed this trip down memory lane for us – it was almost a complete copy of the trip we took 12 years prior and we loved it. I would recommend this route to everyone visiting California.

See you very soon on yet another road trip.

xo

Mrs. O

Disclaimer and Fact box: this trip was funded and sponsored by Visit California and it was an absolute pleasure to work with them on this trip. I know California very well and they have asked me to share this in whichever way I saw fit. I would invite you to begin your California trip planning at their website, which actually is quite useful.

Monterey + Carmel: start planning your trip on their official website. We stayed at the Sanctuary Beach Resort, which ranges from $300-$795/night, depending on the time of the year.

Big Sur: we stayed at Ventana Big Sur, an Alila resort. Room rates start at $795.

Santa Barbara:  a new obligatory stop on our trips to Southern California. Start planning your trip here. We stayed at the Kimpton Canary Hotel, which I highly recommend. Room rates start at $295 (depending on the time of the year). 

British Airways was our partner on this trip, and you can fly to California from London Heathrow from £1800 in business class, but average fares are around £2500-3000. British Airways flies to Los Angeles, San Diego, San Francisco and San Jose. Las Vegas and Phoenix are also good options if the flights are really full. Google Flights is your friend here.

We hired a car with Avis (if you are a fellow BAEC Gold, use N744400 as your AWD) and I have a tip for you: split your booking in two. We did so in Palm Springs (and casually returned our car and picked up a new one before dinner one night) – we got the exact same SUV in a different colour and saved $500 total. Not bad for 15 minutes work. 

Article was posted on

<!-comments-button-->