A review of the One and Only Cape Town luxury hotel in South Africa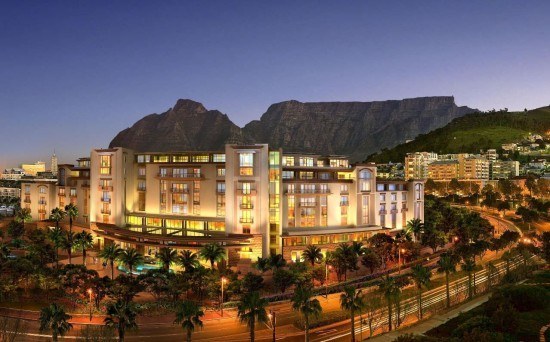 On a recent visit to Cape Town, in South Africa, I stayed for 3 days at the One&Only hotel, located in the V&A Waterfront, and some bonus eye candy (Table Mountain). Here is how my stay went.
Pre-Arrival
–          Was there any pre-arrival communication by the hotel with myself via email or social media?
Yes indeed, and the hotel communicated directly with me, although a third-party organised my stay.
–          Did I try to engage the hotel via Twitter? Did the hotel interact with me and made me feel welcome/special?
I did and I have to say, they were excellent. I liked the sense of humour and also the genuine feeling of helpfulness.
–          Has the hotel tried to gather any personal information (e.g. preferences) prior to my stay?
No. I have to say that the company that organised my stay failed to inform the hotel I was sharing the room with my sister and therefore required two beds, and the hotel's team picked that important bit of information from a tweet, when I said 'I was on my way from the airport'. Luckily, they were able to change the room type and we sorted everything, but needless to say, this could have been prevented.
Arrival
–          The wow factor! What was the hotel decor style?
We arrived by private transfer (which was also pre-organised by the hotel), from the airport, and it was quite busy. I have to say that the doormen weren't as welcoming as we would have hoped for – we got out of the car, there were plenty of staff, but no one came to help us with our luggage immediately. We had to get someone's attention repeatedly.
–          How quick and efficient was the hotel check-in?
Our check-in was actually effortless and was done sitting down, which is something I always appreciate. The hotel wanted to confirm if I was going to be needing a twin or double bed, and very quickly everything was sorted.
–          Was I addressed by name once reservation has been located? (it is all about the small details, some others are outstanding with this, and I love it, like I do when I board an airplane)
We were indeed, but only at check-in. It is quite a large hotel, for the record.
–          Did I get an upgrade from my confirmed pre-booked room type?
No, as we had to switch rooms last-minute, and the hotel was completely full.
–          Did I feel genuinely welcomed by the hotel staff?
If I am going to be over critical, I felt the front desk and concierge teams were very good, but service lacked at the bar, for example – and this happened throughout our stay. We had no issues at the restaurants.
–          Luggage – how many people did I have to tip before the luggage made it safely to my room? This is cultural, I know
The luggage was collected by the doormen, and we were told they would be sent to our room. It did take a while, as we only got them after we came back from lunch. It wasn't a real problem as we didn't need them immediately, but it wasn't as smooth as it should have been.
–          Wi-fi – was I told anything about it? Was there a charge?
Basic wifi was complimentary throughout the resort, up to 500MB/day, but a faster option was also available. We quickly used this allowance on the first day, so obviously upgraded.
Room Experience
–          First impressions – décor, size and wow factor
The first thing I did when I got to the room was to check out the view from the balcony – it was truly impressive! Our room was very spacious, very well-appointed and was very comfortable. Could not fault it in any way. The decor was stylish and it smelled lovely!
–          Welcome amenity
We had a bottle of wine (thank you!) and a fruit basket.
–          The bed
We had two queen beds which were extremely comfortable. The bedding was also lovely.
–          Closet/Wardrobe – proper hangers or those annoying ones where you need a PhD to get them out one by one? This is a personal pet peeve of mine. I can't stand them.
We had a very spacious closet area, located inside the bathroom, which is perfect for when two people (not a couple) are sharing.
–          Iphone Charger/Dock
There was an iHome dock, which we did not use.
–          Bathrobes and slippers
Absolutely and very comfy. I did use the slippers for once!
–          Coffee and Tea
We had a very spacious and well-appointed area with the mini bar, Nespresso machine, kettle, etc.
–          Free bottled water
Two large bottles at all times, and two smaller ones on turn-down.
–          Magazine selection – had some nice surprises and doesn't happen often enough!
We had 2 local magazines (Slow and House & Garden) and also a great selection of coffee table books.
–          Power sockets in useful places – we have more and more devices and we know where we want them! By the bed, by the working area.
Absolutely and by the side of each bed. Perfect.
Bathroom
–          First impressions – décor, size and wow factor
The bathroom was fabulous – very well-appointed and directly connected to a dressing area.
–          Bath, shower and taps – I am looking for Duravits and Hansgrohes (or other fab brands) around the world. How fab was the shower? And a little pet peeve.. was I able to operate the shower without asking Mr. O for help?
We had a separate stand alone bath which was a real feature and a walk in shower.
–          Towels – yes, please! How many and how soft and lovely?
There were plenty, as you can see on the photo above, and they were excellent.
–          Toiletries – own brand, super brand, baby ones or proper ones? I shall find out!
I loved the large-sized Charlotte Rhys toiletries (which is a local brand), but as they were refillable, one of them was broken, which was a shame. We just asked for a new one, and were given a smaller size, but without the pump issue.
–          Amenity kit – I don't want more sewing kits thank you very much, but I will need a shower cap.
All items were cleverly 'hidden' and there.
–          Hairdryer – is it a human one, or just something stuck to a wall that only makes noise?
We had no issues using it, and it was quite powerful.
Breakfast
Breakfast (included in all room rates) was excellent and took place at the Rubens restaurant. The spread was seriously impressive, namely the pastry stand.
Bar

The cocktail menu at the bar was incredibly impressive (and due to the exchange rate, outstanding value for money, with cocktails at around £4), and it was a very comfortable space. But as I mentioned before, the service wasn't particularly impressive – and we used the bar a good 5 times throughout our stay. It took an incredibly long time to get served or just to get someone's attention, even at times when it wasn't particularly busy.

Restaurant

We had dinner at Nobu, which is one of the 2 restaurants at the hotel, and the food was excellent. I found the decor a bit sterile, but the food (and service) was excellent.

General thoughts

–          How good and reliable was the wi-fi?

We had no problems, but the free wifi only allows for 500MB/day, which in my case was used in a couple of hours (blame it on Instagram, of course).

–          Did the hotel interact with me via Twitter during my stay?

Yes, and we had a lot of fun.

–          Location

The hotel is located on the East side of the V&A waterfront (if you are facing the sea), but you need to walk a good 5-10 minutes to get to the restaurant area. We had no problems, but avoided walking on our own at night, of course.

–          Cost – rooms starting from…

5000 South African Rands, which is approximately £250 or $400, which I felt was good value for money.

–          Would I recommend it to my best friend?

No problems, but I would manage expectations about the service and that it is quite a large property, with a resort feel. We saw the pool and I honestly felt it was surrounded by too many buildings, so I would recommend this for a 'city' stay, where a pool comes as a bonus, but not as a destination in itself.

–          Would I stay again?

I would without a problem.

Have you visited this hotel? What were your thoughts?

xo

Mrs. O

Disclaimer: I was a guest of One & Only during this stay, on a trip organised by Hands Up Holidays, but hopefully you will see that this has not influenced my thoughts about the property. For more information about the hotel, visit its official website.

Article was posted on

<!-comments-button-->