Many people bring home every little bottle of shampoo they find. In all honesty, I actually don't – because at home I do not have 1.5 showers and don't want my shower filled with mini bottles. But I am not judging – why? Because very very rarely, I do bring some of those babies home. And only when these luxury hotel toiletries are really worth 'stealing'.
I have discovered many a brand through hotel stays (and airlines too) and if I love them, I will purchase them at a later date – and I stay true to my word: 8 of these have a regular place at the Os. One of them, you really can't buy (but there are always ways!).
This is a very personal choice – there are better known brands out there, but I found that with those brands, I tend not to like the shampoo and in 99% of times, the conditioner. That said, I still travel with mine at all times, because you just never know.
Here are my Top Luxury Hotel Toiletries worth stealing:
Agua de Loewe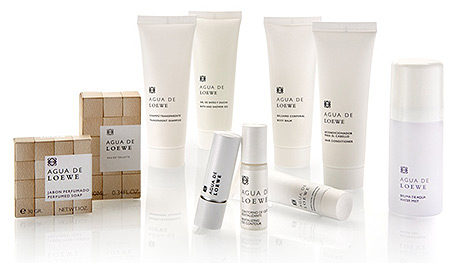 I grew up with this smell (and my mother's love for this brand) – it just reminds me of Spain. Now part of the LVMH empire, it has a lovely surprise to become re-acquainted with this Spanish classic. We loved it so much, we each bought the his and hers perfume versions before we even finished our recent trip to San Sebastian.
Find it at: Hotel Maria Cristina – a Luxury Collection Hotel, San Sebastian, Spain
Lux Resorts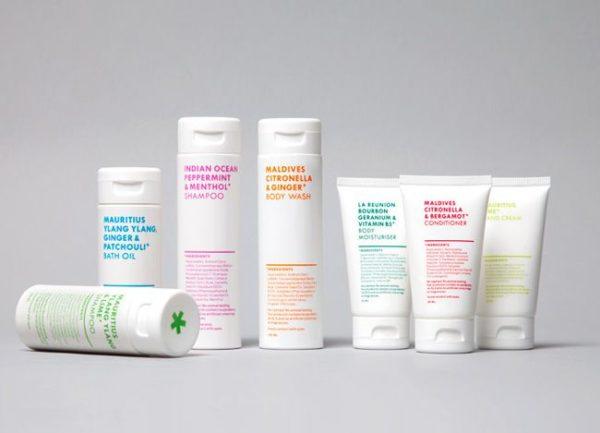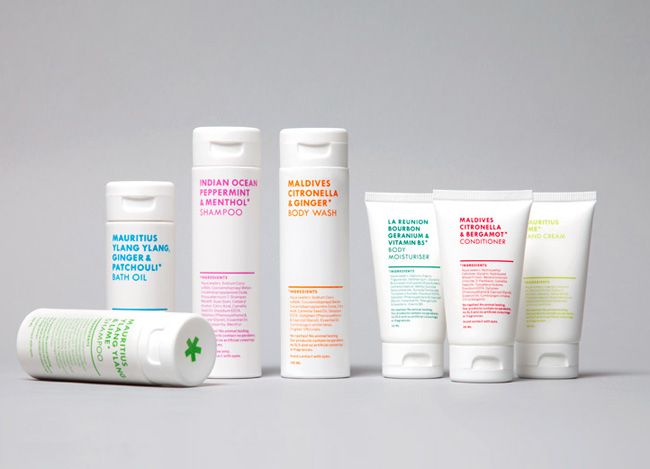 These are the ones you cannot buy. Which of course makes me want them even more. Developed exclusively by Lux Resorts using local ingredients and scents from where they have hotels, these products are amazing. I have had some 'shipments' from friends who have stayed over the past couple of years (since the day I discovered) and was delighted to receive a MASSIVE stock from their Maldives hotel when I recently visited this part of the world. And they are big sizes. (So if you go to Lux Maldives under my recommendation, be nice and 'get some for me').
Find it at: Lux South Ari, Maldives (read my review here)
L'Occitane Mer & Mistral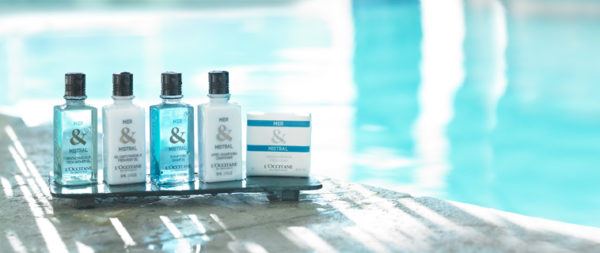 As much as I love L'Occitane products, I always found it a little bit weird to see products from Provence in NYC or in beach properties. I discovered this range in Mexico recently and absolutely adored it. Same L'Occitane quality we are used to but with a better sense of place. The scent is divine and you don't have to unscrew the tops like many others (which is one of my pet peeves) – the top just clicks open. Voila!
Find it at: Nizuc Resort & Spa, Punta Nizuc, Mexico
Asprey Purple Water


These products just make you want to shower 1000 times a day. I find them very hard to find nowadays, so it does bring me great joy when I see them at a hotel. I think it is the only occasion when I bring hand lotion home, as it comes in a squeeze tube and it simply smells divine.
Find it at: Hotel Villamagna, Madrid, Spain (read my review here)
Aromatherapy Associates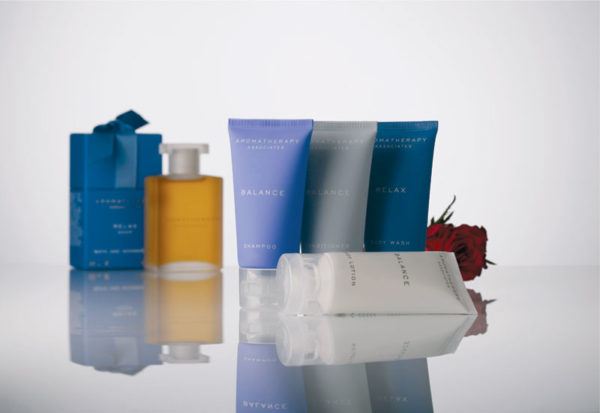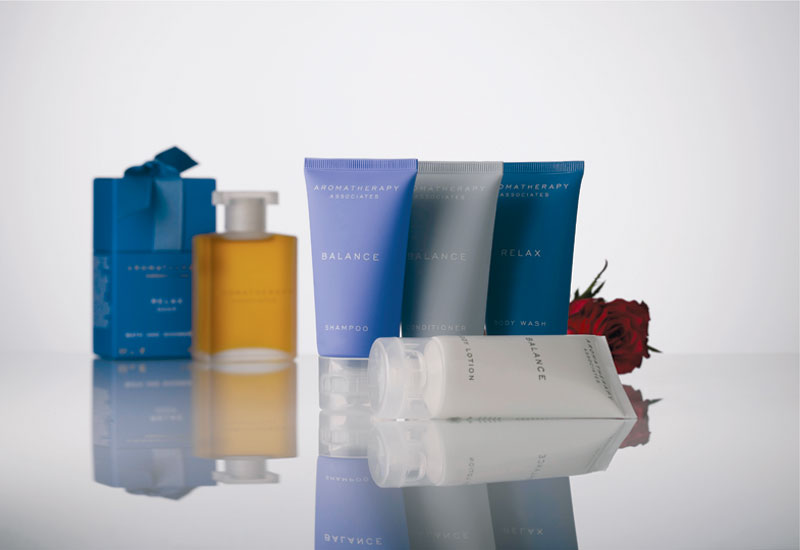 This may be my favourite range of all – and very popular with our guests at Maison O'Reilly. The conditioner is one of the best I have ever had, and I buy various products from Aromatherapy Associates very often. I really cannot recommend them enough.
Find it at: The Kensington Hotel and The Marylebone Hotel (read my reviews here and here).
Laboratoire Remède 
I discovered this brand on various stays at St. Regis hotels from around the world and my most favourite item is actually missing from this photo – it is the face wash (called something 'souflee'). I love it perhaps a bit too much – and I always find that a few bottles surprisingly make their way to my suitcase. The reason is because they are a very handy size (and my usual Clarins is quite big) and would last for a week's trip, for example. I am also quite partial to its shower gel which has some little spheres in it.
Find it at: St. Regis Saadiyat, Abu Dhabi
ESPA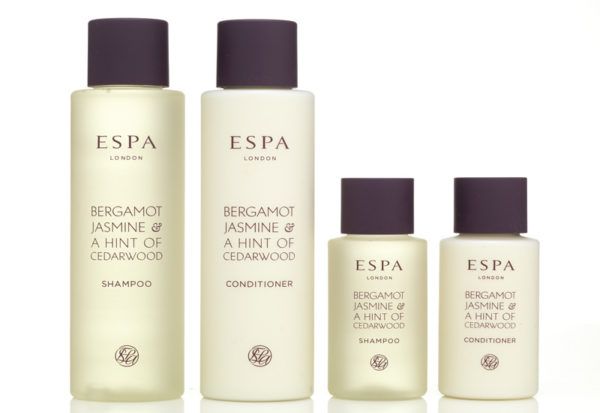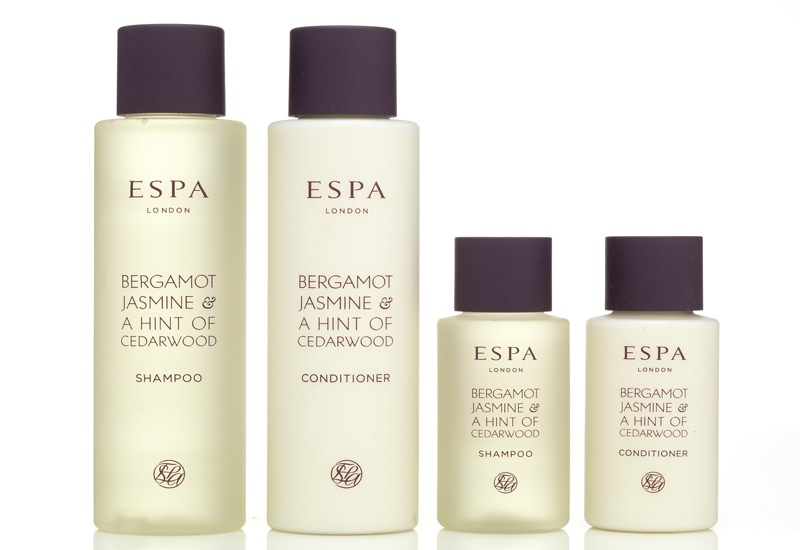 Mr. O voted this as his favourite range as, in his own words, 'is not very girly'. I find Espa's scents very soothing and long lasting and this is also one of our go-t0 brands at home.
Find it at: The Corinthia London (read my review here).
Penhaligon's Blenheim Bouquet


Another great British gift to the world, which in recent year really came back to life. From all of Penhaligon's scents, this is my absolute favourite – and I must confess I love their 'really quite large' bottles.
Find it at: Finca Cortesin (read my review here) and Belmond Reids Palace (read my review here).
And now, time for you to spill the beans… which were the best hotel toiletries that happened to make their way home with you? I won't tell a soul, promise!
xo
Mrs. O