This blog is usually about my personal trips – unless some articles, like 'A lux weekend in Seminyak' provokes some sort of reaction. And not a reaction by an average person – if Juliet Kinsman (founding editor of Mr. & Mrs. Smith, one my travel Goddesses, my go-to woman for everything boutique hotel) and founder of Bouteco has an opinion she wants to share, she can do so any time.
Bali, to me, is about incredible culture and craft — amid the chaos! — and it's an assault on your senses at times. Not in the way Bangkok or Bombay are, as the difference here is that the pervading energy is always uplifting and upbeat. Everyone smiles such huge, sincere ear-to-ear smiles, and there's a generosity of spirit, with an atmosphere steeped in blessings from Balinese Hinduism — everywhere you turn there's a temple.
My first trip to Indonesia was last year, when I booked a flight to Bali (and paid full fare — it wasn't a press-trip comp) especially so that I could come and see Katamama hotel with my own eyes. I'd heard from Ronald Akili, the founder, about what they were doing to preserve and celebrate age-old artisanal workmanship and handicrafts, and I felt genuinely eager to see these hand-pressed temple bricks and indigo-dyed textiles. Enough so to hop on a plane for 21 hours to the other side of the world.
When I landed in Denpasar, I was greeted by a driver from the hotel who welcomed me into the car where a wooden cup with fresh coconut water was waiting and a bamboo straw. There were little wooden pots with dried fruit snacks — not a whisper of plastic. So far, so wholesome and eco-friendly, too. Then we headed to Seminyak. I won't lie: the traffic was a jolt. We chugged along in busy single-file congestion into the popular resort. It took 45 minutes to traverse a distance a crow could fly in quick time. But when I arrived at the bold brick Brutalist facade of Andra Matin's architecture, I knew this was not an ordinary hotel, and it had been worth the journey.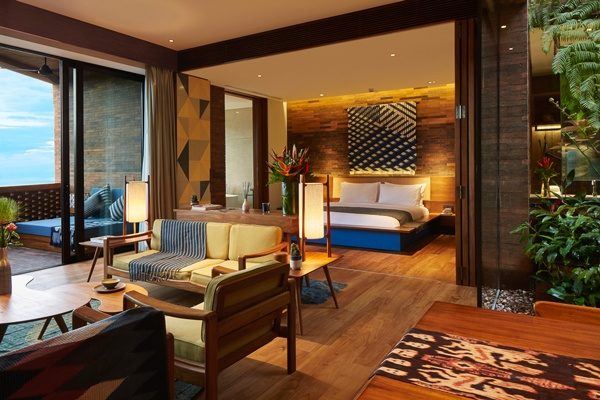 Sister to Potato Head Beach Club, Bali's most famous sunset rendezvous for bon viveurs, it's next door to the iconic address. Your first steps into Katamama, usher you smoothly into a low-key cocktail bar, not a lobby, where marble cubbies are filled with rare vinyl and infusions of house-made spirits amid the gleaming terrazzo of Akademi's sleek interior. Staff check you in as you walk to your suite, and ask what you would like for your welcome cocktail — this switched-on stay has a little more attitude than typical tropical coastal luxury hotels.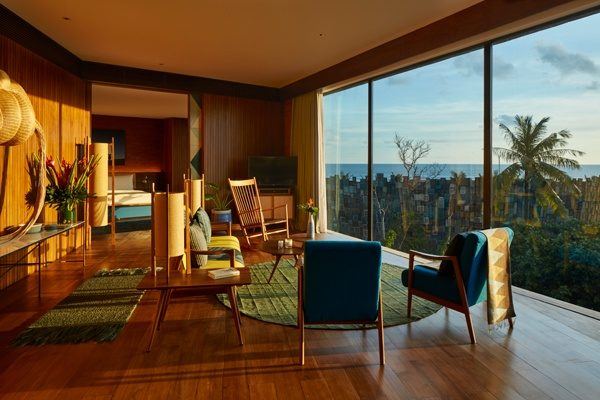 'Made by artisans' is the hotel's tagline, but it's also their purposeful philosophy, which is communicated through an unrivalled attention to detail. Those anjat woven orchard-wine bags and hats for guests to borrow have been meticulously hand-loomed from strands of orchard vine in Kalimantan (the Indonesian name for Borneo).
Ceramics throughout have been individually crafted. The pottery here is a world away from anything mass produced or made in China — tableware and bathroom accessories have been designed with Jenggala Keramik and made exclusively for the hotel. Ubud-based artisans, Gaya Ceramic, is a master of porcelain, stoneware and Raku clay and the designing, moulding, decorating, firing, glazing and even making the clays is a thoughtful, traditional process.
The indigo-dyed textiles at the hotel provide an art and history lesson. Tarum is Bali's largest botanical dye workshop, founded Tarum with sustainability as its core intention, archiving the colours from the leaves and bark of native shrubs in a way that has never happened before. Derived entirely from horticultural sources, the Gianyar-based plant makes up a mere 10 per cent of dye manufacturing. The workshop gives work to 30 locals and a network of 70 weavers in Bali, Java and Lombok and the result is soft-to-the-touch runners, delicate cushion covers and rugs and kimonos all made by hand — a cut above standard-issue soft furnishings for the hospitality industry which need to be hard wearing.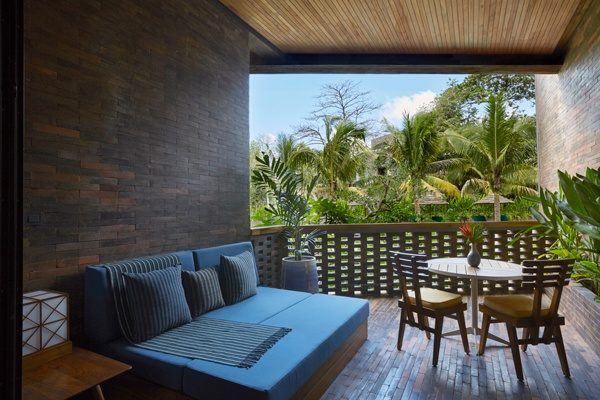 After many years as editor-in-chief of Mr & Mrs Smith, I'm in the business of recommending truly extraordinary hotels. And now I make it my priority to steer people to the most special stylish stays which are also sustainable — so passionate am I about distinguishing those hotels with a heart, I've set up Bouteco as a platform to celebrate boutique, eco hotels. And despite Seminyak's distinctly developed nature, everyone I've navigated to Katamama has thanked me heartily.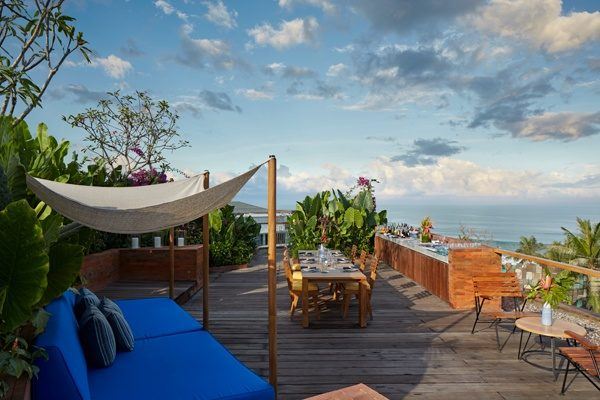 Gaurav Sinha is founder of Insignia, a luxury hotel branding company headquartered in Dubai:
"Katamama is an aesthete's refuge, a hotel whispering elegance while others shout about themselves. Underplayed, discreet and beautifully designed, this boutique hotel has been a delightful discovery. It's a celebration of subtlety, a modern testament to traditional craftsmanship, where literally every brick tells a story."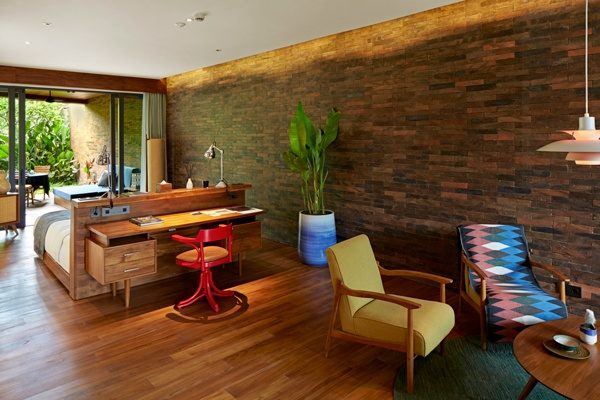 Travel writer, Xerxes Cook, is a former Vice editor, with a keen eye for design:
"The architecture shows there's more to Balinese modernism than infinity pools — it displays such a progressive design vision right down to the smallest of details such as the ceramics and fabrics, showcasing the best of Balinese craft through a totally new perspective. No wonder it's a favourite of French fashion designer Stephan Ashpool of Pigalle and his crew."
So if you're a fetishist for fine furnishings, here in the heart of Seminyak, is an oasis of thoughtful, sensitive interior design which is as thought provoking and soul uplifting as it is a getaway for good times.

Juliet

Follow Juliet Kinsman on Twitter and Instagram.

Article was posted on

<!-comments-button-->