Looking to book a Paris city break? Here are my suggestions for what to do in Paris, so you can plan the perfect weekend in Paris.
Going back to Paris for a city break and actually celebrating my birthday there was not part of any plan I had that year – but the best things come when you least expect them (or when you and your husband suddenly have several meetings in the City of Light). Call it a happy coincidence, but for us, it just made sense to extend our stay and enjoy a lovely weekend in Paris.
Paris city break: our Friday
Our weekend in Paris started on Friday, to be precise – and it was lovely to wake up in our absolutely stunning room at the  Saint James Paris, a Relais & Chateaux, well, chateau, located very centrally on the 16th arrondissement, just behind Avenue Foch. Not your standard luxury hotel by any means, and a very special place in every sense of the word. To say the hotel was unique, would be the understatement of the year – each room has its own personality, and a very strong one.
The Saint James is a luxury boutique hotel, bar and restaurant and is also a private members' club, linked to the London St. James club and others around the world – it was a very exclusive yet welcoming atmosphere, with a very interesting mix of the best of British and French together.
I started the day not very early ("French time" one might argue), and had set aside some 'me time', which is funnily enough something I don't do as often as I would like to. I had a lovely and simple breakfast (think cup of coffee, fresh bread and cheese) and then, headed back to our Pavilion Suite where I was to enjoy something quite spectacular – the new Guerlain signature massage, with its wonderful smell (seriously amazing), in the privacy of our room. What I hadn't realised until that very day (we had checked in earlier in the week), was that our bedroom had not *only* 2 floors, but 3. And in the third one, which was the equivalent of a basement, we had our own spa room, with this wonderful tub, sauna and massage tables. It was a fantastic moment and really set the tone for the weekend. Kind of.
After I got back to my senses, I did what every other Parisian woman does on a Friday – I went to have my hair done, because (as I said countless times, no one does it like ze French), despite my limited hairdresser French, I always get fab hair from a stranger. There cannot be a Paris city break without fabulous hair, that is all.
I was due to meet Lucie Knapek, the CEO and founder of Evanela, a new French company who organises very special events – and that would mean private encounters with artisans (many of them holders of the coveted title of Meilleur Ouvrier de France, which is code for being publicly recognised as one of the best of the best in a particular area). By an encounter, it means a 2-hour slot with these masters in their art, where you go behind the scenes and see where the magic happens. As I was in Paris, I chose to do something fashion related. It would be rude not to.
Have you noticed how many more lingerie shops are in France's high street compared to the rest of the world? It is in the French blood and they don't even notice it, believe me (we talked about it!). Meeting this particular artisan (who was a delightful woman, spoke outstanding English and was clearly a 'master' in her field), was something I could have not done without Lucie's help. The art of corset making is not dying – it is actually difficult to keep up with the orders. But it takes an outstanding amount of work – the piece you see above costs around €1200, but if you think it makes 4-5 days to make, bit by bit, it is very understandable. It was also very interesting to see the behind the scenes part, and the array of fabrics and lace, which comes in 1001 shapes, textures and forms.
After this, I was due to meet Mr. O for a little shopping and we decided to meet at the Rue du Faubourg de Saint Honore (hum… tres strategic, I know). I like walking this street from left to right, if you may, as it is quite long and sometimes I just give up on the best bits.
I also noticed something very different happening at Longchamp, who now has two stores in this street: the traditional (and ever so slightly boring one) on one side, and something very new and different, which I must confess I quite liked. I have recently bought some new more design-led Longchamp pieces (obviously I refuse to go away for a weekend without taking 3 of those lovely folding shopper bags, you know, for *shopping emergencies*), but these were something else.
After a couple of hours, and some success in the shoe front (see above), we headed back to the hotel to change for dinner.
On our Paris city break, we wanted very different dining experiences during our Paris city break, something magnifique and utterly chic, and something a bit rough around the edges, without silver service (i.e. very traditional French, limited smiles), but with great real food. Following a suggestion by my friend Stephane (who was in stitches until I finished dinner, in case her recommendation was 'too real'), we headed towards Gare de Lyon (a little bit far away) and had a very good meal at A La Biche au Bois (No website, so here is the address: 45 Av. Ledru-Rollin, 75012 Paris, Tel: +33 1 43 43 34 38). Think coq au vin, steak frites, creme caramel, and copious amounts of fromage. And so busy, I cannot tell you – no time for photos I am afraid. But we really liked it and were surprised when we got the bill: €100 for two, including a bottle of wine.  Bargain!
From here, we headed back to the hotel (to be fair you need to add €50 return taxi fare to the dinner), and enjoyed a lovely cocktail or three at the Saint James Bar, which I have to say, was so sexy, I just didn't want to leave.
Weekend in Paris: our Saturday
After a lovely late breakfast (we needed something "real" as we had to skip lunch, and you will find out in a minute why), we headed to St. Germain de Pres, which is one of my favourite parts of Paris. We got things started at La Grande Epicerie de Paris, which is one of the nicest food halls I have ever visited. Think Whole Foods or even Selfridges food hall but 100% nicer. And French.
From here, we had to visit Le Bon Marche, which is a great department store literally just around the corner. Interestingly enough, I never have problems finding things to buy here. I wonder why! We continued down Rue de Sevres, which has some very good shopping including the most beautiful Hermes store ever. We always visit no matter what, and Mr. O can never resist a new tie. Or three. Oh well.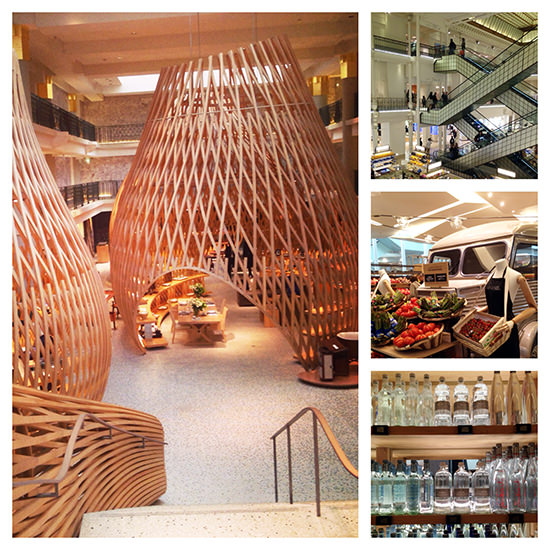 Before we knew it, a whole morning had come and gone and it was time to meet Alexandra, from Wonderful Time who was going to lead us on a 2.30h 'Pastries and Desserts Tour' – this was the reason why we had to skip lunch. I know you were wondering 'who on earth skips lunch when on a Paris city break?'.
Oh and what an experience it was – we must have visited a good 7-8 places, some of which we knew and loved, and others that we discovered for the first time and will certainly become some of our Parisian staples. The tour took place around St. Germain, which was also a great way to get to know different parts of this neighbourhood.
It was one of the highlights of our amazing weekend in Paris and I highly recommend you try this company and their private tours on your next trip to Paris. From here, we walked all the way to the Hotel de Ville, where we were to start our Flytographer session. If you read this blog regularly, you may have noticed I cannot live without Flytographer, and some of my best photographs (solo, couple and/or with friends in Lisbon, Los Angeles, Amsterdam, Prague, Newport Beach, Istanbul or Abu Dhabi) have been captured by this great company.
Goncalo, who happened to be a fellow Portuguese (we are everywhere, I know!), was great fun, and made us feel at ease. The whole point is to relax – and be discrete. This is the opposite experience of a paparazzi and that is why I like it so much.
We continued our walk towards Notre Dame, where we actually had great light – we were very lucky with the weather in April, I must say. We had an hour with Goncalo and had many different backdrops to our photos, which make this concept even more interesting.
There is something quite interesting about Paris – it must be almost everyone's favourite city in the world. But it isn't mine. I like it, a lot – and I like visiting once a year, because I know I will have a great weekend with the things I love in life: my husband, great food and wine, shopping and incredible hotels. But I like walking around town – I do not know the city well, but can find my way around reasonably, and I adore the vibe. But I have no dreams of ever moving to Paris – I just like visiting.
Before we knew it, our hour was up – we had covered a lot and taken some great photos. But our legs needed a rest – we had spent the whole day walking (I am sure with negative calories by this time), so we just found a little cafe and had a little kir. Because we totally deserved one. This is another part of French culture I love and I try to cram in a few moments like this on a Paris city break – just sit down and watch the world go by.
It was then time to head back to the hotel, and change for dinner. And possibly try new shoes on – it would be rude not to. Dinner was to take place at the 1-star Michelin 114 Faubourg, at Le Bristol, one of Paris' grand dame hotels. Needless to say, it started with great cocktails at the Bar du Bristol, which was lovely (and very cool, with great music).
We had a great meal, service and experience. And we may have gone back to the bar for a little night-cap. Possibly. After all, it would be rude not to do that when on a weekend in Paris.
Weekend in Paris: our Sunday
Sunday is always interesting in Paris and we had to be at the airport at around 3pm, which gave us some limited time and I was a woman with priorities: I wanted to go food shopping and that can be a challenge in Paris. On a Sunday.
But this is where a good hotel concierge makes a difference and we had our answer: Marche Poncelet (17eme). Quite compact but definitely busy – and with every thing that we needed: bread, dessert, cheese, charcuterie and a bit of seafood. I pity the people who sat next to us on the plane, but I have to tell you, our dinner back at home was nothing short of perfect.
Before we knew it, it was time to head to the airport, with a little stop for a little brunch at the Bar-a-Burger (a bit out-of-the-way, but a fun place).
And head back home, after a fab Paris city break.
xo
Mrs. O
Disclaimer and Fact box: a huge thank you to those who made my birthday weekend in Paris extra special, namely Saint James Paris, Flytographer, Le Bristol, Wonderful Time and Evanela. Opinions are, as always, my own.
STAY: Rooms at Saint James Paris start at €360 per night in a standard room and my Pavilion suite costs from €1000/night including breakfast.
SEE: A 60-minute photoshoot with Flytographer costs $350 (approx €250) and includes high and low resolution images of your time with one of their photographers in over 100 locations around the world.
EAT & DRINK: Dinner at 114 Faubourg at Le Bristol costs around €200-250 for two, excluding drinks. Dinner at La Biche au Bois costs around €100 for two including drinks. Brunch at Bar-a-Burger costs €26 per person including non-alcoholic drinks.
PLAY: A private encounter with an artisan with Evanela lasts for 2 hours and costs €500 – there is no obligation to buy anything. The Wonderful Time Pastries and Desserts Tour costs €170 per person and lasts for two hours as well.