I knew it! I k-n-e-w it! I sat at home, on antibiotics and on cold and flu medicines since the moment I landed back from my Swiss adventure, feeling miserable, but when I saw this release on my inbox, my heart skipped a little beat.
Of course we are all familiar with post-holiday blues (real depression in some cases!!), but for someone to have found scientific evidence that going away on holidays is the key to a longer and healthier life, it is just brilliant, in my honest opinion.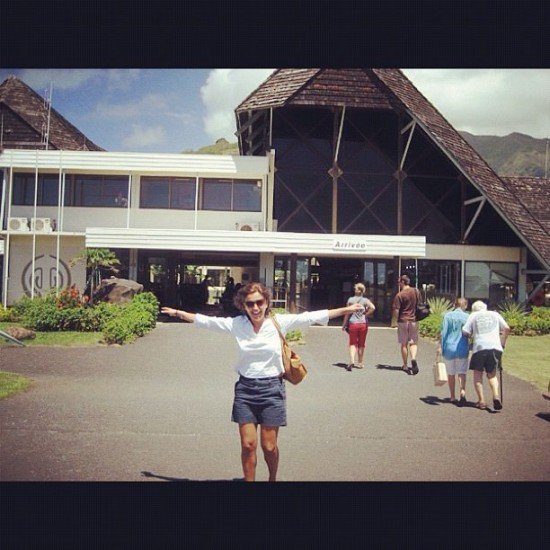 People returning to work after a holiday are often told by their colleagues, 'You look well!' But is this really true –do holidays have an impact on your health, beyond a tan that quickly fades? For the first time Kuoni Travel and Nuffield Health have clinically measured the health benefits of a break – to provide an objective assessment of the improvements to wellbeing generated by a holiday.
Nuffield Health and psychotherapist Christine Webber, carried out a series of clinical and psychotherapeutic tests in order to develop for the first time an accurate picture of how getting away from it all can influence a whole series of key health indicators – blood pressure, ability to recover from stress, quality of sleep and, of course, emotional health.
They took 12 people (I am absolutely sure my invite got lost in the post) and gave them full health assessments and psychological tests. These poor lucky people were also asked to wear heart monitors and were given lifestyle and dietary advice.
Want to hear the best part? Half the group was sent on incredible on holidays to either Thailand, Peru or the Maldives. The other half of the group stayed at home. Two weeks after the holidaymakers returned, both groups had more medicals, psychological tests and wore heart monitors for several days.
The study showed that the holidaymakers' ability to recover from stress, their sleep quality and their blood pressures were significantly improved compared with the group who had not had a holiday.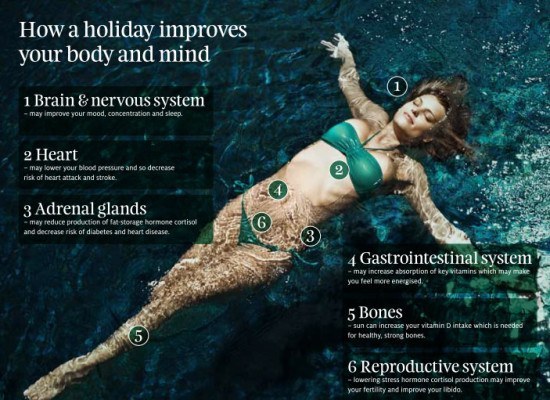 Here are some of the main findings (i.e. excuses to go on holiday NOW!):
The average blood pressure of the holidaymakers dropped by a beneficial six per cent while the average of the non-holidaymakers went up over the same period by two per cent. (Avoiding high blood pressure is important to avert risk of stroke and heart attacks).
The sleep quality of the holidaymakers improved while that of the non-holidaymakers deteriorated. Holidaymakers saw a 17 per cent improvement while the average for non-holidaymakers reduced by 14 per cent. (Quality of sleep is important for the body to physically and mentally repair).
The ability to recover from stress (known as the stress-resilience test) saw an average improvement of 29 per cent among holidaymakers. This compared to a 71 per cent fall in stress resilience scores among the non-holidaymakers. (The higher the stress resilience score the better the body is recovering from stress efficiently).
OK, OK, this is all very good, but obviously we cannot go on holiday *all the time*. If you can't afford a holiday right now, what could you do to improve your health?
Here psychotherapist Christine Webber offers 6 tips on how to look after your mental health without taking a holiday:
1.   Sleep more
Often when people go on holiday, they have no idea how tired they are – till they stop. They usually report having real, deep and nourishing sleep on vacation. This is very energising and invigorating. So, if you want to feel better, work out how you can grab more 'shut-eye' several times a week. It might help too if you make your bedroom a place you really want to be. So, borrow some tips from your favourite holiday hotel and transform your bedroom into a luxury hideaway.
2. Engage in new activities
One of the huge bonuses of a holiday is that you get a greater sense of perspective by seeing how other people live and cope in circumstances very different from your own. Clearly, it's hard to replicate that back in the UK.
But if – perhaps at weekends – you can sometimes engage in activities that are very different from your weekday ritual, you will get that sense of tapping into a different world and feeding your soul and lifting yourself out of the humdrum that we value so much while we're on vacation. Good ways to do it are to: walk by the sea; climb a mountain; visit a free museum; enjoy theatre; watch a DVD of David Attenborough or Simon Reeve on their exotic travels.
3. Go on a date
Holidays often bring couples closer together. But with some effort, you can organise more quality time together on a regular basis. Try having a 'date' once a week. If you have children, get a babysitter. If need be, form a babysitter circle so that you and other parents all help each other out, free, on a rota basis. Your date needn't be an expensive one. But it should give you time to re-connect as a couple, and to have some fun and romance.
4. Sit quietly and make a list
We know from past Kuoni research that the majority of people make life-changing decisions on holiday. Something about the unaccustomed time and space enables us to face up to problems and to vow to change them. But if you can't get away, why not sit quietly one day and list those aspects of your life that you'd like to alter. Then pick the one that feels most important, and work out – step by step – how you could gradually effect some changes that would help you to solve this particular difficulty.
5. Have a computer-free day
Most people report that holidays give them a chance to 'switch off' their brains. This is much harder at home than it is when we are away. But why not ban all thoughts of work for at least one whole day per weekend? This means no worrying about the boss, no marking maths homework if you're a teacher, and no work on your laptop connected to your employment. Your weekend will be much more of a rest if you give your mind a complete break from what you do on most other days of the week.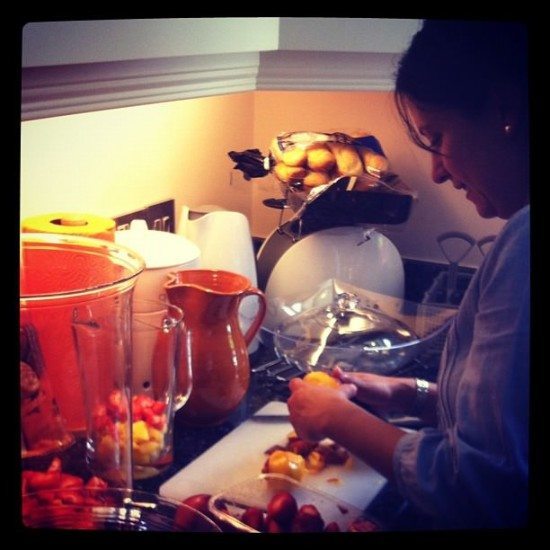 6. Do things together as a family
Holidays often encourage us to try family activities that we don't do at home. Often these pursuits help us to relax and laugh – and bring out a different side to us. So, plan a day doing something as a family that you don't normally do – whether it's beach volleyball, swimming, canoeing, rock climbing or maybe even dancing, or Karaoke.
So there you have it, if you are feeling a bit blue and needed an excuse, this is as good as it gets – go on and do it, it is good for you! You will live longer – in other words, just what the doctor ordered! As for me (not that I can complain, I cannot!), I am looking forward to continuing my Euro tour… and then, looking forward to some sun (which I have not seen since October!)
xo
Mrs. O
PS: The study quoted in this article was published by Kuoni and Nuffield Health. This is NOT a sponsored post in any way – I know a good story when I see one. Download the complete report here.