Located in Hollywood in… Florida, the Westin Diplomat is a resort I know very well – and a place I have stayed at over 6 times in the last 5 or so years. My love for Miami is well documented, but after one last-minute trip years ago, where the only option I had was to stay in this hotel (located 12 miles north of South Beach and closer to Fort Lauderdale), some magic happened. And every time we have since visited the area, we just continued to stay there.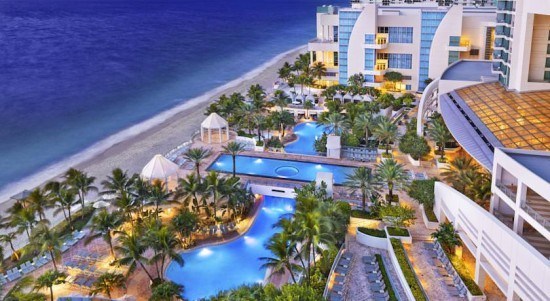 It is a huge hotel (1000+ rooms), which usually does not tick a box for me. But the rooms are wonderful (especially the suites, and we have tried different ones each time), the beach is fantastic (really nice and quiet), and the nearby area has been a revelation for us – all we need is right there on the hotel's doorstep.
All I need to be happy, really!
Pre-Arrival
–          Was there any pre-arrival communication by the hotel with myself via email or social media?
Our room was booked via spg.com possibly 9 months before our stay – this time around we stayed 9 nights immediately after Christmas, which is always a very busy period. Over time I have come to know the Hotel's PR team and some tweets took place – especially as the countdown began. As I said before, the hotel knows us well and this is almost an annual pilgrimage for us.
–          Did I try to engage the hotel via Twitter? Did the hotel interact with me and made me feel welcome/special?
Yes indeed.
–          Has the hotel tried to gather any personal information (e.g. preferences) prior to my stay?
Yes, although we did not need much. Due to the time of the year and our arrival team we were keen to have our first dinner booked at the hotel, as well as a round of spa treatments, which were all sorted for us before we arrived. As far as the bedroom was concerned, we were hoping that our SPG status would get us an upgrade to a suite, which thankfully happened.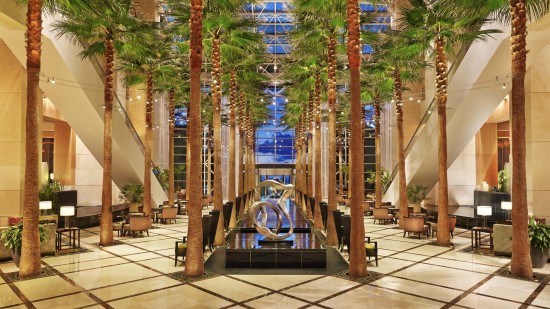 Arrival
–          The wow factor! What was the hotel decor style?
As I said before, this is a huge hotel, but the operation they run is very sleek. We valeted our car, had the luggage sent to where it needed to go and just headed for the check-in desks. The hotel decor is modern but understated, what you would expect from a Westin.
–          How quick and efficient was the hotel check-in?
There was no queue, but our room was not ready even though it was 8pm. The reason? Maintenance had detected something and were double checking it. The check-in lady, who was very nice, by the way, was extremely apologetic and offered us a $50 drinks voucher at the hotel's restaurant. We simply decided to have dinner first and then check-in (which wasn't a problem at all). After a long day travelling (we flew to Miami via New York), I was ready for one of the hotel's signature lychee cocktails.
–          Was I addressed by name once reservation has been located? (it is all about the small details, some others are outstanding with this, and I love it, like I do when I board an airplane)
Of course, and as one would expect.
–          Did I get an upgrade from my confirmed pre-booked room type?
Yes, we were upgraded to a Governor's Suite, thanks to our Starwood status.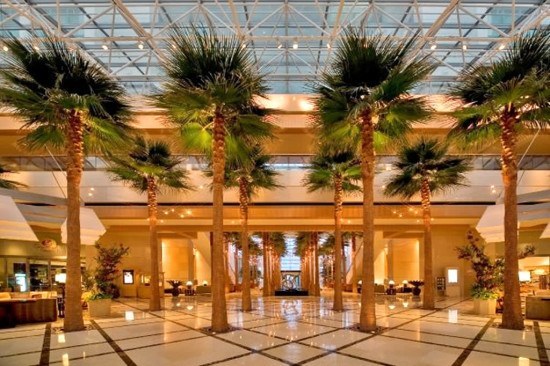 –          Did I feel genuinely welcomed by the hotel staff?
Always, and that is what I think makes this hotel very special: the team. This is quite a relaxed hotel but the staff are brilliant. The door ladies (ladies, yes) are always cheery, the valet boys always helpful and quick and everyone else you see around, always happy to help. It is effortless and it shows at all times. Possibly one of the reasons why we keep coming back year after year.
–          Luggage – how many people did I have to tip before the luggage made it safely to my room? This is cultural, I know
We actually never saw the luggage until we arrived to our room after dinner. We tipped the valet and the first person who took our bags inside. All of them.
–          Wi-fi – was I told anything about it? Was there a charge?
Wifi is free of charge to all Starwood Gold and Platinum SPGs and worked well inside the building.
Room Experience
We could live here without a problem.
–          First impressions – décor, size and wow factor
Our room was great – uber spacious and made up of a large living and dining room (and a bar!), a bedroom, bathroom, walk-in closet and another room which we used as a working area and the place where everyday we dropped our shopping bags.
All very understated and simply, in true Westin style.
–          Welcome amenity
We were surprised on our second day by a cheese selection and a bottle of wine.
–          The bed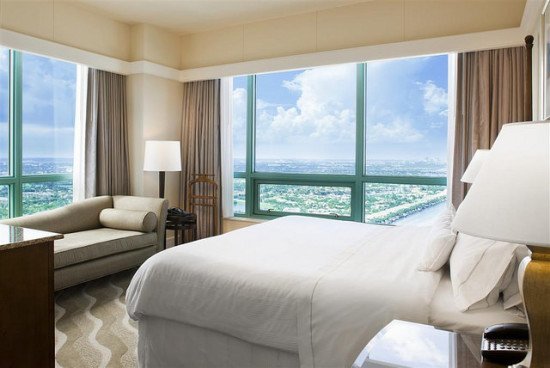 The bed, well, was fabulous. I am a great fan of Westin's Heavenly Beds – over 10 years ago, this brand reinvented the sleep experience. If you have a mattress topper on your bed, you possibly first found out about it at a Westin hotel. Now every brand has their own version of a bed, which is great news, but as far as I am concerned, it is all Westin's fault.
–          Closet/Wardrobe – proper hangers or those annoying ones where you need a PhD to get them out one by one? This is a personal pet peeve of mine. I can't stand them.
We had a walk-in closet with plenty of everything. And with a 9-night stay, we needed all the room we could get.
–          Iphone Charger/Dock
We had a bose sound system, but not an actual iPhone Dock. We had to be creative when finding sockets near the bed as they weren't really there (or we would have to turn off the bed side lamps).
–          Bathrobes and slippers
All there and we actually used them for once.
–          Coffee and Tea
We had a coffee maker and starbucks coffee, which we did not use.
–          Free bottled water
Yes, replaced every day (which also a perk for SPG members)
–          Magazine selection – had some nice surprises and doesn't happen often enough!
To be honest, it was very generic and not particularly interesting.
–          Power sockets in useful places – we have more and more devices and we know where we want them! By the bed, by the working area.
Not around the bed, but we found sockets around the bedroom.
Bathroom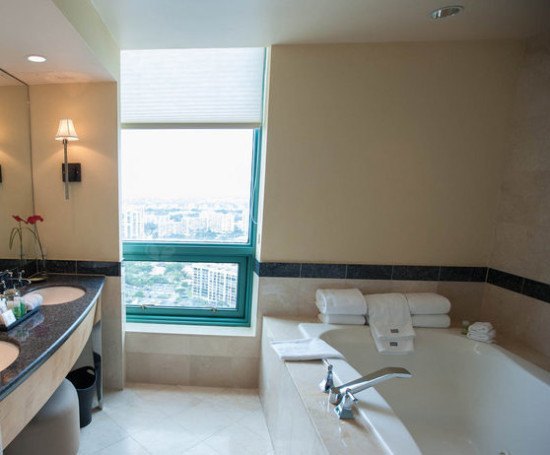 –          First impressions – décor, size and wow factor
Our bathroom was large and came with a window, which is something I love.
–          Bath, shower and taps – I am looking for Duravits and Hansgrohes (or other fab brands) around the world. How fab was the shower? And a little pet peeve.. was I able to operate the shower without asking Mr. O for help?
We had a huge bath tub (with bubbles, yes) and a great walk-in shower, and a separate toilet area. All in good working condition, but soon it will be time to change some of the fittings.
–          Towels – yes, please! How many and how soft and lovely?
Yes and lots. I found some of the bath towels really small which was strange in America. But we figured that the ones with a Westin logo were larger. We missed the lack of turndown service every day.
–          Toiletries – own brand, super brand, baby ones or proper ones? I shall find out!
All Westin hotels use their aloe tea brand products. I don't mind the shower gel, but not a great fan of the hair products. On a long stay like this, we brought our own.
–          Amenity kit – I don't want more sewing kits thank you very much, but I will need a shower cap.
We had everything we needed, all nicely displayed.
–          Hairdryer – is it a human one, or just something stuck to a wall that only makes noise?
I used it and had no problems with it.
Breakfast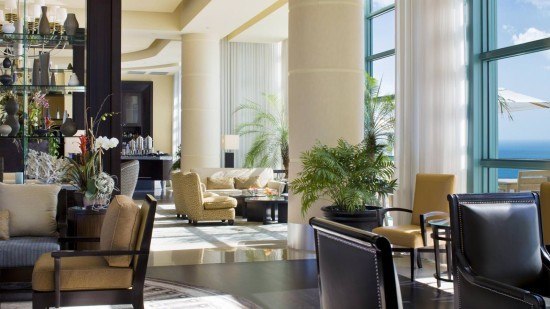 Breakfast is free of charge to all Platinum SPG members and takes place at the Club Lounge, located on the 33rd floor. This time of the year, there were simply too many of us in the room at the same time, and it was chaotic. There were also far too many children and it was so noisy, we gave up using this service after a couple of days and resorted to using the other cafe options available at the lobby.
Restaurant

I love the hotel's restaurant, which is called Hollywood Prime. It is elegant but understated and I love the lighting. What I loved the most? Recognising every one at this place, which is interesting as obviously I visit so many places. From the lovely hostess lady, to Laura, the GM and uber sommelier, to Diego, who was also our waiter last time.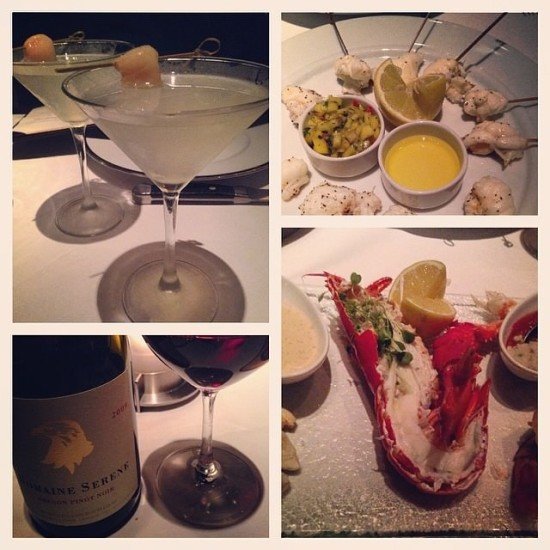 I don't know how they remembered us (or played it very well), but we felt so welcome, I cannot tell you. Laura challenged us to try yet another Zinfandel from the incredible cellar and we were not disappointed – how could we be? We had an outstanding dinner – starting with crab, ending with lobster and steak and this is now part of every trip. It is a great restaurant and worth a visit even if you are not a hotel resident (and also does not feel like you are in a hotel, so worry not). Cost per person, approx $100-150 and worth every penny.
The beach and pool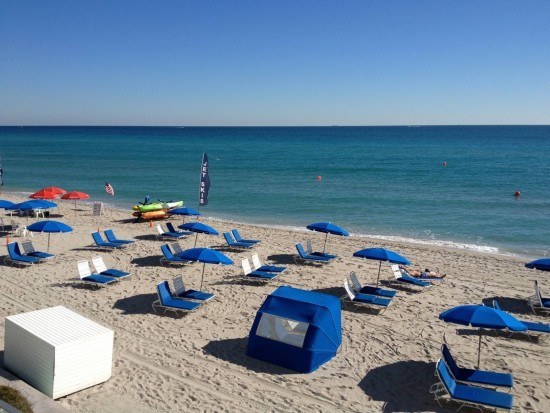 With a beach like this, who needs a pool? I suppose we all like different things, but without a doubt, the beach is where you will find me. Like every beach concession in Miami, this is operated externally from the hotel and each sun lounger costs $10 a day and can be charged to your hotel room. The gentlemen who run this are excellent and very helpful at all times. You can also order from the hotel pool bar for anything you may want to eat or drink.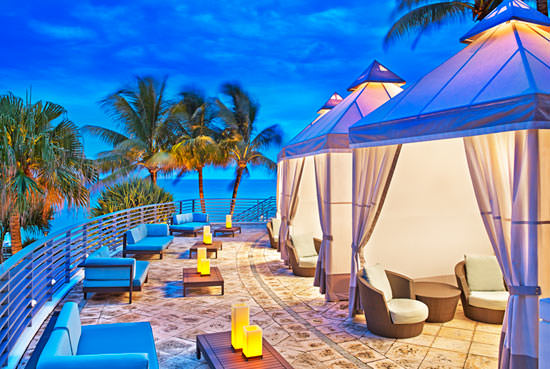 You also have casitas and cabanas, available at an extra cost, if you don't want to sit with everyone else (this is where you kind of see and experience the size of the hotel!). I was going to try one, but during our stay, we only had 2 sunny days, so we just headed to the beach. Next time I shall try these as they look lovely.
Pool and Beach towels are obviously complimentary (2 per guest), but I think they are a bit tired and need to be replaced.
Spa
One of the novelties for us, this time around, was the new spa. I have to confess, I was seriously impressed – firstly, because it is branded as a Westin Heavenly spa (I thought, how brave in this day and age) and secondly, because it was truly heavenly. The decor was outstanding, the spa attendants were some of the best we ever had (we wanted to take Ford back home with us) and the treatments were incredible.
We had a complimentary treatment each, but went back for more countless times though out our stay. There were lots of lovely little touches (e.g. when I started my Heavenly massage, I was asked 'what would you like to focus on today? Hope, love or believe?' I didn't quite know what to make of it, and then realised it was a sign which was then placed in a bowl below my face. I cannot recommend a visit enough – and also how great value the treatments were (a 50 minute massage costs $125, excluding tip).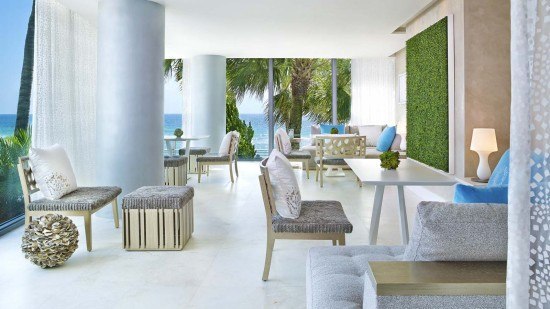 General thoughts
–          How good and reliable was the wi-fi?
It worked well inside the building (not so much at the pool), but keeped getting us kicked out on a daily basis. We got the hang of it on day 4!
–          Did the hotel interact with me via Twitter during my stay?
Yes, even though it was over New Years.
–          Location
The Westin Diplomat is located in Hollywood, Florida, which is between South Beach and Fort Lauderdale (which interestingly, I never visited). It is also close to Bal Habour (and it's great shops) and Aventura, which has a great selection of shopping and dining.
–          Cost – rooms starting from…
Rooms range from $169 to $699 for superior rooms depending on season and $319 to $3000 for suites depending on season.
–          Would I recommend it to my best friend?
Without a doubt.
–          Would I stay again?
Oh yes, it is just a matter of when. I really like this hotel – and I cannot explain why. Or maybe I just have.
Have you visited this hotel? What were your thoughts?
xo
Mrs. O
Disclaimer: I received 2 complimentary spa treatments during my stay (one for me, one for Mr. O). To find out more information about the Westin Diplomat, visit its website.