Lynsey is possibly one of the best PR professionals I have ever had the pleasure of meeting and working with, and over time has become a very good friend of mine. Go is her verb and we have been to quite a few places together – and worry not, there will be plenty more. Lynsey has recently been on a trip of a lifetime, organised by one of her clients, Quark Expeditions. A born adventurer (the opposite of yours truly), she was so looking forward to this 2-week expedition, she couldn't wait. For a significant part of the trip, we couldn't follow her – but Quark's team made sure we knew it was OK. It was strange to live without Lynsey in real life and on twitter for two weeks – it was quiet, I must say. I had to ask her to share this trip with us – you will see why in a moment. Xo, Mrs. O
As I rested on the shores of Reykjavik at Harpa, Reykjavik's spectacular new music hall on the harbor, I immersed myself in contemporary Scandinavian architecture in the blazing August sun. My embarkation time was approaching and like a game of peekaboo, a large sign offering me a fishing trip was skewing my view of the ship I was about to start my adventure on. I finally spotted the sleek expedition vessel that was going to be my home for the next two weeks and rushed forth.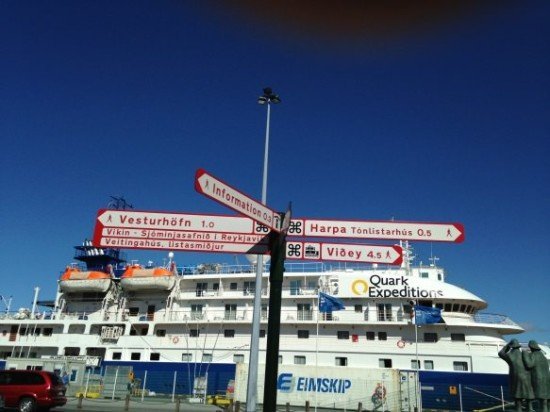 Like most people, I have a bucket list of things I want to do before I die, and one has always been to visit Greenland – the final frontier of Europe. I am a mountain girl who loves snow and ice but not really one to slum it or cruise. To me, Greenland has always held an illusion of being a mystical land where people live and work with the elements. When I told friends and family where I was off to with Quark Expeditions – the leader in polar adventures, most looked at me in bemusement: "Why, what will you see, it's Green and don't they live in igloos!"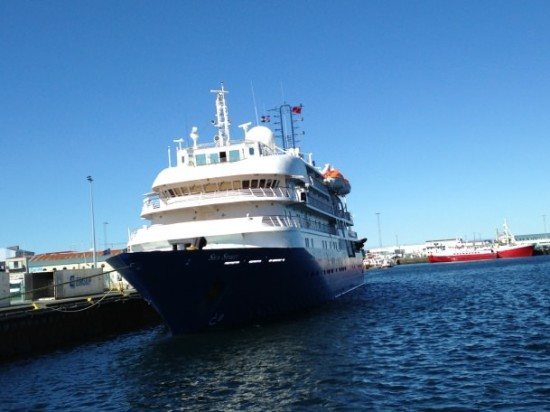 At length, I explained that I was off to learn about the culture of the Greenlanders, get close up and personal with the ice whilst staying on the well-appointed Sea Spirit . The ship was previously used exclusively in Quark's Antarctic season, so being smaller appealed to me, it boasts larger "suite-sized" cabins, in addition to private facilities and exterior views in every cabin. The hot tub on the back deck was a place to relax after a day of kayaking or as I have now learnt, paddling from my Kayak leader.
Whilst the food served three times a day in the formal dining room was appealing, tasty and stylish, the bar at night was open when one needed bubbles. The Expedition Crew led by Alex o'Neil, a very charming, silent but powerful type of Expedition leader from Canada with the Ship's Captain's Peter and Oleg took us on an expedition to places that would involve new encounters, which were exciting and magical.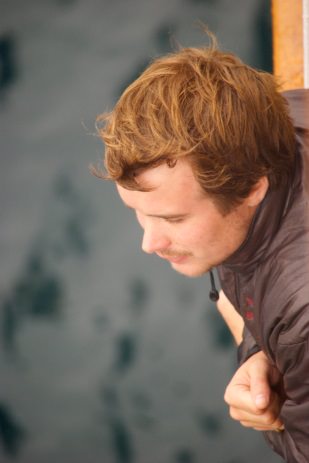 With 80 clients onboard the ship, there were 18 different nationalities from the USA to Australia, from all walks of life. The husband whose wife refused to come on such an adventure, to a family of three who live down the road from me in the UK and, of course, we were rubbing shoulders with multi -millionaires staying in the rather lovely Captain's suite. The promise of new experiences bonded us all together.
I am not one for sitting still and Mrs. O can vouch for that, so I opted to join the kayak team, eager for my first adventure. Just eight of us, we were a small knit community with an Israeli retired pediatrician, a 17-year-old fun loving California dude who was a cool addition to the team, Scott and Judy from the States, Karl from New Mexico and the lovely calm Canadian Laura and Jim.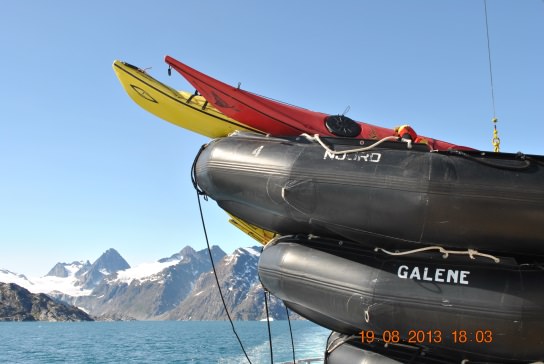 We were on the deck ahead of schedule dressed in brand new fashionable dry suits ready for action. After a relaxed zodiac ride along the coast we kayakers disembarked in to our plastic boats. A quick team photo and the group began exploring the northern coast of Skoldungenfjord. Steep rock cliffs were littered with the 20cm tall Greenland willow forest. Black lichens speckled the rocks and we were granted a true sense of scale as we navigated along the coastline. The headwind challenged the group's paddling abilities, but perseverance and muscle reigned as we pushed across wind and swell. A few small icebergs dotted the waters and I enjoyed getting up close and personal with bergy bits; even eating them and bringing a piece of 10,000 year old ice back to the ship for the vodka and tonic!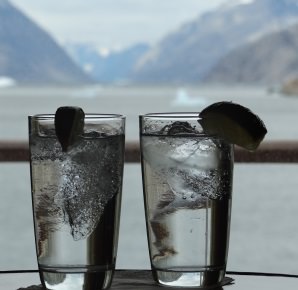 Alas a second exploration was in order, so we paddlers left our boats with Dangerous Dave the zodiac driving guru and ventured on to land to check out the abandoned village. It was a great start to the voyage-kayaking program with the vixen of a kayak leader Val Lubrik. Chatting with Val she was impassioned about why this is such a fab trip. Our people make the difference. The staff are passionate professional and diverse with a strong sense of adventure and fun. They come from around the world and truly enjoy what they do. Their passion and energy are contagious. Quark Expeditions make the most of every available opportunity. And because they are specialised in that they reach the far to go places that are off the beaten track and the secret hideaways known only by experienced staff and Expedition teams. The ships are well sized offering an intimate experience and the opportunity for good fun and learning with staff and other guests.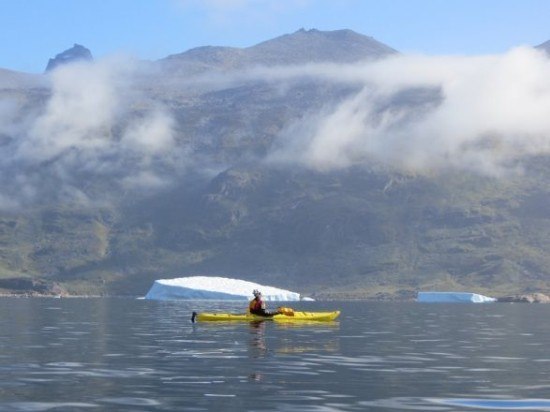 On day three, the original itinerary showed a transit of Prins Christian Sund. The excitement started on our approach, when the first narrow part of the entrance was seemingly blocked by a large iceberg. There was only a narrow gap between the iceberg and a small island holding us from either making it into the sound or having to turn back out into 40km winds outside to the Denmark Straits. After assessing current (we were luckily going into the current, and did not have it behind us), soundings, and the composition of the ice, Captain Oleg decided it was safe to proceed. It was an incredible feat of navigation and all of the passengers cheered as we cleared the passage and entered the fjord.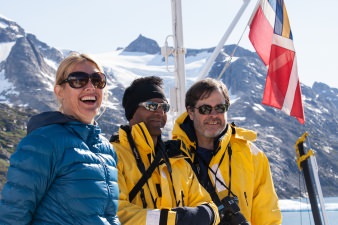 Everything we were able to do far exceeded even my own expectations for this voyage. The passenger energy was high. No one really knew what to expect. The expedition was billed as the Greenland Explorer – Enjoy culture and fascinating wildlife on the same trip. What is most apparent is the size of the natural features with imposing glaciers and deep fjords, nature is still champion in this land and the Greenland Explorer itinerary allows travellers to get to grips with this. But beyond the natural richness of the lands there is also a focus on the history of inhabitants and their culture with visits to settlements of varying sizes through the cruise. When visiting these towns and villages it is the churches and the historical sites that are focussed on providing a cultural experience. The capital of Greenland, Nuuk, has been a settlement since 2200BC.
What did we achieve in two weeks:
7 Community visits
Polar Plunge
Furthest North 69'49'N
10 Lectures
47 species of birds and mammals
Yes – whales!
8 Different kinds of local cuisine
4 Unsounded bays
9 Kayak Excursions
2,314 NM Travelled 4,300kms
8 Hikes
2,678 Eggs Consumed
2 Captains!
Helicopter ride across Ilulissat UNESCO World Heritage site and the Polar cap
64 different wildflowers
Crossing the Arctic circle
2 sets of Northern lights
Arctic BBQ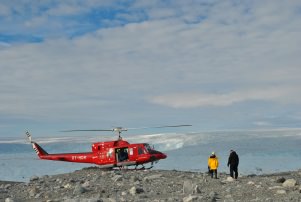 All I can say is get to Greenland, the final frontier of Europe for the most amazing adventure and with Quark Expeditions you can do it in a small luxury vessel.
Next year I hope to go again to try out: In the Footsteps of Franklin: Greenland & Canada's High Arctic.
Lynsey
Disclaimer and Fact Box: Lynsey was a guest of Quark Expeditions on this trip. The upcoming "Footsteps of Franklin: Greenland & Canada's High Arctic" trip starts from £3,865 per person for 12 nights (13 days) with three meals a day, one night accommodation pre and post ship in Reykjavik and Toronto, all inclusive beverages, shore landings and on-board lectures in August and September. For more information visit Quark Expeditions website.