This article is sponsored by American Express
American Express and TripAdvisor have teamed up to create a sub community that will appeal to luxury travellers from around the world.
If you are a regular reader of my blog, you know that I have a lot of love for my American Express card – it is the card that literally takes me places (and I also love the extra services they offer). What I am not so familiar with, is TripAdvisor – I am not a regular user, although I must confess I have spent a few hours perusing some very bad reviews of places I will never visit.
So when American Express launched this new joint initiative, I was intrigued – why would they partner with TripAdvisor? Since Wendy Peryn joined their team, I have actually been reading some of their content (because of Wendy, who I respect and admire) and I really wanted to understand the point of it.
If you know your local American Express website like your favourite book, you will see that more and more, you can 'connect' your card to various initiatives (like Foursquare, for example), or pre-load offers into your card so that if you spend x money in a particular retailer, you will get statement credits. It is a no brainer, and as it is 'pre-organised', you know that if you use your card on a particular place, you will then get your money back. Or a bit of money back.
The American Express – TripAdvisor initiative is actually quite interesting: by connecting your accounts, you will be tagged as an Amex Cardmember, and that tag will start creating a pattern based on your reviews – and those of other American Express Cardmembers around the world. And because it is a little (or not so little) club, where the card opens a lot of possibilities, it is possible that you may have some things in common with these other club members.
So I logged on to the American Express – TripAdvisor page.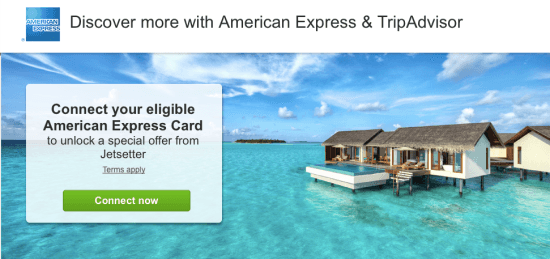 A special offer from Jetsetter is something most likeminded people wouldn't say no to, and I have to say, with that Maldives photo, we were off to a great start.
I scrolled down and got more information – and quite relevant, I have to say (and it all seemed to make sense).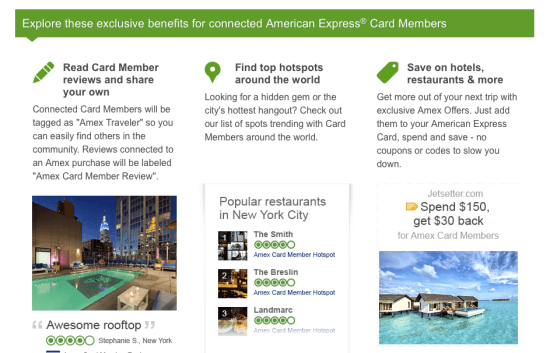 I clicked on 'Connect Now', and was asked to connect with a TripAdvisor account and provide my personal details, including my American Express card number. And then this screen appeared: and I found something quite cool – in return for your first review as an Amex Cardmember, you can get a £5 statement credit. This offer is valid until December 31st. I also read the bit where is said 'limited to 15,000 posted reviews' and started doing some math (I could spend a couple of days writing reviews). BUT NO! I then read the full terms and you are limited to 1 review per card (but if you have more than 1 card and 1 TripAdvisor account, then, well, the world is your oyster).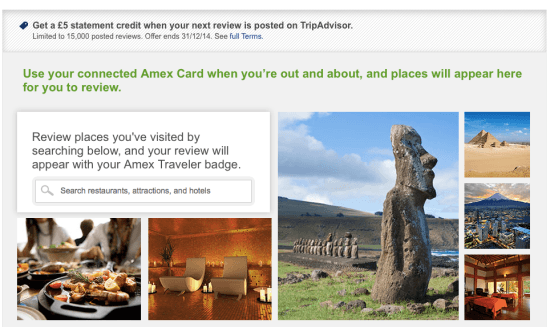 So for the promise of a small glass of wine, I wrote my first review. I decided to be quite clever and actually review a wine place (where you can get glasses of wine for £5, so it all works subconsciously. Instant gratification and all!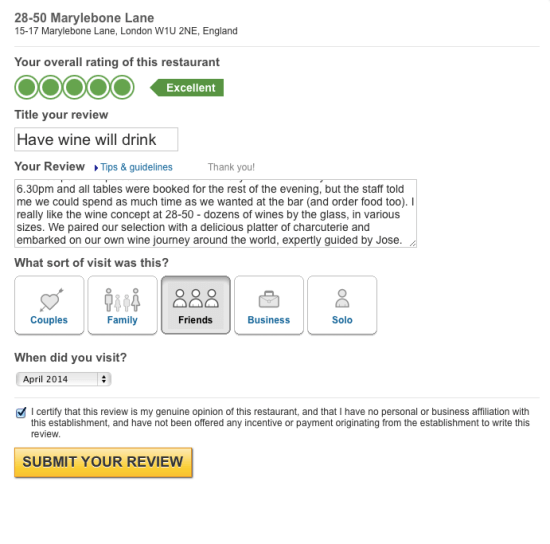 Reviews take up to 48 hours to be posted (they need to be verified and rightly so), so it is just a matter of days until I get those £5 back.
But then, I decided to test the system, just to see if it did what it said on the tin – so I explored this part of the website a bit further.
So I picked London and a particular type of restaurant, and the results were not bad at all. If the results for a place I know are good enough (which they were), the potential for good recommendations around the world is quite interesting. Imagine going to Buenos Aires and not knowing where to eat, shop or drink, well, you can follow other American Express Cardmembers' suggestions.
While I wrote this post, I got some mail (or e-mail, rather)…

So I know where I went for dinner in London last week, and when I had that glass of wine and know that is was with compliments from American Express and TripAdvisor. It is small, but could be the beginning of something great.
Join me on TripAdvisor and keep those reviews coming – but only places that Mrs. O would approve!
xo
Mrs. O
Disclosure: This article is sponsored by American Express. Opinions, as always, are my own.