This post was brought to you in association with  CreateTrips
When CreateTrips asked me to review their app, which has been getting some really rave reviews, I couldn't think of a better trip than NYC to put it to the test – a city I love (of course), but usually a trip where my agenda is packed – because there are so many places to go, and I am VERY organised on (most of) my trips.
The first thing I had to do, after visiting the website, was head to the App Store, where I downloaded the free version of the app. You gotta try it before you commit to it, right?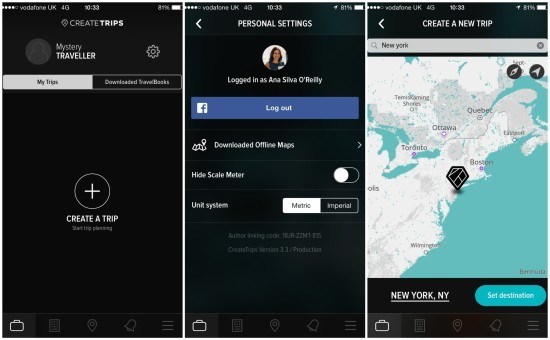 The first thing I did was to create a personal account, which was very easy was it offered a Facebook login option. I then selected my unit system (I still don't hundred percent think in miles, I am sorry), and took the offer the app suggested and created my first trip. In order to do so, I simply entered the words "New York" and some magic happened.. and the app took me to NYC, which I set as a destination.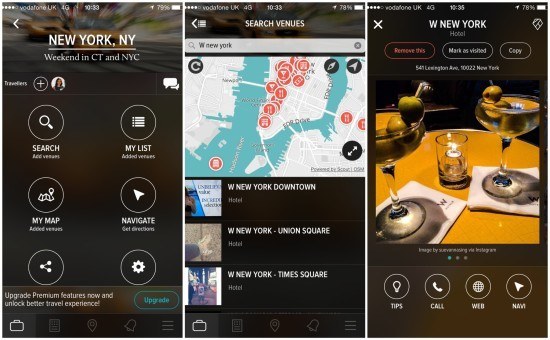 The first thing I had to do, was to start searching for venues. Top of the list came the hotel, which on this occasion was the W New York on Lexington Avenue (the 'original W'). As there are a few other Ws, the one I was searching for did not come up in the top 3 results, but I found it without a problem.
I clicked to add it to my list of 'Added Venues' and took a moment to look at the photographs. Interestingly enough, CreateTrips uses location-tagged photos from Instagram, and there is no control of what comes up as a result. On this occasion, the photo of cocktails was the most interesting one I could find (there are 3 results per location), and none of them was actually 'the hotel'. I was looking forward to seeing the hotel's entrance, lobby or a sexy modern room, but that did not happen. To be honest, this was one of the few things I did not love in the app.
I carried on adding places I needed to go to during my trip – I had made reservations and appointments, and it was very easy to add them into the app.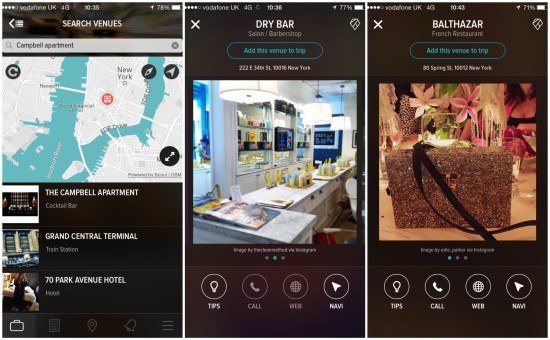 Once you found your venue and added it to your trip, you could very easily find it at any stage of the trip. I loved how easy it was to call the venue (and I used it as I had to change one of my dinner reservations), and also liked that it had direct links to the website and mapping facilities.
One of the things that I was very curious about (and is VERY useful), is the navigation – because if you upgrade to the paid version of the app (£1.49), you can access offline maps, without using data, and I thought this was an excellent feature.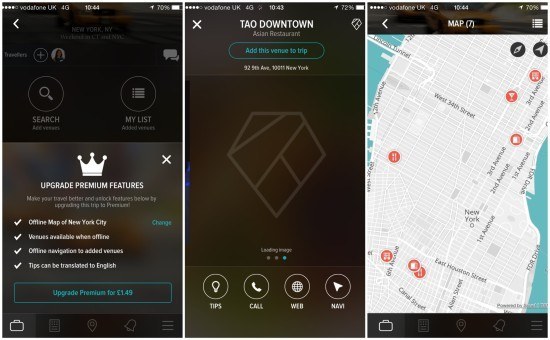 I tested this feature both on and offline and it did work a treat.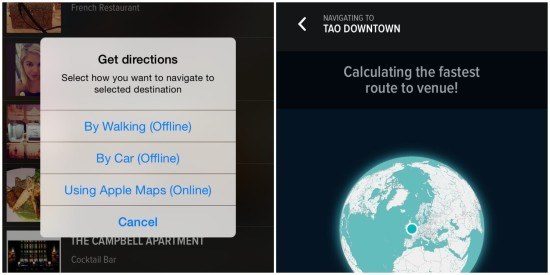 Another feature of the app, which could be quite interesting (based on taste and type of traveller), are the TravelBooks, whereby you can purchase, for £4.49 a complete trip itinerary – but needless to say, it has to match your own personal interests. Say, if you like my blog and the way that I travel, you could just *trust* me and get all my personal NYC trip tips… I could really see where this could go.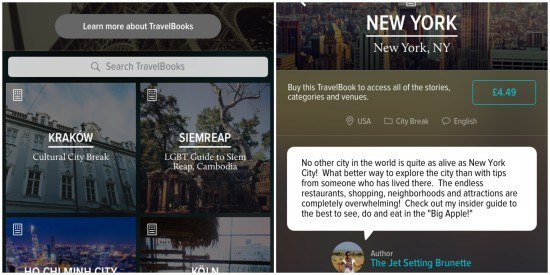 To sum it up:
What I didn't love about Create Trips – the random instagram photos as they were not curated and could have been much better. Sometimes venues did not come up in searches, although you could zoom in on the map and find them manually. The geotags are based on Four Square for the time being.
What I loved about Create Trips – it was super easy to use, it actually added value to my trip and the offline maps were fab. Best £1.49 you can spend before a trip. I really liked it and have used it again and again.
xo
Mrs. O
Disclaimer and Fact Box: this post was sponsored by CreateTrips, and as you can imagine, all opinions are my own. 
CreateTrips, the Helsinki-based mobile travel startup is well on its way in becoming the world's leading travel app, with being in the TOP 10 of travel apps on the App Store in almost 100 countries. The app, currently available for iOS, is revolutionizing how trips are planned and made. It is the social trip planner for the smart traveller, as users can share their adventures with friends and have trip plans offline with maps and navigation – avoiding all data roaming costs.