Well well well, another year has gone by – and what a year it has been! As you may know (or not), my birthday is on April 14th and I am a great believer in celebrating what I call 'birthday month'. Because a day is not enough, obviously. So to celebrate it in style, I have partnered with Sovereign, one of the most respected UK luxury travel companies for this luxury travel giveaway.
With more than 40 years experience in providing luxury holidays they pride themselves in offering exceptional value with superior treatment on every holiday.
What's more, they are obsessed with one thing: finding your own Paradise. According to the Oxford Dictionary it's the 'ultimate abode' – the most lovely, perfect place that you can imagine. At Sovereign, they are experts at finding that place for thousands of people every year.
And guess what, 5 lucky winners will be finding their own paradise very soon, as I have 5 extraordinary Sovereign hotel stays to gift to 5 readers.
What are the prizes, I hear you say? Well… read on!
5 nights at the Belmond Reid's Palace, Madeira, Portugal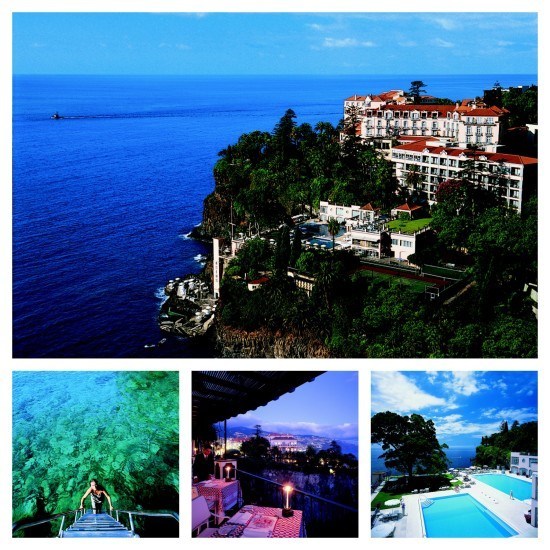 Perched on cliff-tops overlooking the Atlantic Ocean, Belmond Reid's Palace in Funchal, Madeira has been the ultimate place to stretch out in the sun and relax for over a century. Located in subtropical gardens, this legendary luxury hotel boasts three swimming pools, an extraordinary oceanfront spa and two fantastic restaurants, all within walking distance of Funchal's shops, restaurants and nightlife. When not enjoying the fabulous facilities, guests can wander down to the sea-level platform and jump straight into the ocean.
Belmond Reid's Palace is offering the opportunity to win a five night stay for two people with daily breakfast. Bookings are on request and subject to availability and black-out dates (28th December 2015 to 5th January 2016 and 21st March to 3rd April 2016). Terms and conditions apply.
5 nights at Daios Cove Luxury Resort & Villas in Crete, Greece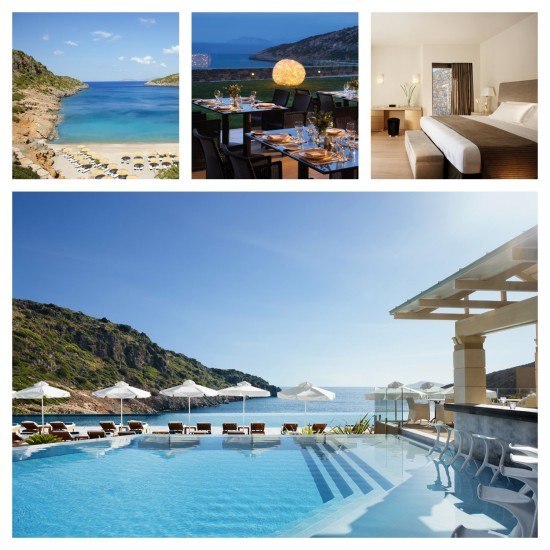 Daios Cove is a new five-star destination where luxury and exclusivity meet. Set across a hillside in its own secluded bay the resort is set on the northern coast of the beautiful island of Crete. Here guests will discover dazzling views; stunning contemporary architecture; fine-dining restaurants; a superior spa; an infinity pool; and, of course, the resort's own private beach. Daios Cove is an unforgettable and welcoming location.
Daios Cove Luxury Resort & Villas is offering the opportunity to win a five nights stay in a Deluxe Double Sea View Room with breakfast and dinner (on a Half Board basis) for two valid for the periods of 17/04 – 27/04/2015, 12/05 – 21/05/2015, 01/06 – 09/06/2015, 01/09 – 15/09/2015 and 31/10/15. Reservation is on request, and confirmation is subject to availability. Terms and conditions apply.
5 nights at the Princesa Yaiza Suite Hotel Resort, Lanzarote, Canary Islands (Spain)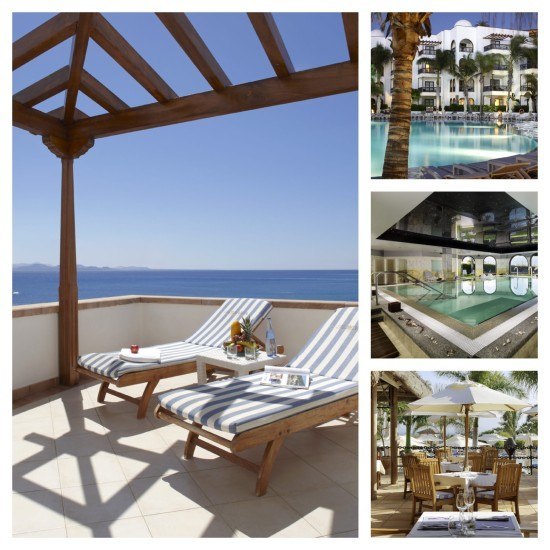 The fabulous five-star Princesa Yaiza Suite Hotel Resort is situated in Playa Blanca, a pretty and tranquil spot on the Canary Island of Lanzarote. The resort is privately owned and exceptionally well cared for with perfectly manicured gardens and stunning sea views looking on to Fuerteventura and Isla de Lobos. The luxurious suites, impeccable service, Kikoland kids club, Thalasso-therapy spa and gourmet dining options make the Princesa Yaiza the ideal getaway for young, old, honeymooners and families alike.
The Princesa Yaiza Suite Hotel Resort is offering the opportunity to win a prize of a five night stay on a B&B basis in a Double room for two people. Reservations are on request and subject to availability and black-out dates. Terms and conditions apply.
5 nights at The Skiathos Princess Hotel, Skiathos, Greece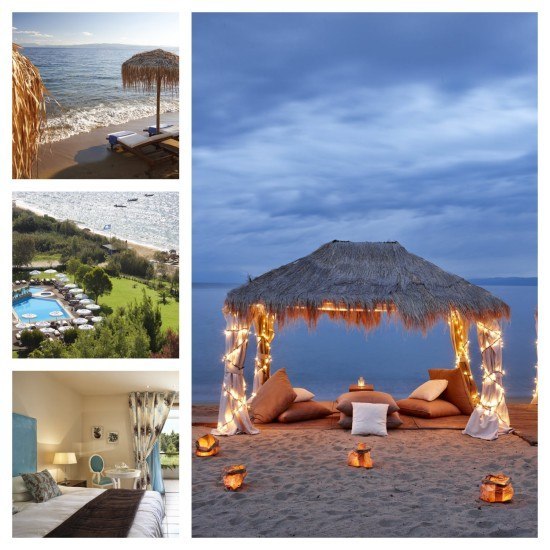 Overlooking a sandy beach on the glistening island of Skiathos, Greece, Skiathos Princess Hotel represents a unique element of bohemian luxury, reflected in elegant accommodation, healthy Mediterranean cuisine and extensive wellness activities such as Herb Hikes, Spa Rituals and YOGAqua – yoga performed on a stand up paddle board which is available at the property all season long. The property is also home to an extensive organic tea menu, luxurious Juliette Armand, SAMPAR and Moroccanoil spa products as well as an innovative Brunch on the Beach concept. Guests can relax in the minimal yet elegant atmosphere of the Muse Pool Bar with a contemporary a la carte or set brunch menu, combining traditional brunch with innovative, fine and fresh ingredients. Guests can also enhance their stay with Greece's first Yoga Festival, 'YOGAfest, a YOGqua Retreat', led by YOGAqua's creator, trainer to the stars and ambassador of yoga inspired athletic apparel company Lululemon, Sarah Tiefenthaler. The 2015 Yoga Retreat will run from 1st – 8th May 2015, winners can also take advantage of this unforgettable experience next year too!
The Skiathos Princess Hotel is offering the opportunity to win 5 nights in a Deluxe Room for two people at Skiathos Princess Hotel on a B&B basis. Valid for one year from 14th April 2015. Bookings are on request and subject to availability and with a black-out period from 4th-25th August 2015. Terms and conditions apply.
3 nights at the Jumeirah Port Soller Hotel & Spa, Mallorca, Spain

Located on the picturesque, unspoilt and rugged north-west coast of Mallorca, the Jumeirah Port Soller Hotel & Spa brings a new and unrivalled luxury to this beautiful Balearic island. It goes without saying that from its clifftop location there are spectacular sea views; you might be surprised though by the magnificent mountain vistas that this corner of the island affords. Be sure to venture out and explore pretty Port Soller with its soft sand beaches and typical local bars, shops and restaurants. The resort itself may prove hard to leave, however, with its huge signature spa, several bars, restaurants and pools and relaxation areas.
Jumeirah Port Soller Hotel & Spa are offering the opportunity to win three nights for two people on a B&B basis plus one complimentary dinner. The prize is valid for a year from 24/04/15. Bookings are on request and subject to availability and black-out dates (including August 2015 and Easter 2016). N.B The hotel is closed for the season between 8 Nov 2015 – 18 March 2016. Terms and conditions apply.
Like what you see? Excellent! THIS COMPETITION IS NOW CLOSED. Winners will be announced by 5pm on April 27th 2015  GMT+1 (UK TIME) via email and social media. Open to all countries. No purchase necessary. As stated on each prize, flights are not included.
To enter:
1) Answer these question by commenting on this post below: Where did you go and thought you actually found paradise? And which prize would you like to win?
2) Share this post via your preferred social media platform using the sharing buttons on the left or below.
3) Subscribe to the blog via email, by entering your email address on the top right of this page (if you received this post by email, you are good to go). You will also be subscribed to Sovereign's email newsletter. You are free to unsubscribe with one click at any time once the competition ends.
I would to take this opportunity to thank you all for your continuous support over the last year. This is my way of saying thank you, once again.
xo
Mrs. O
Disclaimer: this giveaway is sponsored by Sovereign but as you can possibly imagine, it is *really* my birthday.